Ed Warner: Is Saudi's goal of using sport to boost GDP by 1.5 per cent achievable?
John Maynard Keynes argued for government spending – any spending – to stimulate economies in recession, even paying people to dig holes and then fill them up again, given the multiplier effect when they spend their wages. Saudi Arabia may not be facing such an economic challenge, but the sports investments pursued by its Crown Prince are redolent of Keynesianism.
"If sport washing is going to increase my GDP by one per cent then I will continue doing sport washing," Mohammed bin Salman told Fox News last week. "I'm aiming for another 1.5 per cent. Call it whatever you want, we're going to get that 1.5 per cent."
Saudi GDP in 2022 was $1.1tn, so this implies that MBS is looking for a $17bn annual boost to overall domestic output from sport.
Estimates of the size of the global sports industry vary widely, in part because of the difficulties in determining where sport ends and ancillary businesses begin. It is sometimes said that sport represents one per cent of the world economy, so around $1tn of annual activity, or just a little smaller than Saudi itself. I've always thought that estimate a little low but recognise I may be guilty of personal bias.
It is easy to conceive of the Saudis spending $17bn on sporting assets – maybe even spending $17bn a year – but there is no guarantee that Keynes' multiplier will kick in.
Saudi Arabia's oil reserves might last for decades yet, but not centuries. Its oil revenues are likely to peak much sooner, perhaps in the next 20 years, depending on global demand patterns and technological advances.
So much of the Kingdom's sports investment to date has been outside its borders. Little of this will find its way home to boost domestic output, and only then over time should the assets acquired generate surplus cash or prove saleable at a profit. Income from overseas investment has a very different strategic value to economic activity on home soil.
There is a clear difference then between LIV Golf, a global tour, and the Saudi Pro League, a domestic football competition, even if both have targeted the world's top players. It won't help the Saudi psyche, either, that many of its newly acquired footballers choose to live elsewhere, and it's probably fair to assume that only a fraction of their wages are spent in the Kingdom.
There may be a PR challenge in persuading stars to actually live the Saudi dream, but the bigger prize is hosting major events. Yes, the football World Cup, Olympics and Paralympics as showpiece one-offs, but a sustainable 1.5 per cent boost to GDP requires repeat competitions that attract visitors, sponsors and broadcast revenues. Expect, then, a relentless push to stage events with true global appeal in Saudi, and for them to be repetitive.
Only when Scandinavian football fans choose to fly to Riyadh for the weekend to watch a game rather than Manchester or Liverpool will MBS have truly cracked it and answered those sceptical about the strategy.
Disunion
England's Lionesses have belatedly reached agreement with the Football Association on their bonuses for the World Cup now passed, and reached a commercial arrangement that the players are professing to be happy with. Beneath this surface, however, female professional footballers remain severely disadvantaged.
Karen Carney's review of the women's game called for the top two leagues to be fully professional. Tick. What I confess I hadn't realised when first reading her report was the implication this has for player rights. 
Today, for example, only Women's Super League players are members of the PFA union. Those in the Championship are not, even though many are full-time professionals. Two people in the women's game have rightly bent my ear on this glaring anomaly recently.
The PFA is funded by agreements with the Premier League, English Football League and FA to provide support for male players in the top four divisions. A levy on transfer fees funds pension rights for those players. There is no equivalent agreement for the women's game, or automatic pension provision.
The PFA currently represents WSL players by diverting some of the funds generated from the arrangements within the men's game. Karen Carney explicitly calls on the FA to provide direct funding instead.
Right now, it seems no-one can agree on who should take responsibility for the WSL and Championship. The FA is looking to pass on the burden. The Premier League seems reluctant to step up, in part because not all of its 20 members (three of whom change at the end of each season) have women's teams in these top two tiers.
Without an agreed long-term home, it appears there can be no collective agreements, no rights or protections, for there is no single identifiable counterparty to negotiate them with. And when a female player is injured, this can become a real financial and practical issue that doesn't exist for her male counterparts.
Forget salary differentials, which are understandable functions of supply and demand: the gap in employment conditions is one all footballing parties – so quick to embrace and celebrate the Lionesses' successes – should hang their heads over.
Take the ball and run
Thanks to a reader for forwarding the graphic below. A big fan, he nevertheless thinks it highlights that rugby is a minority sport. 
Of course it is, but that's because no sport – not even football – is strictly a majority one. Some of the numbers are certainly a wake-up call to the complacent, and no-one should take the future health of the game for granted. However, rumoured viewing figures for the group stages of the current World Cup indicate that rugby has its future in its own hands if it is only prepared to grasp the ball with conviction, have a clear strategy for renewal and to run with it.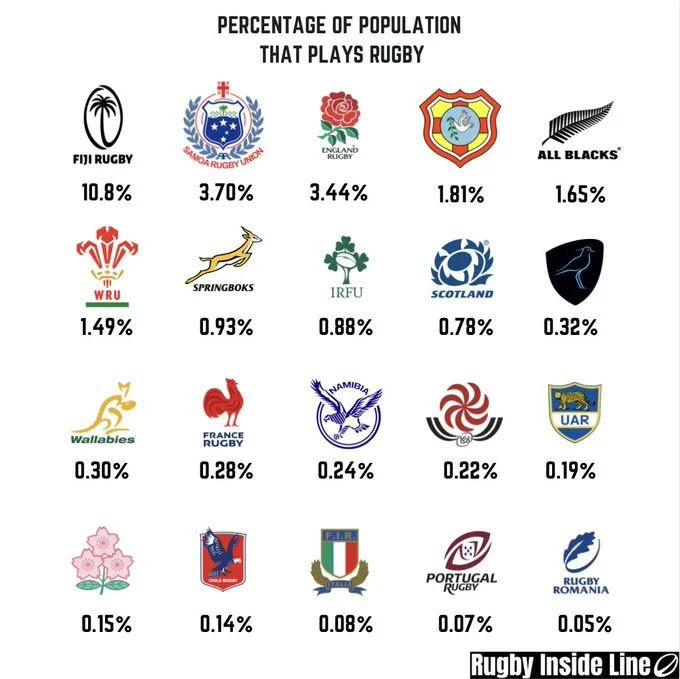 It's a shoe in
Paula Radcliffe and I ran our first marathons together in the 2002 London Marathon, only miles apart and with just one of us aware the other was competing.
The big marathon model relies on such stardust at the front of the race to elevate the enjoyment of the tens of thousands of us trailing in the elites' wakes – paid for in large part by the running shoe companies competing to sell the dream of personal bests and targets broken, whether 3, 4, 5 or 6 hour barriers or anything in between.
Tigist Assefa sliced over two minutes off the women's world marathon record in Berlin on Sunday wearing $500 shoes designed to last just a single race. Cue uproar from athletics traditionalists, but much salivating from less-than-superhuman runners looking forward to the latest technology filtering down to them in time at a price they can afford. Adidas may have made Assefa's shoes, but all the companies will be winners.
Next step, surely, must be to make the latest footwear reusable. If its spongy foam can only last 26.2 miles in race conditions, can't it be replaceable? Nip along to the relevant flagship Oxford St store, whip out one set of foam, slot in another and you're good to spring forward again on your carbon footplates. Green credentials burnished, PB beckoning.
Heard it on the grapevine
England's oldest commercial vineyard at Hambledon in Hampshire (est. 1952) is changing hands, it was reported this week.
As it happens, you can run through said vineyard on Saturday in the annual Hambledon Hilly 10k. Not a PB course, whatever shoes you are wearing. The clue is in the name…
Enough with the soapbox
If you've not had enough of me soapboxing already, do listen to the latest edition of the Anything but Footy podcast. A bit of athletics past and present, wheelchair rugby and falling off a horse. Here's a link.
Ed Warner is chair of GB Wheelchair Rugby and writes at sportinc.substack.com