Lampard rejects Di Matteo parallels as Chelsea eye new Champions League miracle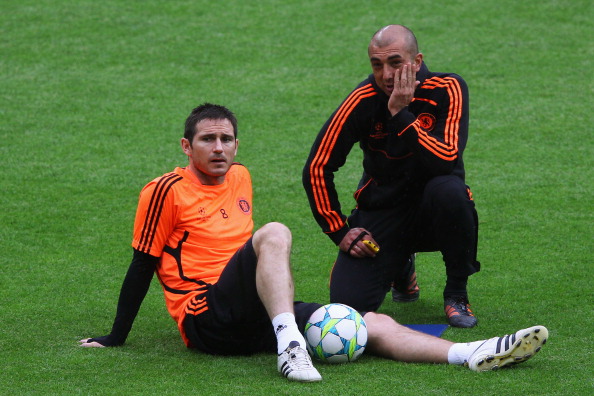 Frank Lampard has played down comparisons with Champions League-winning Chelsea interim manager Roberto Di Matteo and told his players to make their own history against Real Madrid.
Former Blues midfielder Di Matteo was handed the reins for the last few weeks of the 2011-12 season and ended up guiding them to European club football's most prestigious trophy.
Lampard, who was part of that triumphant Chelsea team, finds himself in a similar situation ahead of Wednesday's Champions League quarter-finals first leg in Madrid.
"I haven't spoken to Robbie [Di Matteo]. There are parallels in a simple sense," said Lampard, who was put in charge until the summer following the sacking of Graham Potter last week.
"The year Robbie was here, he was an assistant and had an awareness of the squad. My situation is different in practice. I did have an awareness of the squad. I have to be careful making that parallel. We're very committed to trying to make our own bit of history."
With just four wins from 18 games in 2023, Chelsea are underdogs for a tie with the holders, who lifted the European Cup for a 14th time last season.
Real Madrid mounted a late rally to overcome the Blues in the last eight 12 months ago, and Lampard believes his team can use that setback as motivation.
"Every new year in football brings a new story. The year before that, Chelsea came here and were successful," he added.
"Last year Real Madrid produced an incredible game that changed when Chelsea looked to be strong. One thing I would say that the players have to understand is that this is a special arena and special football club. My focus will not be on last year, it will be on what we can do this year."
Real Madrid manager Carlo Ancelotti, who coached Chelsea between 2009 and 2011, ruled out a return to Stamford Bridge and backed his former player to succeed in his second spell as Blues boss.
"I feel sad [about Chelsea's decline]," said Ancelotti. "I have a fantastic memory of this club, of the people that are still working there. I'm a supporter of Chelsea, because I spent two years there.
"Will I go back? No. I hope Lampard will be able to do a fantastic job with them. He knows these kind of games well and how to prepare his team. He has been here for a week, but he will do well in the time he is at Chelsea."