General Election 2015: Tactical voting could save Scottish Labour from total SNP wipeout
For several the months, the polls have been telling us Scottish Labour is facing electoral oblivion. No matter what he seems to do, Labour's leader in Scotland, Jim Murphy, cannot cut it with voters, and has failed to stem the rise of the SNP.
But some new YouGov polling may provide some comfort to Labour's besieged Scottish members. As many as nine Labour MPs, including shadow foreign secretary Douglas Alexander, could retain their seats thanks to tactical voting, according to YouGov president Peter Kellner.
When voters were asked to imagine that only one party could realistically beat the SNP at the General Election, their voting intentions shifted substantially. Close to half of all Lib Dem and Tory voters said they will switch to Labour to beat the SNP candidate.
In what would be a highly unorthodox alliance, a third of Lib Dem and Labour voters said they will support the Tory candidate to keep the SNP out. There was also some good news for the beleaguered Lib Dems, who Kellner reckons will be able to hold onto the seat of Ross, Skye and Lochaber held by former Lid Dem leader Charles Kennedy.
Kellner forecasts that once tactical voting is taken into account, the SNP will end up with 42 seats to Labour's 13. The Tories will hold onto to their only Scottish, seat while the Lib Dems will be reduced to just three MPs north of the border. This result, while more positive for Labour than ones based on a uniform swing, would still represent a crushing defeat.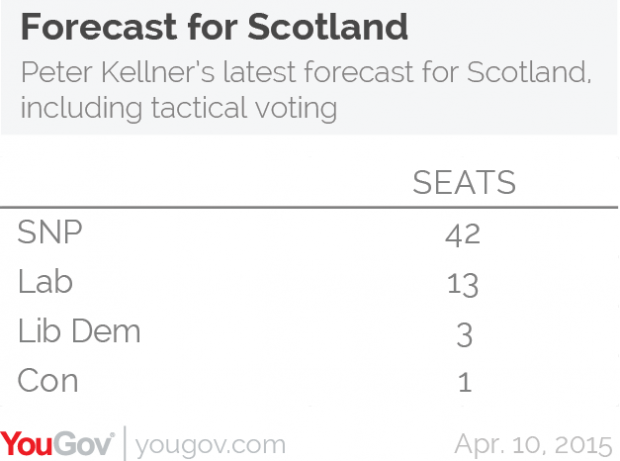 Another YouGov Scottish poll released today projected Labour could be left with just four seats in Scotland, while the SNP will return to Westminster with 53 MPs.