Extinction Rebellion London protests live: Police arrest 135 people over climate change protests
Climate protests Day 1 round-up
The Metropolitan Police has confirmed that at least 217 arrests have been made after Extinction Rebellion protesters caused chaos in the capital.
Groups of protesters set up tents and a gazebo, blocking the road outside the Home Office in Westminster. Londoners have been warned of further disruption as the climate activists prepare for two weeks of protests.
Two protesters, Tasmin and Melissa, took part in a so-called rebel wedding on Westminster Bridge.
Police were forced to don safety harnesses and scale scaffolding to remove activists who glued themselves to the metal structure in Trafalgar Square.
Phil Kingston, an 83-year-old Extinction Rebellion member, was arrested after spray painting a slogan on the wall of the Treasury. Fellow activists doused the same building in fake blood sprayed from a fire engine hose during a demonstration last week.
Some protesters took advantage of the lack of traffic in Parliament Square to play a game of cricket.
1.01pm: Police make 135 arrests as protests engulf central London
Police have arrested 135 people in the Extinction Rebellion protests so far.
With just 11 men and women arrested on Saturday and Sunday, and 21 in total arrested at 8am, the Metropolitan Police have arrested 114 people in the last five hours.

The Met did not release any further details on the latest arrest numbers.

Ten people arrested over the weekend were held on suspicion of consipracy to cause a public nuisance, with one arrested on suspicion of obstructing police.

Just two of that number remain in custody. It is not currently known how many people were kept in custody so far today.

12.26pm: Extinction Rebellion protests cause travel chaos in London

A hearse lamenting the planet's future remains parked in Trafalgar Square, and the driver has locked his head to the steering wheel using a bike lock.

One protester laid down under a trailer blocking the road to Trafalgar Square, with Transport for London (TfL) warning of huge congestion in the area.

Access to Trafalgar Square is restricted from the Strand, Whitehall and Northumberland Avenue while TfL has closed Haymarket in the southbound direction because of the protests.

Victoria Embankment remains closed in the northbound direction and TfL also warned Westminster Bridge, Millbank, Whitehall and Lambeth Bridge are all closed in both directions.
Meanwhile protesters created a thunderous noise banging drums and blowing whistles outside Downing Street.

Banners read "tell the truth" and "no coal mines, no fracking" amid the crowd.

Parliament Square was empty of cars aside from police vans, while helicopters kept watch from above.

Elsewhere police removed a huge metal screaming head from Lambeth Bridge.

But protesters erected tents on Westminster Bridge, just as they did in two weeks of protests in April, suggesting they are in for the long haul.

11.38am: Extinction Rebellion reaches Downing Street
Downing Street is now the subject of an Extinction Rebellion blockade as protesters embarked on a sit on at Whitehall.

Only ambulances and bicycles are able to come through the mass of activists sitting on the road outside Downing Street, as the climate change protest gathered force today.

Plenty of police were on hand but could not stop the rebels, who were chanting "Whose planet? Our planet" as they blocked the road outside the home of Prime Minister Boris Johnson.

Police failed to stop the protest from spreading further down Whitehall from Number 10, by the Women of World War Two monument.

Meanwhile the Met police warned that Trafalgar Square faced serious congestion thanks to the protests.

"Motorists are advised to avoid Trafalgar Square due to on going protest in the area," it tweeted.

10am: Police threaten arrests on Lambeth Bridge
Police officers are threatening to arrest anyone – citizens and protesters – on Lambeth Bridge as the Met tries to free the bridge from an Extinction Rebellion blockade.
"Police telling anyone on Lambeth Bridge – including LBC's reporter on the pavement – will be arrested if they don't leave the bridge", LBC tweeted.
Meanwhile Extinction Rebellion has said protesters arrested at the XR Peace group at Embankment include an 81-year-old called Sarah Lasenby, a retired social worker.
"For 21 years my main concern has been to help get rid of UK nuclear weapons," she is quoted as saying by the Standard.
"I am still keen to do this but once I came across XR I was so relieved to have something I could do about the ghastly state we have got our planet in."
9.04am: Police 'make 23 arrests' at Embankment blockade
Extinction Rebellion has claimed that the Metropolitan Police has arrested 23 activists at Embankment.

Protesters have blockaded the Victoria Embankment in a bid to disrupt access to the Ministry of Defence as they protest the £40bn nuclear deterrent Trident programme.
Read more: 21 arrests made so far as police crack down on Extinction Rebellion London protests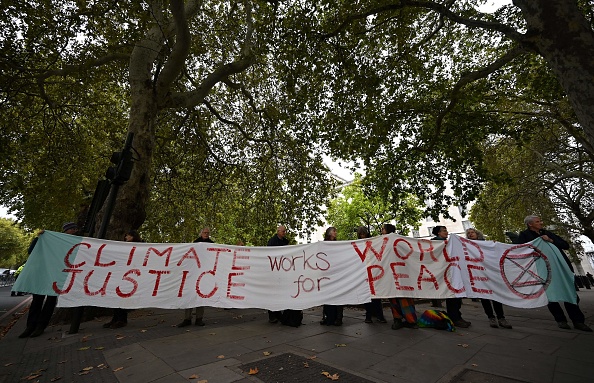 "23 @xrpeaceuk activists arrested on Embankment in London," tweeted the Campaign for Nuclear Disarmament.

"We're highlighting that war causes climate change, and climate change will create more wars. We must address the two existential threats to humanity: nuclear weapons and the climate crisis."

City A.M. has contacted the Met for confirmation of the arrests.
The Met said 21 people have been arrested in connection with the protests as of 8am today, including eight arrests on Saturday and three yesterday.
Officers arrested one woman and two men yesterday on suspicion of conspiracy to cause a public nuisance. The woman was released under investigation but the man remain in custody.
Seven of Saturday's arrests were on suspicion of conspiracy to cause a public nuisance, while the eighth related to obstructing police. The Met released all eight "under investigation".
Extinction Rebellion said it is still holding out in front of the MoD with its fake Trident missile display, with the Met cutting two activists from a car to which they had locked themselves.
Extinction Rebellion is believed to be pouring in more activists as demonstrators get arrested.

Meanwhile eye witnesses say police are stopping and searching commuters with large bags at Westminster near the Tube station.

The climate change protest group has threatened to disrupt parliament today.
There is a heavy police presence at Westminster station, where police were laying in wait for protesters with backpacks and Extinction Rebellion signage.
Tens of thousands of Extinction Rebellion protesters embarked on two weeks of action aiming to bring London to a standstill today.
8.45am: Extinction Rebellion activists target Ministry of Defence
Protesters kicked off their Extinction Rebellion London protests today by attempting to block access to the Ministry of Defence (MoD).
Climate change activists have locked themselves onto a mock Trident missile, calling for the MoD to abandon the circa £40bn nuclear deterrent project.
Read more: Eight arrests after Extinction Rebellion loses control of fake blood fire hose
Instead activists urged the government to redirect resources into tackling climate change.
Demonstrators set up a human blockade on Victoria Embankment outside the MoD "to make links between militarism and #ClimateEmergency".
Organisers have warned Londoners that the next two weeks of climate change protests will be five times as large as April's fortnight of action. That ended in 1,100 arrests after widespread disruption across the capital.

Westminister Bridge and Lambeth Bridge face being shut down, while protesters will target government buildings after spraying 1,800 litres of fake blood onto the Treasury last week.
Metropolitan Police has closed off Westminster Bridge ahead of the Extinction Rebellion protests later today.
They also intercepted a car that had attempted to drive onto the bridge.
Downing Street and the Houses of Parliament are set to be targeted, while the City of London is another location in the crosshairs of demonstrators.

Read more: Extinction Rebellion targets City of London in fortnight of protests
Protesters are reportedly spending around £1m on the so-called October Rebellion, as activists try to block key London roads for two weeks.

Activists kicked off the fortnight of disruption with what they called an "opening ceremony" at Marble Arch yesterday. The London landmark is set to be a gathering point for protesters over the next two weeks.