Extinction Rebellion targets City of London in two weeks of protests
Climate change activist group Extinction Rebellion is preparing to launch another mass demonstration across London.
The protest group claims the fortnight of action, which begins on Monday, will be five times bigger than demonstrations in April, which saw hundreds of people arrested.
Read more: Eight arrested after Extinction Rebellion lose control of fake blood fire hose
Next week's action will focus on Westminster, while the following Monday will target the City of London.
Extinction Rebellion is planning to cause "maximum disruption" in the City by blocking roads and public transport and targeting the Bank of England.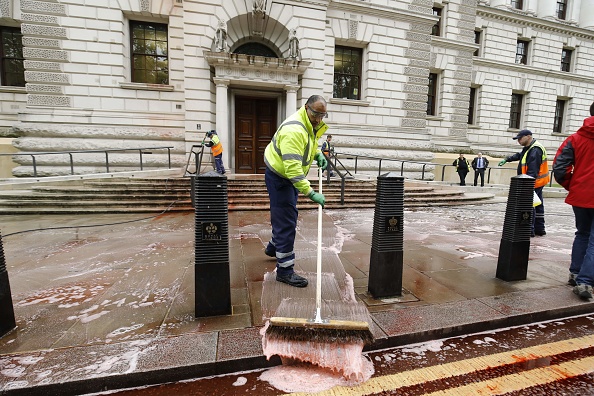 Other planned events include disrupting the Oil and Gas Summit being held in Liverpool Street on 17 October.
In a statement today the group said: "We are calling upon the government to take responsibility and enact immediate, profound and sweeping changes to address this present day crisis.
"Until then, we will create a spectacular Rebellion. In addition to a family-friendly blockade of Westminster, there will be non-violent and creative disruptive actions to force the government to train its focus on protecting the country from risks that have been ignored for decades by those in power."
The protesters have been active since their two week demonstration across the capital this spring.
Yesterday, eight people were arrested after activists attempted to spray fake blood over the Treasury.
Protesters stood on an old fire engine and attempted to douse the building with liquid, however they lost control of the hose and most of the fake blood ended up on the street.
Last month demonstrators targeted London Fashion Week by staging a "die in" and accusing the industry of having blood on its hands concerning its role in damaging the environment.
Read more: Extinction Rebellion plans Westminster shut down
In April, activists occupied a site in Marble Arch and swarmed various London landmarks including Oxford Circus and Parliament Square.

They also focused on the capital's financial district and glued themselves together outside the London Stock Exchange and protested outside Goldman Sachs.