England are through to the quarter-finals of a World Cup, and yet the post-match talk in Valenciennes was about everything other than the result.
"It didn't feel like football," fumed Lionesses manager Phil Neville after the final whistle. "I didn't enjoy it, my players didn't enjoy it."
Goals from captain Steph Houghton, in-form striker Ellen White and left-back Alex Greenwood sent England through to face Norway in the last eight in Le Havre on Thursday. But there was no mention of their finishes from Neville. He had another topic about which to vent.
Read more: Why brands are getting on board women's football
Strangely for a game dominated by the video assistant referee to the extent that there was 17 minutes of time added on at the end of either half, it wasn't refereeing decisions which left Neville furious.
Instead it was the behaviour of opponents Cameroon, with persistent fouling, an elbow on Nikita Parris, spitting at Toni Duggan, a last-minute reducer on Houghton, an apparent refusal to play on following a refereeing decision and continued and vociferous dissent punctuating a chaotic game and leaving the England boss worried about the message it sends out.
"My players kept their concentration, but those images are going out worldwide and young girls are seeing that behaviour and it's not right," he said. "There has to be a standard of behaviour that you have to do, and my players did that."
More so than other sports women's football is tasked with winning people over and encouraging growth at a grassroots level. This match would be enough to put some potential footballers off.
"I came to this World Cup to be successful and to play a part in making women's football globally more visible," Neville added in his press conference. "We wanted to put on a show. I sat through 90 minutes of football there and felt ashamed. I was proud of performances, under circumstances I've never seen before. And I am completely and utterly ashamed of the opposition.
"All the young boys and girls watching…and we've had five, six and seven million people watching back at home against Cameroon with that kind of behaviour. That's pretty sad."
And if the physical approach of Cameroon wasn't enough to dissuade you, the effect VAR had on the match might just do the trick. Again, the decisions it helped make – barring a possible England penalty for a clumsy challenge on Fran Kirby in the second-half – were correct. White was onside from Lucy Bronze's outside-of-the-boot flick for the Lionesses' second goal. Gabrielle Onguene was marginally offside in the build-up to Cameroon's chalked off goal. Alexandra Takounda was deserving of a yellow card for her late tackle which left Houghton in the treatment room.
But the time it took referee Liang Qin to make those decisions and the way they were conveyed left everyone involved – players, coaching staff, fans and commentators – frustrated, and in many cases confused.
Fifa may have backtracked from the harsh ruling to keep goalkeepers on their line during penalties, which cost Scotland a place in the last-16, but the general effect of VAR is not a positive one.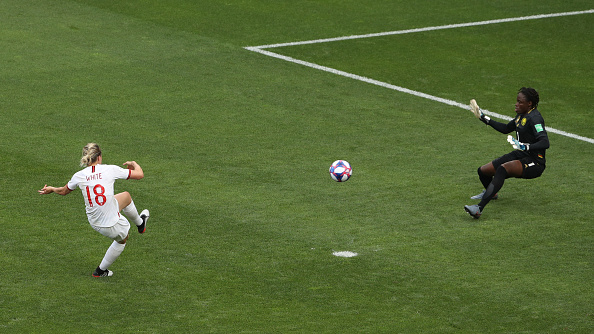 Flags don't go up for obvious offsides in a misguided attempt to make the game flow. Goals can't be celebrated straight away of fear of the dreaded signal. Replays must be watched over and over, and from every available angle, until a ruling is finally made.
As a result the product itself becomes secondary – both on the pitch and in the subsequent coverage. In the end viewers were left in a state whereby the football was upstaged, punctuating VAR displays, rather than the other way around.
What is worse: the occasional injustice at an offside goal going against you, or five or six time-consuming and contentious looks at the replays? If more World Cup games follow the pattern of England's then that question will start becoming more pertinent by the day.