Ed Warner: London 2012 convinced us that Para sport was moving forward, but it isn't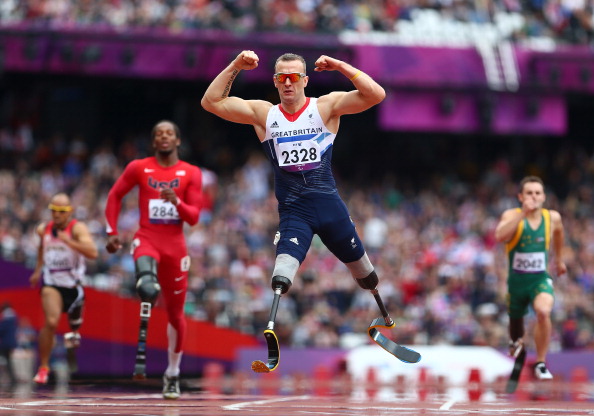 There are 363 days until the opening ceremony of the Paris 2024 Paralympics. Tickets go on sale on 9 October.
The most expensive events are €100, a sliver over a tenth of the price of the best seats for Olympic athletics. I can guarantee there won't be only one tenth of the enjoyment. You might find hotels, trains and planes cheaper too, and of no lesser standard.
With Olympic tickets still readily available for many events, the Paris organising committee may struggle to fill venues for the Paras, even with the gulf in pricing between the two sporting jamborees.
The International Paralympic Committee has just issued its typical bullish year-to-go statement, but I'm concerned that the cause of disability sport isn't moving forward from Games to Games.
Taking a parochial perspective, there was much talk around London 2012 of the British public loving disability sport. Too many took this as a given based on the success of those Paras.
Subsequent experience suggests that Britons love the Paralympics but are largely oblivious to disability sport in the intervening years. Not their fault. Rather the collective failure of those of us in and around the leadership of disability sport to find ways for it to really cut through.
The IPC is in the process of shedding direct responsibility for the organisation and governance of a handful of sports that it currently owns. These include the two heavyweights, Para athletics and Para swimming, both of which are slated to be established as independent entities and relocated from Bonn to Manchester.
This satisfies those purists who want the IPC to focus on ensuring the success of the Games, and its attendant campaigns for disability rights, but risks further weakening the sports themselves, which already struggle for resources.
Para sport is of course about more than athletics and swimming, but their depth and breadth creates an opportunity for public awareness that all the smaller sports can feed off – including the likes of wheelchair rugby, which I chair in Britain. If the big sports fall short, it's even harder for their niche counterparts.
Ask leading Paralympic athletes about competition structures and their experience in sourcing commercial income and you will hear complaints about both when comparing themselves to their able-bodied counterparts.
Great Britain won 10 gold medals at the World Para Athletics Championships in Paris last month. Who knew? And what visibility was there in France itself, less than three months out from Paras ticket sales?
I'm instinctively nervous of multi-sport events, primarily because they tend to become overblown and hence prohibitively expensive to host. But it may be that the inaugural European Para Championships which took place in Rotterdam this month is an exception.
These involved 10 sports, all competition having some link to qualification for 2024. Britain's wheelchair basketball teams both qualified for Paris, the men winning gold. Again, who knew? Answer: too few.
The challenge for the four years from Paris to Los Angeles is for us to find that cutting edge.
It started with a kiss
If women's football decides to forge a future entirely distinct from the established structures of the game, history will likely trace its origins to the kiss that has overshadowed the Spanish team's triumph at the recent Women's World Cup.
There are two paths the women's game could choose to take: evolution away from men's football or revolution within it. One route slower, riskier, poorer, purer; the other potentially faster and wealthier, but likely to involve painful political struggles and compromises.
No right or wrong way, just a choice that players and fans of the women's game deserve to be made with care and with clarity.
10/10 and broken sticks
Let the inquests begin. Leaders in French athletics were called into an emergency meeting with the country's sports minister to answer to a single silver medal at the World Athletics Championships, just 11 months out from Paris 2024.
I'm not surprised at their medal "haul" and stand by the view expressed in earlier editions of this column that the French Olympic team is likely to buck the traditional trend and disappoint on home soil.
"We had a dense, intense, tonic meeting, with broken sticks to debrief these Worlds and identify together all the avenues of optimisation that we can align to improve performance with a view to the Olympic and Paralympic Games," said French sports minister Amélie Oudéa-Castéra.
At least France appeared on the medal table, albeit in equal 27th place. Germany didn't win a single piece of metal – that nation's first ever blank.
Usually it ranks either side of Great Britain, which makes the British team's 10 medals – equalling the country's best ever total – all the more laudable. Congratulations to technical director Stephen Maguire, whose tough selection policy was amply vindicated. An excellent conversion rate of possible medals to actuals.
One former leader of UK Athletics messaged me with fervent hope that 10 medals will mark the start of a renaissance. The same might be said for track and field globally.
World Athletics will rightly be delighted with a championships that played out in front of big crowds, and in particular the spread of medal-winning nations. An India-Pakistan one-two in the men's javelin said it all – an event often a decent bet for a German medal.
Razzle dazzle 'em
Two comments on the promotion of athletics from the Worlds:
"We've got to treat ourselves like a business, not like a non-profit. If we aren't even professional with ourselves, then we're just a joke." Triple gold medalist Noah Lyles.
"The picture I'm trying to present here is a determined sport that's going to fight its way back." UK Athletics chief exec Jack Buckner on his plans for a "down and dirty" docuseries.
Most governing bodies are in fact set up as non-profits. They struggle daily with the tension between the imperative to deliver commercially at the elite end, while nurturing the sports they are responsible for from grassroots up.
One consequence is often excellent professional staff struggling underneath amateur, volunteer boards. The challenge for those boards is to learn when to give creativity and innovation a long rein.
Hopefully success at the Worlds (for UK Athletics) and of the Worlds (for World Athletics) will now see their professionals firmly in the ascendency as they plot the revitalisation of the sport.
42 not out
A couple of years after I stumped up a few quid, a crowd-funded Douglas Adams anthology lands on my doormat – a treat for any fan of The Hitchhiker's Guide to the Galaxy.
It contains the rules to Brockian Ultra-Cricket – essentially a game of hitting people, running away and then apologising from a safe distance.
Adams was a man often well ahead of his times. Rule three of his version of cricket might be instructive not only for the ECB but for many sports currently desperate to garner followers in a crowded market:
"Put your team and the opposing team in a large field and build a high wall round them. The reason for this is that, though the game is a major spectator sport, the frustration experienced by the audience at not actually being able to see what's going on leads them to imagine that it's a lot more exciting than it actually is.
"A crowd that has just watched a rather humdrum game experiences far less life-affirmation than a crowd that believes it has just missed the most dramatic event in sporting history."
Ed Warner is chair of GB Wheelchair Rugby and writes at sportinc.substack.com