World Mobile token, built on Cardano, launches Token Generation Event with 70% reserved in 12 hours!
Nearly three years ago World Mobile became part of my life when I met the founder and CEO Micky Watkins – my brother from another mother. The vision was simple enough… to connect the unconnected through blockchain and the sharing economy.
I knew their revolutionary telecom business model would disrupt the industry. My role has been to build partnerships to help deliver this vision starting with Charles Hoskinson and Input Output Group (IOG) which now owns 10 per cent of World Mobile Group.
So it is with immense pride, as the Global Ambassador for World Mobile, that the World Mobile Token Generation event 'TGE' kicked off yesterday with 70 per cent reserved in 12 hours and at 11am UTC today the sale will officially open.
The World Mobile Token is built on the Cardano Blockchain and as such is one of the first native utility tokens built to scale with the ticker $WMT
Crypto at a glance
It was another weekend of slow price action for Bitcoin, with a breakout from $33k on Saturday to almost $36k on Sunday failing to materialise into anything significant.
Bitcoin continues to trade in the narrow range between $34 to 36k where it spent most of last week. Other than two or three brief forays above $40,000 and dips below $30,000, the cryptocurrency has been in the same $10k price range since the middle of May. Will July see a long-awaited breakout?
The good news is that confidence among Bitcoin's super rich – better known as 'whales' – seems to be returning. The number of Bitcoins held by those holding 1,000 to 10,000 BTC rose by more than 80,000 to 4.216 million BTC on Friday, hitting the highest level since May. The price run to $60k earlier in the year was driven by larger investors. Do they know something again?
It was more exciting in the alt markets today, with the total market cap of the crypto market almost hitting $1.5 trillion for the first time since June 18. Ethereum was at the forefront, rising in price to almost $2,400. It's since dropped down to around $2,270, but is still up more than 10 per cent over the last seven days.
It was also good news for other smart contract players. Cardano (ADA), in particular, had a good weekend off the news that Grayscale Investments – the world's largest digital currency asset manager – is adding Cardano to its Digital Large Cap Fund. ADA leapt up to $1.49 on the news, dropping since to $1.42. The cryptocurrency has gained more than 1000 per cent in price over the past year, making it one of the standouts of this latest bull run. Can it continue to see success?

Would you like to help spread the adoption and education of Bitcoin in the UK and even stack some Sats while you're doing it? Well, now you can!
The Bitcoin Pioneers community, backed by Barry Silbert's Digital Currency Group, was created to introduce Bitcoin to a mainstream audience in a meaningful way and now has members right across the UK.
We share tips, stories and ideas on how to encourage others to try Bitcoin for the first time. And, thanks to support from Luno, each Pioneer gets £500 of Bitcoin a month to share with beginners, helping them get started.
So, if you're passionate about Bitcoin, why not join today? Click here to find out more!
All feedback on Crypto AM Daily in association with Luno is welcome via email to James.Bowater@cityam.com ??
In the markets
The Bitcoin economy
*Definitions and insights can be found at https://bytetree.com/insights/
Total crypto market cap
The total capitalisation of the entire cryptocurrency market at time of writing is currently $1,432,945,943,988.
What Bitcoin did yesterday
We closed yesterday, July 4 2021, at a price of $35,287.78, up from $34,668.55, the day before.
The daily high yesterday was $35,937.57 and the daily low was $34,396.48.
This time last year, the price of Bitcoin closed the day at $9,073.94. In 2019, it closed at $10,978.46.
Bitcoin market capitalisation
Bitcoin's market capitalisation at time of writing is $643.14 billion. To put it into context, the market cap of gold is $11.368 trillion and Facebook is $1.005 trillion.
Bitcoin volume
The total spot trading volume reported by all exchanges over the last 24 hours was $26,286,011,736. High volumes can indicate that a significant price movement has stronger support and is more likely to be sustained.
Volatility
The price volatility of bBtcoin over the last 30 days is 80.21%.
Fear and Greed Index
Market sentiment today is 29.
Bitcoin's market dominance
Bitcoin's market dominance today is 45.37. Its lowest ever recorded dominance was 37.09 on January 8, 2018.
Relative Strength Index (RSI)
The daily RSI is currently 46.89. Values of 70 or above indicate that an asset is becoming overbought and may be primed for a trend reversal or experience a correction in price – an RSI reading of 30 or below indicates an oversold or undervalued condition.
Convince your Nan: Soundbite of the day
"It's digital currency that's going to take over this universe."

– Ashlynne Whitt, 16 year old attendee of Crypto Kids Camp
What they said yesterday
The US…
India…
El Salvador…
Big news for Aave…
Crypto AM editor's picks
Coinbase gets green light from German regulators
Nukkleus acquires London based Match Financial
Binance given the boot by UK financial watchdog
Ripple outpacing Bitcoin among UK crypto investors
Crypto AM: Longer Reads
City AM Markets: What is Decentralised Finance (DeFi) by Aave
Crypto AM: Conversation with James Bowater
Crypto AM: Market View in association with Ziglu
Crypto AM: Technically Speaking
Crypto AM: A Trader's View with TMG
Crypto AM: Mixing in the Metaverse with Dr Chris Kacher
Crypto AM: Visions of the Future, Past & Present with Alex Lightman
Crypto AM: Talking Legal
Crypto AM: Spotlight
Crypto AM: Founders Series
Crypto AM: Industry Voices
Crypto AM: Tiptoe through the Crypto with Monty Munford
Crypto AM: Definitively DeFi
Crypto AM Parliamentary Special
Part one of two – April 2021
Part two of two – April 2021
Five Part Series – March 2021
Part one…
Part two…
Part three…
Part four…
Part five…
Crypto AM Events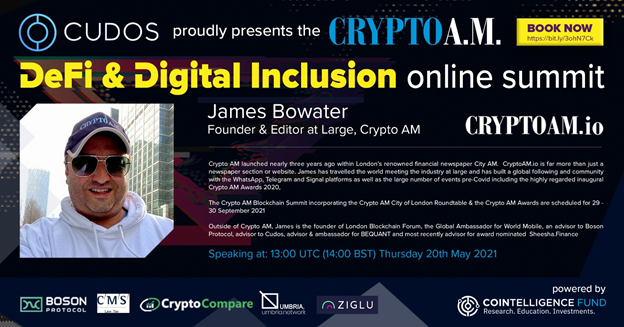 For those of you who missed the Crypto AM DeFi & Digital Inclusion online summit – you can now watch the event in two parts via YouTube…
Part one:
Part two:
Cautionary Notes
It's definitely tempting to get swept up in the excitement, but please heed these words of caution: Do your own research, only invest what you can afford, and make good decisions. The indicators contained in this article will hopefully help in this. Remember though, the content of this article is for information purposes only and is not investment advice or any form of recommendation or invitation. City AM, Crypto AM and Luno always advise you to obtain your own independent financial advice before investing or trading in cryptocurrency.
All information is correct as of 08:00 BST