Sheffield Wednesday back in the Championship with 123rd-minute goal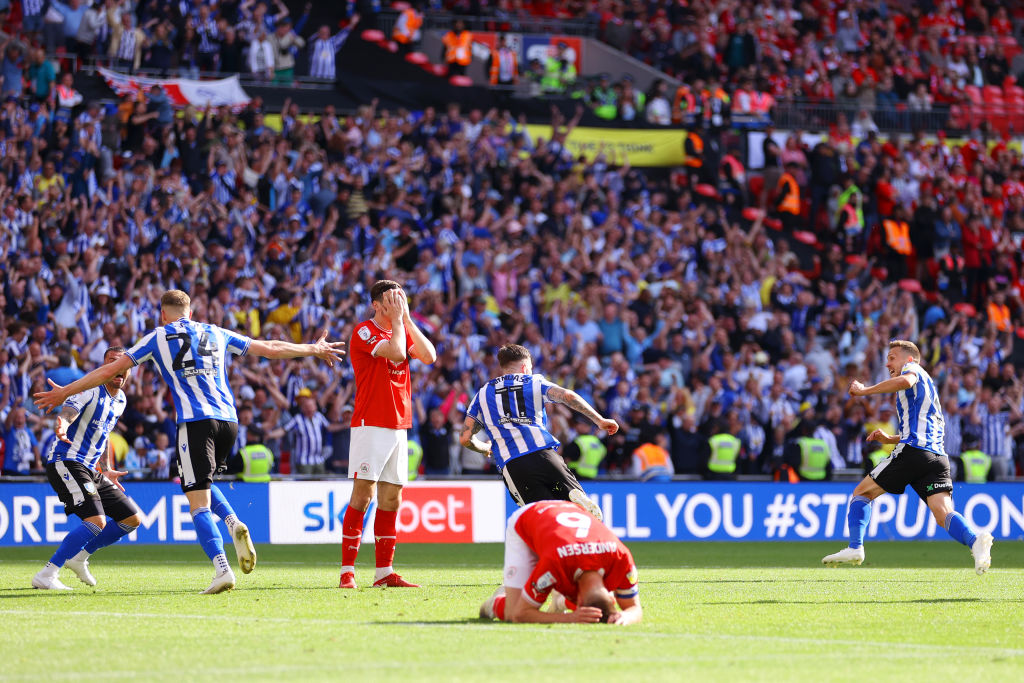 A 123rd-minute goal by Josh Windass saw Sheffield Wednesday beat Barnsley in the League One play-off final and return to the English Championship after two seasons in the third tier.
The outstanding diving header, in what was the last touch of the game, saw Windass replicate his father's feat of scoring a promotion-winning goal 15 years on from a bolting Dean Windass volley that saw Hull City earn a spot in the top flight.
The Owls will join Plymouth Argyle and Ipswich Town in England's second tier next season.
Nervy Sheffield Wednesday win
In a nervy affair at Wembley and a goalless regulation 90 minutes there was drama shortly after half-time when Barnsley's Adam Phillips was given a straight red card by referee Tim Robinson after a challenge on Lee Gregory.
The Owls thought they'd secured the winner in the 108th minute when Will Vaulks found the back of the net but VAR ruled the goal offside – much to the dismay of the celebrating Wednesday fans.
Thereon it looked as if the two sides would battle through the remaining 10 minutes of extra-time but, just as it began to feel as though penalties were inevitable, Windass connected with the ball inside the box and crashed a diving header past Barnsley keeper Harry Isted, who was only able to help it on its way having made an exceptional save minutes earlier.
"It was probably the worst standard of the game you'll ever watch," Windass said.
"The standard from both teams was shocking to be honest but luckily we got the winning goal.
"I heard their manager [Michael Duff] left our game [play-off] against Peterborough because he said we were out. So, unlucky."
'Humble'
The win will see Sheffield Wednesday play against Southampton, Leicester and Leeds next season after that trio were relegated from the Premier League on Sunday.
"I'm just really pleased for everyone connected with the club, to win in that manner was tremendous," manager Darren Moore said.
"Coming into the game, the expectation was huge, the only way to get over the line was by being together and we had that today.
"There was a lot of interest [after the semi-final], but we just wanted to get back on the pitch and go through the basic dynamics and just settle them down, saying the job isn't done yet.
"They're a humble group, I'm grateful to work with them.
"For the football club, we don't want to stand still, we want to move forward."