F1 must decide if chasing new markets should come at cost of racing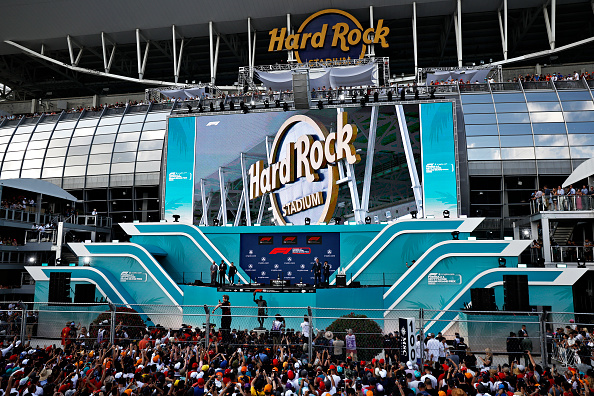 The Crypto.com Miami F1 Grand Prix was every bit as commercialised and over the top as you'd expect from anything in the Sunshine State of Florida. But among the fanfare, celebrity and extravagance of last week's event, the racing was almost forgotten.
A safety car caused by McLaren's Lando Norris was the only point of interest after Max Verstappen's early overtake on title rival Charles Leclerc.
But when F1 owners Liberty Media saw celebrities in attendance trending on all social media platforms, they'll no doubt have been very happy that the inaugural race in the 305 had the desired effect on the sport.
And Formula 1's expansion westward isn't stopping anytime soon, with a race in Las Vegas set to appear on the calendar next year.
So in a sport where the commercial interests are booming, is the growth coming at the expense of exciting racing that acts as an umbilical cord between the evolving sport and its traditional fanbase? And if it is, do or should Formula 1 bigwigs care?
"The expansion of F1 is a predictable and logical step for an organisation looking to build revenues," said Jon Lane, founder of sponsorship consultancy Brand Affair. "Whilst there is a danger of reaching a tipping point through over-exposure, thereby devaluing the offering, I don't believe that F1 is at that point yet."
F1 prospects
Of the recent additions to the calendar – Miami, Saudi Arabia, Qatar – none offer a racing prospect anything like the traditional thrills of Silverstone, Monza and Spa.
But they bring in commercial and financial gain – Saudi Arabia, for example, is paying a reported $55m per grand prix. Monaco, on the other hand, pays as little as $15m.
Only last year F1 managing director Ross Brawn suggested that the sport needed to look at changes to the Monaco track because of its lacklustre racing.
Minimal track excitement is hardly new to the sport, then, so why not simply expand en masse?
"Opening up new territories by introducing races into emerging F1 markets broadens the sport's exposure," added Lane.
"However, these need to be planned carefully to ensure that new races don't undermine the integrity and heritage of the sport.
"Top level televised sport is appealing as a result of the passion, emotion and unpredictable drama. Nothing kills this quicker than a local fan base that can't be bothered to show up and fully engage."
F1 announced that its viewing figures for Miami topped 2.6m in the US – compared to 99.2m for the Super Bowl. There's a long way to go, but inroads are being made.
It is, then, a balancing act. It is no secret that Formula 1 wants to expand and no one can blame it for doing so – it is reaping the rewards in the Americas.
And while existing, but historic, races are retained on the calendar that offer little other than a two-hour procession on a Sunday afternoon, there's little to suggest the governing body must ensure the racing is fun going forward.
Because in a sport as global as Formula 1, what can be offered as a weekend-long event trumps what's offered during any race.