Bahrain Grand Prix: Alonso and McLaren among Formula 1 talking points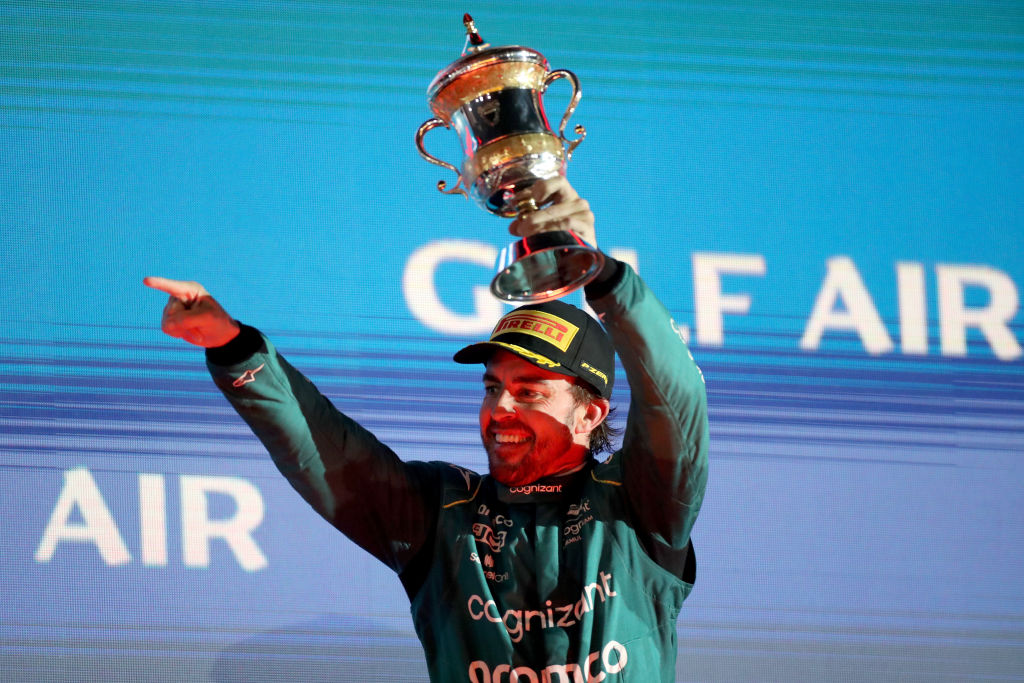 A sublime Fernando Alonso drive reminiscent of his optimal Ferrari days, a pair of woeful McLaren's and the early omens of the curse of Bahrain, the Kingdom's Formula 1 race had a little bit of everything.
Here's what you need to know about yesterday's season opener on the island nation of Bahrain.
Rolling back the years
When Alonso won his back-to-back world championships in 2005 and 2006, few would have thought he'd be going strong nearly two decades later.
But what a sight it is to see the 41-year-old churning out brilliant performances.
Aston Martin have worked wonders in the off-season and, powered by Mercedes engines, have looked as if they've found a set-up which could challenge the big three teams.
And though he was bumped by his teammate Lance Stroll – who had driven just days after a serious wrist injury – early on, with his team not telling him who the culprit was, he took on the role of father figure within the race continually asking how his Canadian teammate was.
Throw in some sublime driving and against the likes of Carlos Sainz and Lewis Hamilton and this new era of Alonso is taking fans back to primetime Fernando.
McLaren woes
McLaren were pipped to fourth in the constructors' championship by Alpine last year and have kept no secrets about their less than optimal pre-season car build.
Having made some mistakes in the off-season, it was always going to be a slow start to the season for Lando Norris and Oscar Piastri.
The 21-year-old rookie Piastri was retired in lap 15 when a pit stop turned into an electrical issue for the Australian – his challenger couldn't get going and returned to the garage.
Norris had issues with his engine and pitted six times during the 57-lap race. As a highly rated driver, questions have been asked surrounding how long he will be able to commit to a team who are unable to give him the car he wants. This is not a good start for the Papaya team.
Limping horses
It all looked to be going so well for Carlos Sainz Jr and Charles Leclerc. The latter was enjoying a comfortable ride in third before he suffered a power failure in lap 41 of the 57-lap race.
The team had changed the batteries in his car prior to the grand prix after discovering an issue but whatever they did to the car did not work as planned and Leclerc's hopes for a first world title got off to a shaky start.
Sainz fell victim to Alonso's superb drive but would have been hoping for more pace than the Mercedes powered Aston Martin. The Spaniard, this year, must also begin to challenge his teammate more so he should take some comfort in being ahead of his grid partner early on in the season.
The curse?
It's not uncommon to see Formula 1 drivers have their superstitions; some wear lucky clothing and others have their own rituals before they get into the car.
But there's one thing the world champions of the last six years have in common and that's that they came second in the opening race of the season.
In 2017, Sebastian Vettel won in Australia and eventually came second in the championship, the same happened to the German a year later.
In 2019 Valtteri Bottas won in Melbourne and in 2020 he won in Austria, both times he finished second in the drivers' championship.
Lewis Hamilton and Leclerc each won in Bahrain across the last two years and ended their seasons second.
So if the curse of the opening weekend continues, Verstappen will go on to finish this year in second. He will be hoping he breaks the spell.