Greetings from an overcast Zürich where I will be taking part – in person – on a panel "What the Media Thinks about Digital Assets & Blockchain" which is obviously a wide-ranging topic where I can underscore the importance of remaining agnostic in our nascent industry. 
For those of you following my recent and rather challenging travel exploits, it was a miracle I actually made it! I'd also like to thank my friend Jimmy Nguyen of the Bitcoin Association for the invitation to take part and for respecting my independent views! Now I have to run to get some trousers as, being a right Donald, I forgot to pack any!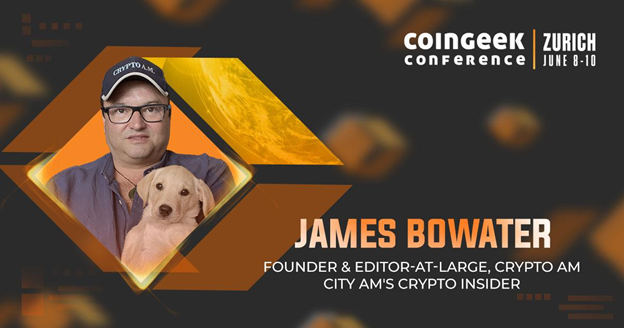 To watch this conference online you can register here – my panel will be on Thursday, 10 June at 14:30 CSET
Crypto at a glance
Yesterday, we spoke of a sense of 'calm before the storm' in the crypto markets. It seems that sense was indeed correct, though the simple joy of being right is somewhat negated by the double digit drops across the board.
Bitcoin has again found strong support at just above $32k this morning after dropping 10 per cent over the last 24 hours, while Ethereum (ETH) has also again managed to again bounce back at $2,500 following a similar fall in price. Will they be able to sustain another recovery?
It feels like a long time ago that Bitcoin was trading at around $60k, though it was actually less than a month ago now. But while recent price crashes have been defined by the surrounding FUD, this is somewhat remarkable in that it comes enveloped in rousing adoption news for Bitcoin and bullish fundamentals for Ethereum.
The president of El Salvador's announcement over the weekend that Bitcoin would be considered legal tender in the Central American country has been followed by a number of politicians from other Latin American countries adding laser eyes to their Twitter profiles. The laser eyes meme is supposed to be an endorsement of the leading cryptocurrency, sparking rumour that more countries will follow El Salvador's lead. Can the bombastic tweets of a wannabe space mogul really move the market more than adoption by a sovereign nation?
Yesterday also saw more bullishness when former US president Donald Trump gave a back-handed endorsement of Bitcoin, giving it apparently accidental credibility by describing his fears that it was a "currency" that could rival the US dollar.
The latest dip took the overall market cap of all cryptocurrencies combined below $1.5 trillion for the first time since May, with Binance Coin (BNB), Cardano (ADA) and XRP (XRP) all also falling around 10 per cent over the last 24 hours. It seems that despite recent breakouts in the alt markets, they're largely still in thrall to Bitcoin. Will they manage to decouple again?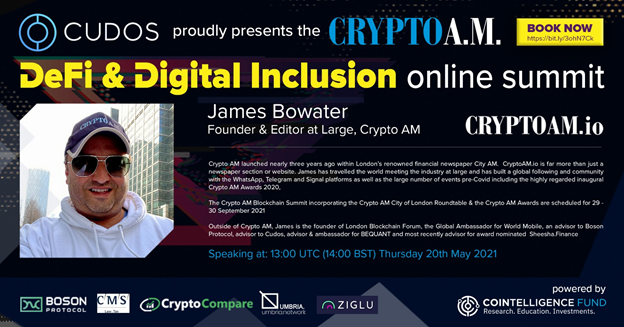 For those of you who missed the Crypto AM DeFi & Digital Inclusion online summit – you can now watch the event in two parts via YouTube…
Part One:
Part Two:
All feedback on Crypto AM Daily in association with Luno is welcome via email to James.Bowater@cityam.com 🙏🏻
In the markets
The Bitcoin economy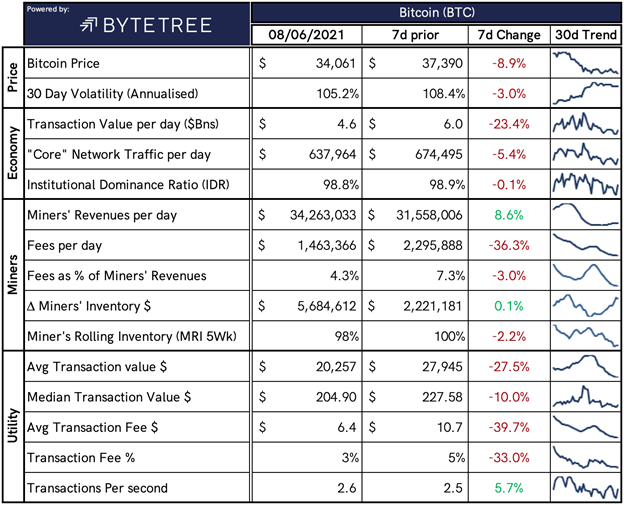 *Definitions and insights can be found at https://bytetree.com/insights/
Total crypto market cap
The total capitalisation of the entire cryptocurrency market at time of writing is currently $1,490,092,386,109.
What Bitcoin did yesterday
We closed yesterday, June 7 2021, at a price of $33,560.71, down from $35,862.38 the day before.
The daily high yesterday was $36,790.57 and the daily low was $33,480.64.
This time last year, the price of Bitcoin closed the day at $9,771.49. In 2019, it closed at $7,954.13.
Bitcoin market capitalisation
Bitcoin's market capitalisation at time of writing is $617.81 billion. To put it into context, the market cap of gold is $12.069 trillion and Facebook is $954.35 billion.
Bitcoin volume
The total spot trading volume reported by all exchanges over the last 24 hours was $41,274,613,763, up from $29,583,305,813 yesterday. High volumes can indicate that a significant price movement has stronger support and is more likely to be sustained.
Volatility
The price volatility of Bitcoin over the last 30 days is 85.99%.
Fear and Greed Index
Market sentiment today is 13.
Bitcoin's market dominance
Bitcoin's market dominance today is 41.86, Its lowest ever recorded dominance was 37.09 on January 8 2018.
Relative Strength Index (RSI)
The daily RSI is currently 32.91. Values of 70 or above indicate that an asset is becoming overbought and may be primed for a trend reversal or experience a correction in price – an RSI reading of 30 or below indicates an oversold or undervalued condition.
Convince your Nan: Soundbite of the day
"By using bitcoin, the amount received by more than a million low income families will increase in the equivalent of billions of dollars every year."

– El Salvador President Nayib Bukele
What they said yesterday
Relentless…
More bullish sentiment coming out of South America…
And more?
Bitcoiners already booking real estate viewings…
Crypto AM Editor writes
Ripple making waves against the SEC's confusing crypto rule book
John McAfee faces dying in prison for the same thing Elon Musk does on Twitter, says his wife
Further pain ahead for Bitcoin as environmental groups queue up to reject cryptocurrencies
How are cryptocurrencies coping this weekend?
Bruised Bitcoin heads into an uncertain weekend
China's CMB International and Nervos Foundation launch $50m blockchain fund
Cardano teams up with Save the Children for humanitarian initiative
HMRC: We're not clamping down on crypto
Ethiopia overhauls its educational system with IOHK blockchain partnership
Crypto AM: Longer Reads
City AM Markets: What is Decentralised Finance (DeFi) by Aave
Crypto AM: Conversation with James Bowater
Crypto AM: Market View
Crypto AM: Technically Speaking
Crypto AM: A Trader's View with TMG
Crypto AM: Mixing in the Metaverse with Dr Chris Kacher
Crypto AM: Talking Legal
Crypto AM: Spotlight
Crypto AM: Founders Series
Crypto AM: Industry Voices
Crypto AM: Tiptoe through the Crypto with Monty Munford
Crypto AM: Definitively DeFi
Crypto AM Parliamentary Special
Part one of two – April 2021
Part two of two – April 2021
Five-part series – March 2021
Part one…
Part two…
Part three…
Part four…
Part five…
Crypto AM: Recommended Events
Crypto AM City of London Roundtable
Crypto AM DeFi & Digital Inclusion Summit
&
Crypto AM Awards 2021
September 29 and 30 2021
Cautionary Notes
It's definitely tempting to get swept up in the excitement, but please heed these words of caution: Do your own research, only invest what you can afford, and make good decisions. The indicators contained in this article will hopefully help in this. Remember though, the content of this article is for information purposes only and is not investment advice or any form of recommendation or invitation. City AM, Crypto AM and Luno always advise you to obtain your own independent financial advice before investing or trading in cryptocurrency.
All information is correct as of 08:30am GMT.