Can these Leeds United fans save English football's sleeping giant?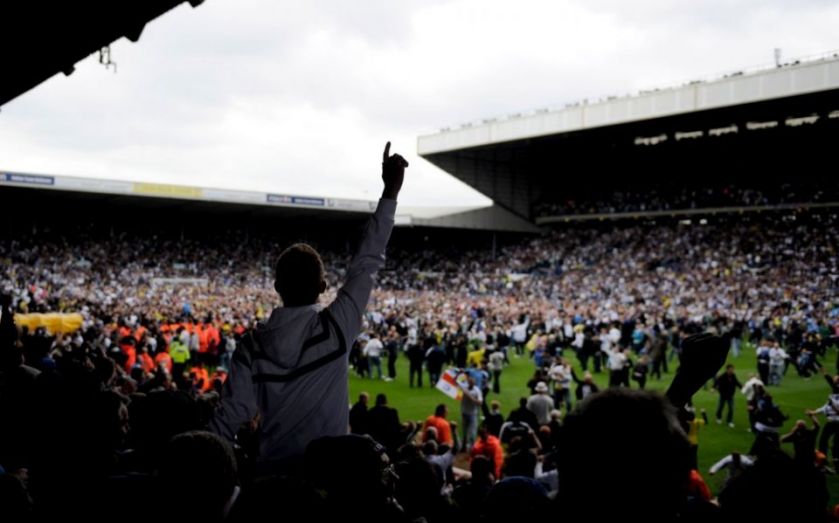 "The response so far has been fantastic; we're aiming to be the largest UK fan fundraise that there's ever been – I think we've got a good chance of achieving that."
These were the words of Brendan Meehan, former partner at KPMG and current finance and legal executive at Leeds Fans Limited Liability Partnership (LLP) who today launched an ambitious fundraising project which they hope will lead to fan representation on the board of Leeds United.
The supporters' organisation has launched the Leeds Fans Community Benefit Society, the first of three fundraising initiatives which they hope will raise £10m, a sum the group wagers will be enough to buy a 25 per cent stake in their beleaguered football club.
Fans can invest between £100 and £10,000 in the community benefit society once the group begins accepting donations on Tuesday 7 April.
"The community benefit society is the primary vehicle and it's the one where the vast majority of fans will contribute", Meehan tells City A.M.
"It's a community-based organisation which means it's a vehicle for a community of people – in this case Leeds United supporters – to come together for a common purpose. Fans will be able to invest anything from £100 – £10,000 in the community benefit society."
Limiting investments to £10,000 with a target of £10m is a tough ask, so the group will accept larger investments from wealthy fans through a limited company later this month. But in keeping with the group's principles of infusion and mass participation, anyone feeling generous must first contribute to the community benefit society along with everyone else.
"There are a number of wealthy Leeds fans out there who would like to commit more money than that and a community benefit society, although right as a core vehicle, probably isn't the best vehicle to take a large amount of money", Meehan explains.
"So during the course of April we will put in place the possibility for Leeds United fans to invest directly into a company called Leeds Fans United Limited. In order to invest in that company, fans will already needed to have put £10,000 in the CBS because we believe passionately that's where it'll all come together.
"We wanted to ground the community benefit society as the main vehicle for bringing fans together and raising money. We wanted all fans to be a meaningful part of that. In order to stop any fan having too great a say in our relationship with the club and our investments, their votes will be limited to £100,000. So no one person or organisation is going to dominate"
Leeds fans have had enough of one person deciding the fate and fortune of their beloved side. Traditionally one of England's biggest and most successful football clubs, the past 15 years have seen decline down the leagues, falling attendances, controversial owners, financial peril and – more recently – cracks of division emerge amongst the fan base.
Can he briefly sum up what has happened to the club in the last few years? Meehan puffs his cheeks and rubs his temples before saying: "I think the answer is no – I can't."
Leeds have suffered two relegations, fallen into administration and been forced to sell its stadium in recent years. And that's just scratching the surface. The club's current owner, Italian Massimo Cellino, has been disqualified by the Football League and forced to relinquish his role as chairman.
Leeds Fans LLP remain open to discussion with Cellino, but in the long term supporters have simply had enough of seeing their club making headlines for all the wrong reasons.
In the three months since a group of fans interested in the idea of supporter ownership first came together, a network of over 100 fans volunteering specialist help has come together to prepare Leeds Fans LLP to begin accepting investments. The group has consulted fan ownership projects at Rangers, Portsmouth and even Barcelona in order to gain expertise, while former playing heroes such as Erik Bakke and Allan Clarke have given their backing to the scheme.
"We've been incredibly busy. It's been all hands to the pump", says Meehan who came out of retirement to devote his time to the cause.
"A former colleague of mine at KPMG was in touch with these guys and they were looking for someone to help on the finance side particularly", he says.
"He knew I was a Leeds fan so he put in [Leeds Fans LLP chief executive] Dylan Thwaites in touch with me. I happened to have a bit of time available so I dived in. It's been a busy old time since then."
"I am a Leeds United supporter – we all are. I believe very desperately, really passionately in what we're trying to achieve. I think it's time fans took back some control. I was very happy to do everything I could to help make that happen."
If any club has the capability of harnessing the power of fans, it's surely Leeds. Supporters of the Yorkshire giant have continued to travel to games in their droves, famously exceeding attendances of 30,000 even while the club was languishing in the depths of League One.
Meehan says: "I went to the Fulham game a couple of weeks ago and it was an utterly amazing night. The noise from Leeds fans was fantastic the whole atmosphere was unbelievable. Everybody was positive and behind the team. And this was after years and years and years of disappointment.
"There were 3,500 fans there that night for a midweek game in London. They're really unbelievable. They deserve better than what they've got."