Women's World Cup final: Is women's football bigger in England or Spain?
Ahead of Sunday's Women's World Cup final between England and Spain, a look at how the game has grown in the two nations – and who can claim to be bigger.
From the success of the Lionesses at last year's Euros and this summer's World Cup to the growth of the Women's Super League, England have become one of the standard bearers in a new era of women's football.
But their opponents in Sunday's final, Spain, have also emerged as a new force in the women's game, albeit one propelled to a large extent by the glittering profile and silverware attained by its biggest club, Barcelona.
In June, Barcelona Femini won the Women's Champions League for the second time in three years, underlining their status as the continent's top team.
During that time they have broken world attendance records by filling the 91,000-seater Camp Nou stadium and seen star player Alexia Putellas win the sport's top individual honour, the Ballon d'Or.
No club has more players representing them at the 2023 Women's World Cup, including 11 of the Spain squad, Putellas among them.
But if Barca Femeni are the top team in women's football then it is England who boast the strongest domestic competition, with 105 players from the WSL representing their countries at the tournament – the most of any league – compared with 75 from LaLiga F, Spain's top division.
It is a statistic that illustrates that women's football in Spain, on the whole, is still behind England in its evolution, says Clive Reeves, UK Sports leader at PwC.
"The WSL is slightly further on the journey," Reeves told City A.M. "Barcelona are definitely one of the powerhouses of women's football right now but the English league has more clubs showing a level of appetite for investment to grow."
English v Spanish football: how the finances compare
Financial metrics also depict Barcelona as frontrunners, but England boasting the greater depth.
Barca Femini topped Deloitte's most recent ranking of the top revenue-generating women's clubs with €7.7m (£6.6m), but Manchester United (£5.1m), Manchester City (£4.4m), Arsenal (£1.9m) and Tottenham Hotspur (£1.8m) were all in the top six.
Most other Spanish teams earn only a small fraction of Barcelona's revenue, with Atletico Madrid generating just €0.1m, a bigger gap than seen in the WSL.
And while Barcelona hold the record for most expensive transfer in women's football, the £400,000 signing of England midfielder Keira Walsh, multiple WSL clubs are now routinely paying £200,000 to £300,000 for players.
England crowds better at league and national level
Attendance figures show that there is stronger support across the board for women's football in England than in Spain.
Despite Barcelona's occasional eye-catching crowds for big European games, average attendance in Liga F is around 1,400 – far less than the WSL's 5,400.
"In England we have seen massive growth [from 2018-23] whereas in Spain it is single digit percentage growth and a much lower number," Reeves said.
That picture is mirrored in the crowds Sunday's Women's World Cup finalists draw for their home matches.
Spain's pre-tournament friendlies on home soil attracted fewer than 10,000 spectators per game, whereas virtually all of the Lionesses' fixtures in the last 18 months have drawn more than 20,000 and they sold out Wembley Stadium for last year's friendly against the USA just weeks after their landmark European Championship victory.
"If you take that as a proxy of general interest in the women's game, it highlights again that England is further along that maturity curve than Spain," said Reeves.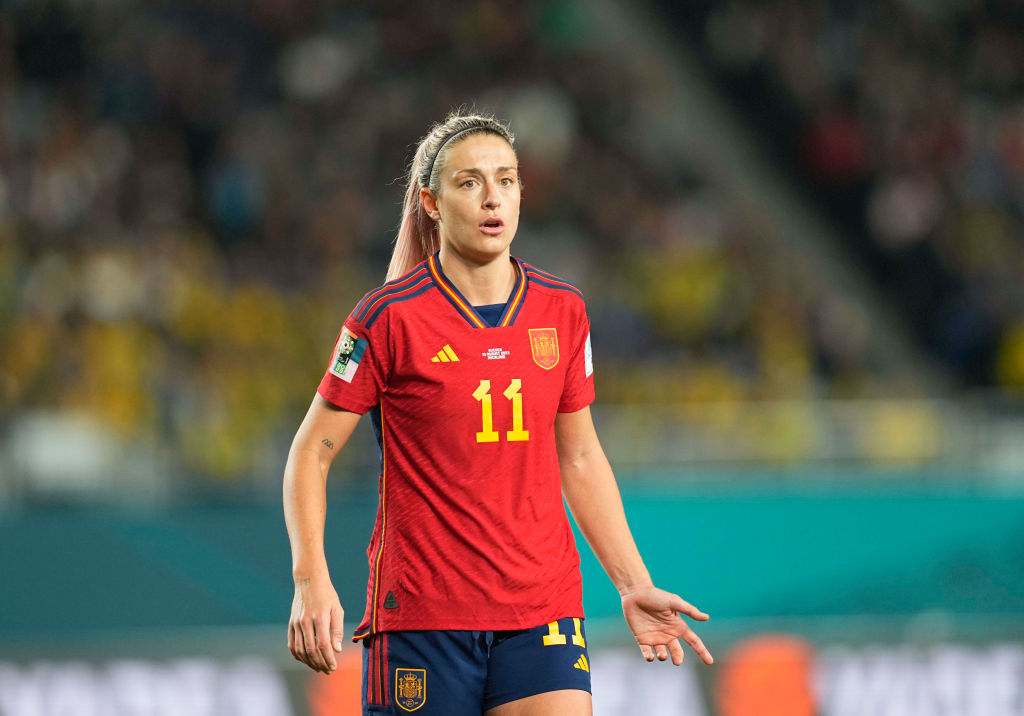 Spain leading way for talent production
Central to the success of both Spain and Barcelona has been a successful talent development programme that has produced the likes of playmaker Putellas, midfielder Aitana Bonmati and teenage striker Salma Paralluelo.
Over the past decade they have become a dominant force at youth level, with Spain's under-17s becoming European champions four times between 2010 and 2018 and their under-19s following suit in 2017 and 2018.
On Sunday they can claim their first major silverware at senior level, if they can overcome an England team who, like the women's game more generally in their respective nations, is perhaps one or two steps further down the line.
"From a talent perspective they are clearly doing really good things," said Reeves. "At a league level, it's that sustained investment among the top clubs that attracts players and grows the league. That's where the WSL is ahead and it's hard to know whether Liga F is catching up or not."