Premiership rugby fixtures: Sarries at Spurs, Harlequins at Twickenham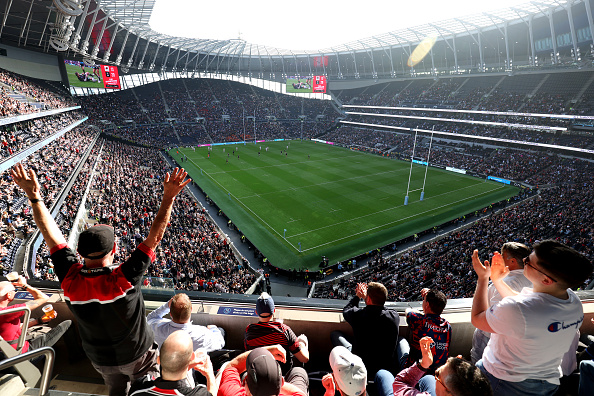 Saracens and Harlequins will host major domestic fixtures at huge London stadiums yet again after the Premiership rugby fixtures were released this morning.
Defending champions Saracens will return to the Tottenham Hotspur Stadium, home of Premier League outfit Spurs, to take on Harlequins at the end of March.
Quins themselves will host two major games: Big Game against Gloucester on 30 December 2023 and Big Summer Kick-Off against Northampton Saints in April.
There will be five fixtures each weekend with all 10 of the league's teams in action after three former sides – Worcester Warriors, Wasps and London Irish – ceased operating in the top flight last term.
The season opens after a Cup competition – which features Premiership and Championship sides for the first time – on Friday 13 October when Bristol Bears host Leicester Tigers.
Quins and Saracens begin their campaigns away from home, at Gloucester and Exeter Chiefs respectively, while Newcastle travel to bath and Sale host Northampton.
Round six, scheduled for November, will be a derby weekend and see five local clashes take place on the same weekend – four of those will be broadcast.
There will be no fixtures during the Six Nations, with Premiership Rugby and new broadcaster TNT making the most of a shortened fixture list.
There have been reports that Bristol Bears could host a fixture – against Gloucester – in Cardiff, at the Principality Stadium.
The final will be held on 8 June at Twickenham Stadium.
Premiership Fixtures
Round 1 (Oct 13-15)
Bristol Bears v Leicester Tigers (7.45pm, TNT Sports)
Exeter Chiefs v Saracens (1.30pm, TNT Sports)
Bath Rugby v Newcastle Falcons (3pm)
Gloucester Rugby v Harlequins (3pm)
Sale Sharks v Northampton Saints (1.30pm, TNT Sports)
Round 2 (Oct 20-22)
Newcastle Falcons v Gloucester Rugby (6pm)
Northampton Saints v Bristol Bears (3pm)
Saracens v Bath Rugby (3pm)
Leicester Tigers v Sale Sharks (3.05pm, TNT Sports)
Harlequins v Exeter Chiefs (3pm, TNT Sports)
Round 3 (Oct 27-29)
Gloucester Rugby v Saracens (7.45pm)
Bristol Bears v Harlequins (2.30pm)
Bath Rugby v Leicester Tigers (3.05pm, TNT Sports)
Exeter Chiefs v Sale Sharks (3pm)
Newcastle Falcons v Northampton Saints (3pm, TNT Sports)
Round 4 (Nov 3-5)
Sale Sharks v Gloucester Rugby (7.45pm, TNT Sports)
Harlequins v Newcastle Falcons (1.30pm)
Northampton Saints v Bath Rugby (3pm)
Saracens v Leicester Tigers (3.05pm, TNT Sports)
Exeter Chiefs v Bristol Bears (3pm, TNT Sports)
Round 5 (Nov 10-12)
Gloucester Rugby v Bath Rugby (7.45pm)
Bristol Bears v Sale Sharks (1.30pm)
Leicester Tigers v Harlequins (3.05pm, TNT Sports)
Newcastle Falcons v Saracens (3pm)
Northampton Saints v Exeter Chiefs (3pm, TNT Sports)
Round 6 (Nov 17-19)
Sale Sharks v Newcastle Falcons (7.45pm)
Bath Rugby v Bristol Bears (7.45pm, TNT Sports)
Leicester Tigers v Northampton Saints (3.05pm, TNT Sports)
Harlequins v Saracens (5.30pm, TNT Sports)
Exeter Chiefs v Gloucester Rugby (3pm, TNT Sports)
Round 7 (Nov 24-26)
Northampton Saints v Harlequins (7.45pm, TNT Sports)
Sale Sharks v Bath Rugby (7.45pm)
Saracens v Bristol Bears (3pm)
Gloucester Rugby v Leicester Tigers (3.05pm, TNT Sports)
Newcastle Falcons v Exeter Chiefs (3pm, TNT Sports)
Round 8 (Dec 1-3)
Harlequins v Sale Sharks (7.45pm, TNT Sports)
Bath Rugby v Exeter Chiefs (3pm)
Bristol Bears v Gloucester Rugby (3.05pm, TNT Sports,)
Saracens v Northampton Saints (5.30pm, TNT Sports)
Leicester Tigers v Newcastle Falcons (3pm, TNT Sports)
Round 9 (Dec 22-23)
Newcastle Falcons v Bristol Bears (7.45pm)
Sale Sharks v Saracens (7.45pm, TNT Sports)
Bath Rugby v Harlequins (3.05pm, TNT Sports)
Exeter Chiefs v Leicester Tigers (3pm)
Gloucester Rugby v Northampton Saints (3pm)
Round 10 (Dec 29-31)
Bristol Bears v Exeter Chiefs (7.45pm, TNT Sports)
Saracens v Newcastle Falcons (3pm)
Northampton Saints v Sale Sharks (3.05pm, TNT Sports)
Harlequins v Gloucester Rugby (5.30pm, TNT Sports, Twickenham Stadium)
Leicester Tigers v Bath Rugby (3pm, TNT Sports)
Round 11 (Jan 5-7)
Newcastle Falcons v Harlequins (7.45pm)
Sale Sharks v Bristol Bears (7.45pm, TNT Sports)
Exeter Chiefs v Northampton Saints (3pm)
Leicester Tigers v Saracens (3.05pm, TNT Sports)
Bath Rugby v Gloucester Rugby (3pm, TNT Sports)
Round 12 (Jan 26-28)
Bristol Bears v Bath Rugby
Gloucester Rugby v Sale Sharks
Harlequins v Leicester Tigers
Northampton Saints v Newcastle Falcons
Saracens v Exeter Chiefs
Round 13 (Mar 23-25)
Bath Rugby v Sale Sharks
Bristol Bears v Northampton Saints
Exeter Chiefs v Newcastle Falcons
Leicester Tigers v Gloucester Rugby
Saracens v Harlequins (Tottenham Hotspur Stadium)
Round 14 (Mar 29-31)
Gloucester Rugby v Bristol Bears
Harlequins v Bath Rugby
Newcastle Falcons v Leicester Tigers
Northampton Saints v Saracens
Sale Sharks v Exeter Chiefs
Round 15 (Apr 19-21)
Bristol Bears v Newcastle Falcons
Exeter Chiefs v Bath Rugby
Northampton Saints v Leicester Tigers
Sale Sharks v Harlequins
Saracens v Gloucester Rugby
Round 16 (Apr 26-28)
Bath Rugby v Saracens
Gloucester Rugby v Exeter Chiefs
Harlequins v Northampton Saints (Twickenham Stadium)
Leicester Tigers v Bristol Bears
Newcastle Falcons v Sale Sharks
Round 17 (May 10-12)
Bristol Bears v Saracens
Exeter Chiefs v Harlequins
Newcastle Falcons v Bath Rugby
Northampton Saints v Gloucester Rugby
Sale Sharks v Leicester Tigers
Round 18 (May 18)
Bath Rugby v Northampton Saints
Gloucester Rugby v Newcastle Falcons
Harlequins v Bristol Bears
Leicester Tigers v Exeter Chiefs
Saracens v Sale Sharks
Semi-finals (May 31 – Jun 2)
Semi-finalist A v Semi-finalist D
Semi-finalist B v Semi-finalist C
Final (June 8)
Finalist A v Finalist B (Twickenham Stadium)