Manchester United 1-1 Arsenal: McTominay and Aubameyang trade blows as both sides underperform
Received wisdom in football states that a draw leaves both teams happy – a point apiece, something to take from your efforts, at least you didn't lose.
Manchester United and Arsenal drew tonight, and yet such are the weaknesses of both sides that both managers should be displeased with a single point.
United faced a Gunners team who were winless in 23 away league matches against the Big Six teams and had won on just three of their last 27 visits to Old Trafford. Considering his side's lowly position, Ole Gunnar Solskjaer should have been targeting the jugular. 
Read more: How Manchester United and Arsenal broke each other
Similarly, Arsenal came up against a team weighed down by all sorts of problems, with a 21-year-old playing out of position at left-back on his first Premier League start since May 2017. Unai Emery should have smelled blood. 
Yet for all the endeavour, the game boiled down to a deflected long-range strike from Scott McTominay and a clinical Pierre-Emerick Aubameyang finish following a defensive error. How the mighty have fallen.
Levels dropped
It was telling that all the build-up to the game involved talk of the rivalry of old – the legendary players of yesteryear and their epic encounters – and not the current incarnations.
In the opening stages of the match it was clear why. It took until the 29th minute for the first shot to arrive.
Before then all the Old Trafford crowd were treated to was intermittent mistakes in the pouring rain, yellow cards and frustration.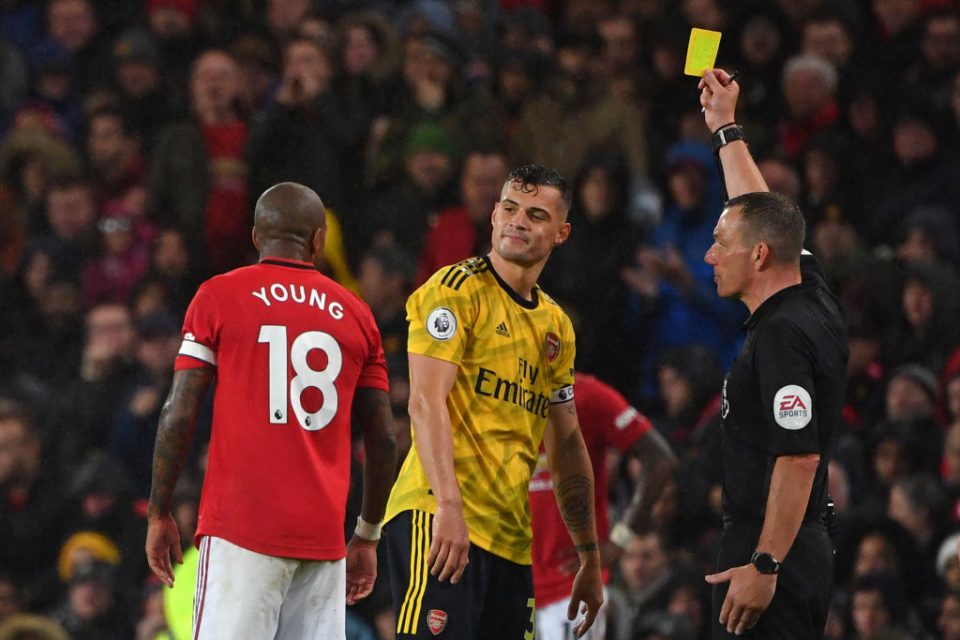 The depths of which both sides' levels have dropped in recent years was plain to see, with square pegs positioned intentionally into round holes by both managers, who set up with the idea of playing on the counter-attack. 
Gunners' negativity
Emery decided to leave his most creative player, Mesut Ozil, out of the squad and his second most forward-thinking midfielder, Dani Ceballos, on the substitutes' bench.
The result – a midfield three of Granit Xhaka, Matteo Guendouzi and Lucas Torreira – looked, in theory, to be a combination designed to keep United quiet and spring the counter.
In practice all they proved was that three negatives don't make a positive. A disconnect between attack and defence appeared likely and proved so, with Torreira replaced by Ceballos in the 55th minute following a ponderous display in which he spurned his only opening from Aubameyang's cross. 
Emery opted for the safe option and yet his team still managed to get caught on the break, with McTominay rifling into the roof of the net just before half-time, via a nick off Sokratis.
Rashford out of sorts
United's striker shortage has been obvious this season. With Romelu Lukaku sold, Alexis Sanchez loaned out and Anthony Martial injured, all the responsibility has fallen on Marcus Rasford. Tonight he failed to shoulder the burden.
Rashford was forced off against West Ham with a knock and although he passed a late fitness test he was off the boil against the Gunners, fluffing a presentable opening from Paul Pogba's through-ball in the first half and, a late free-kick aside, failing to test Bernd Leno afterwards.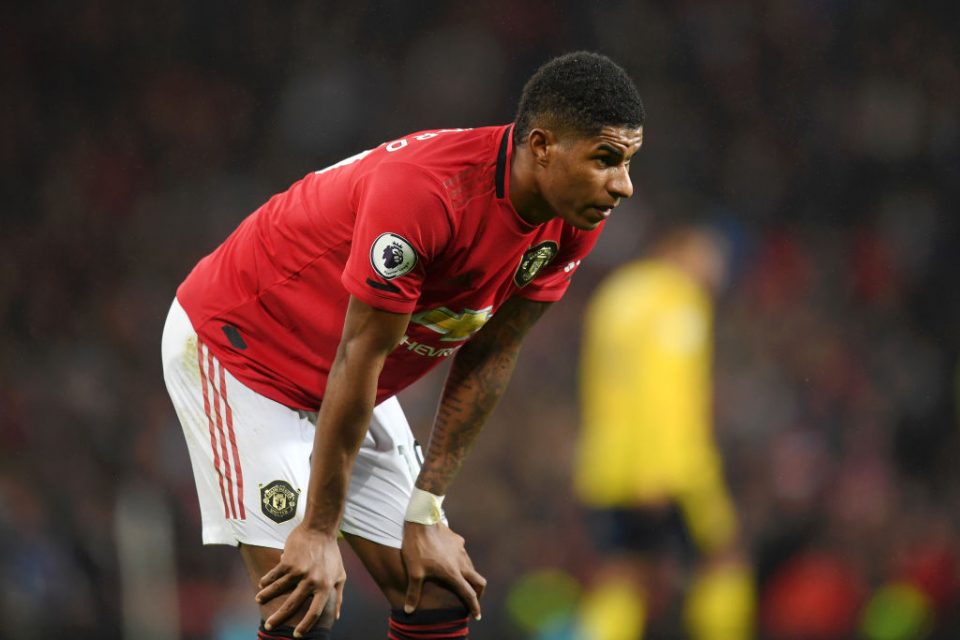 Young forward Mason Greenwood came off the bench for the closing stages, but reports that United are interested in Mario Mandzukic are not surprising – their lack of firepower is worrying.  
Pepe's struggles
While Aubameyang once again bailed out his team with a customary goal following Axel Tuanzebe's mistake to make it 17 in his last 17 games in all competitions – two more than United altogether – it was a tale of contrasts on either side of the Gabonese striker.
Bukayo Saka, just 18, was enterprising on debut, sliding in Aubameyang to score as well as giving Ashley Young a tough time with his relentless running.
He may have had a great chance deflected over from Calum Chambers' cross, but he was streets ahead of Nicolas Pepe on the opposite flank.
Arsenal's record signing is always willing to try things – ambitious dribbles and crosses – but he has too often looked wayward. The £72m signing from Lille needs time to adapt to the Premier League.
Main image credit: Getty Images