Is the current crypto wobble being caused by Binance?
The week in review
with Jason Deane
God save the King!
Since my last update we have officially gained a new monarch – a King – for the first time since the death of George VI in 1952. Of course, this gave us Brits a chance to get the bunting out again and millions of us gladly did as St Edward's crown was lowered onto King Charles III's head.
Interestingly, millions of us also didn't watch the ceremony with viewing figures actually less than they were for the coronation of his mother Queen Elizabeth in 1953. Then, the UK had a population of 36 million with about 20 television sets between them, yet more than 27 million people somehow managed to watch the event live, compared to the 20 million (peak) that tuned in this time round, against a population of 69 million.
Clearly, either our viewing habits or feelings towards the monarchy, or both, have changed since 1953.
Things have definitely changed in Russia, however, where this year's annual display of military might, officially called the 'Victory Parade' was shorter, smaller, completely locked down and noticeably devoid of tanks and aircraft, leading to the creation of this fabulous meme by none other than the Ministry of Defence of Ukraine. It's now entirely possible that Ukraine has more Russian tanks than Russia does. Or at least Ukraine's farmers probably do.
Back in the UK, the Bank of England raised interest rates yet again to 4.5%, a level unseen by an entire generation. Although Governor Andrew Bailey painted a rosier outlook in general, the reality is that for the average person this is not over. Mathematically and macro-economically speaking, of course, it almost certainly never will be.
Meanwhile, at a time when some might expect a positive move in the markets as a result of this news, Bitcoin and crypto instead experienced a wobble, dropping suddenly to a level that it has, broadly, remained at ever since. As always, it's hard to pinpoint the exact reason, but the news that the world's biggest exchange, Binance, paused withdrawals twice was almost certainly a factor. Investors are still very nervous about another FTX style failure and the slightest possibility causes shockwaves.
Binance's given reason was that congestion on the Bitcoin network was delaying transactions and in my view it's almost certainly true. Bitcoin's base layer has been seeing some serious congestion as ordinals and meme coins flood block space and, as a miner, I can personally verify the increase in the fees element of the blocks mined tying in with the current mempool data.
Ordinals are still considered controversial by many, but the reality is that they will almost certainly stay around and it was interesting to hear Michael Saylor's positive take on them this week.
Over in Texas, just as Biden is considering raising the tax on electricity to miners for the "bad things they do to their environment", Texas passed House Bill 591 clarifying that that flared gas can be used on site by Bitcoin miners, reducing carbon emissions by up to 63%. Hmmmm.
One of these guys has got their facts wrong. Looking at you, Biden.
As mentioned last week, Bitcoin Racing was out in force last weekend with six cars in three championships, including the Porsche Carrera cup, the Vertu Mini Challenge and the Nankang Tyre CityCup challenge, perhaps you saw the Bitcoin logo on ITV, ESPN or YouTube? Yours truly, although still a rookie, managed a P23 to P17 move in the first race, despite a "bit of a bump" with the crash barrier during testing in a wet session on the Friday. With six more race weekends to go, you can follow our progress here.
Finally, it's the most important time of year for Europop fans as the Eurovision song contest reaches its sparkly spandex crescendo this weekend. This year, it's being held in Liverpool on behalf of Ukraine, last year's winners, and I had the pleasure of attending the first semi-final earlier this week with my family. It was a wonderful cheese fest of utter madness, just as you'd expect it to be.
This event, of course, has absolutely nothing to do with Bitcoin, crypto or the markets, but sometimes it's just nice to take a break and enjoy a ridiculous spectacle with the understanding that we'll be back to grindstone soon enough.
Speaking of which, have a fabulous weekend!
New to Bitcoin? Learn all about it here with the Bitcoin Pioneers!
Yesterday's Crypto AM Daily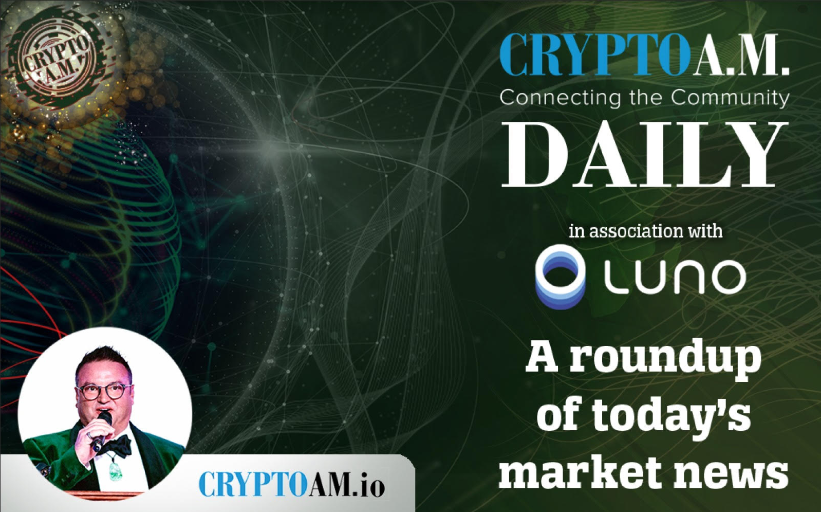 In the Markets
The Bitcoin Economy
*Data can be found at https://terminal.bytetree.com/
Total crypto market cap
The total capitalisation of the entire cryptocurrency market this morning was $1.101 billion.
What Bitcoin did yesterday
We closed yesterday, May 11, at a price of $27,000. The daily high yesterday was $27,621, and the daily low was $26,781.
Bitcoin market capitalisation
Bitcoin's market capitalisation this morning was $509.842 billion. To put it into context, the market cap of gold is $13.293 trillion and Tesla is $545.4 billion.
Bitcoin volume
The total spot trading volume reported by all exchanges over the last 24 hours was $19.113 billion.
Fear and Greed Index
Market sentiment today is 49, in Neutral.
Bitcoin's market dominance
Bitcoin's market dominance today is 46.67. Its lowest ever recorded dominance was 37.09 on January 1 2018.
Relative Strength Index (RSI)
The daily RSI is currently 33.84. Values of 70 or above indicate that an asset is becoming overbought and may be primed for a trend reversal or experience a correction in price – an RSI reading of 30 or below indicates an oversold or undervalued condition.
Soundbite of the day
For a healthy bull market to start you need strong earnings growth ahead and an accommodative Central Bank that allows valuations to freely expand. Today, you got neither of the two.

Analyst @MacroAlf on Twitter, commenting on where traditional markets are at the moment
What they said yesterday
Wild thought…
Bounce? 
Securities?
Would you like to help spread the adoption and education of Bitcoin in the UK and even stack some Sats while you're doing it? Well, now you can!
The Bitcoin Pioneers community, backed by Barry Silbert's Digital Currency Group, was created to introduce Bitcoin to a mainstream audience in a meaningful way and now has members right across the UK.
We share tips, stories and ideas on how to encourage others to try Bitcoin for the first time. And, thanks to support from Luno, each Pioneer gets £500 of Bitcoin a month to share with beginners, helping them get started.
So, if you're passionate about Bitcoin, why not join today? Click here to find out more!
All feedback on Crypto AM Daily in association with Luno is welcome via email to James.Bowater@cityam.com 🙏🏻
Crypto AM: Editor's picks
ChatGPT urges crypto conference panel not to become over-reliant on AI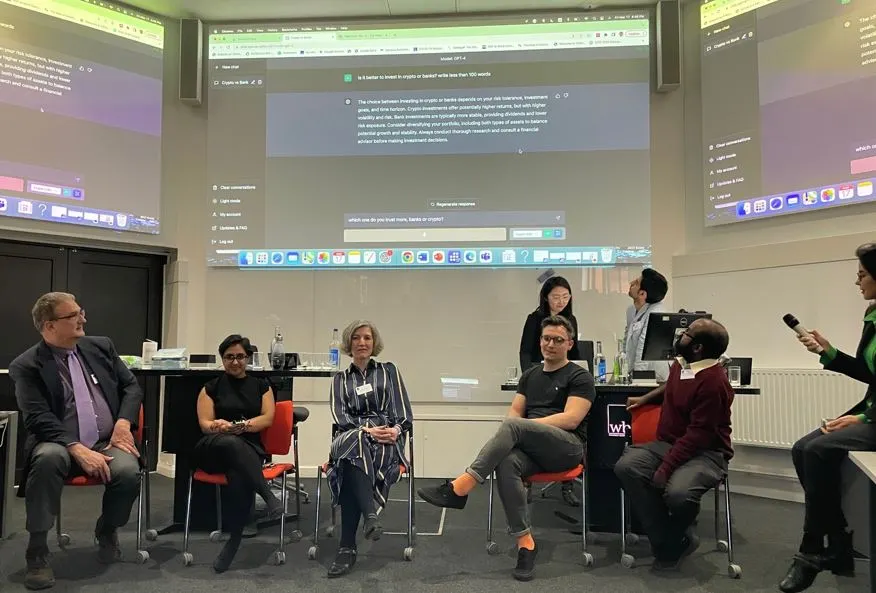 Mt. Gox customers will have to wait until November to recover lost Bitcoin funds
Sam Bankman-Fried: A tissue of lies soaked with fake tears?
Three-in-four wealth managers are gearing up for more cryptocurrency exposure
Crypto.com granted FCA licence to operate in UK
Q&A with Duncan Coutts, Principal Technical Architect at IO Global
Jamie Bartlett – on the trail of the missing 'Cryptoqueen'
MPs are falling silent over potential of cryptocurrency
Erica's 'Crypto Wars' handed honours in Business Book Awards
'Let people invest': Matt Hancock makes case for liberal crypto rules
Crypto AM: Features
Crypto AM: Founders Series
Crypto AM: Industry Voices
Crypto AM: Contributors
Crypto AM: In Conversation with James Bowater
Crypto AM: Tomorrow's Money with Gavin S Brown
Crypto AM: Mixing in the Metaverse with Dr Chris Kacher
Crypto AM: Visions of the Future, Past & Present with Alex Lightman
Crypto AM: Tiptoe through the Crypto with Monty Munford
Crypto AM: Taking a Byte out of Digital Assets with Jonny Fry
Crypto on the catwalk
Crypto AM: Events
Cautionary Notes
It's definitely tempting to get swept up in the excitement, but please heed these words of caution: Do your own research, only invest what you can afford, and make good decisions. The indicators contained in this article will hopefully help in this. Remember though, the content of this article is for information purposes only and is not investment advice or any form of recommendation or invitation. City AM, Crypto AM and Luno always advise you to obtain your own independent financial advice before investing or trading in cryptocurrency.