The house Gianni built: A look back on the history of Versace as it settles into life as a $2bn part of Michael Kors
In the window of Versace's Sloane Street boutique there's a black hoodie. On the left shoulder, right side, and both elbows are brightly coloured silk patches featuring Grecian and Etruscan motifs. Surrounding these, and looping around the collar and hood, are thick, furry, brown trims, similar to ones that hang from my grandmother's sofa.
It is, I think, a hideous piece of clothing. It costs £1,540. Inside the plush, minimalist store, which I had been ushered into by a statuesque, bronzed man who looked like he had just stepped off the catwalk, are pieces that inspire a dizzying range of emotions and sensations – envy, confusion, panic, motion sickness. I feel how my father must feel in a modern art gallery, aware that something brilliant might be happening, but unable to discern exactly what.
Other pieces that grab my attention include a vivid blue, white and gold puffer jacket featuring a pair of leopards fighting above a classical reclining woman (£3,190); a 90s-inspired silk shirt that would have made Jazzy Jeff look normcore (£1,150); and a pair of baroque patterned jeans (£530) that, actually, I reckon I could pull off if I were feeling my best self.
Not that my reservations will unduly worry Versace. In September the company, which has been run by the family since it was founded 40 years ago, was sold to American fashion giant Michael Kors in a deal valuing it at a shade over $2bn.
It prompted outcry from die-hard Versace fans who were terrified their beloved label would be devalued by association, losing the fiercely independent streak that's set it apart from the grand maisons of Paris and Milan for the last four decades. Even those who know next to nothing about fashion can pick out Versace's outre creations – Medusa heads in studded crystals and ever-repeating Greek Key designs.
"You can tell a Versace from across the street," says stylist Kristine Kilty. "The symbolism in its collections is all masterfully fused to create something totally unique."
Michael Kors, on the other hand, has made a fortune targeting aspirational buyers with its signature handbags, which tend to fall in the £150-£500 price range. But success has come at a cost, and many fashionistas consider its products so ubiquitous as to be passe. As one industry watcher quipped: "I was at a wedding in Bolton and three people had Michael Kors handbags, so you can see why the company might want to reconnect with the top end of the market."
The move isn't without precedent: Kors bought luxury shoe label Jimmy Choo for $900m last year and the company has aspirations to become a fashion conglomerate in the vein of LVMH (Dior, Louis Vuitton, Celine, Kenzo, Givenchy) and Kering (McQueen, Gucci, Yves Saint Laurent, Balenciaga). A new company, Capris Holdings, has been created to oversee Kors, Versace and Jimmy Choo.
"It was interesting to see my wife's copy of Vogue mention Michael Kors in the same breath as Kering and LVMH," says Russ Mould, an investment director and fashion analyst at AJ Bell, "Even if it said it's not in their league just yet."
He says the move is an attempt to bullet-proof Kors against an economic slump: "A downturn can persuade the merely wealthy, rather than the super-wealthy, to pull in their horns". Versace, with its £1,540 hoodies, falls squarely into the purview of the super-wealthy.
In the medium term, we'll likely see more of Versace, with new management keen to add another 100 stores and push the brand's footwear and accessory ranges.​ Creative director Donatella Versace, the sister of founder Gianni, has agreed to stay on after the sale, although it remains to be seen how long she'll stick it out.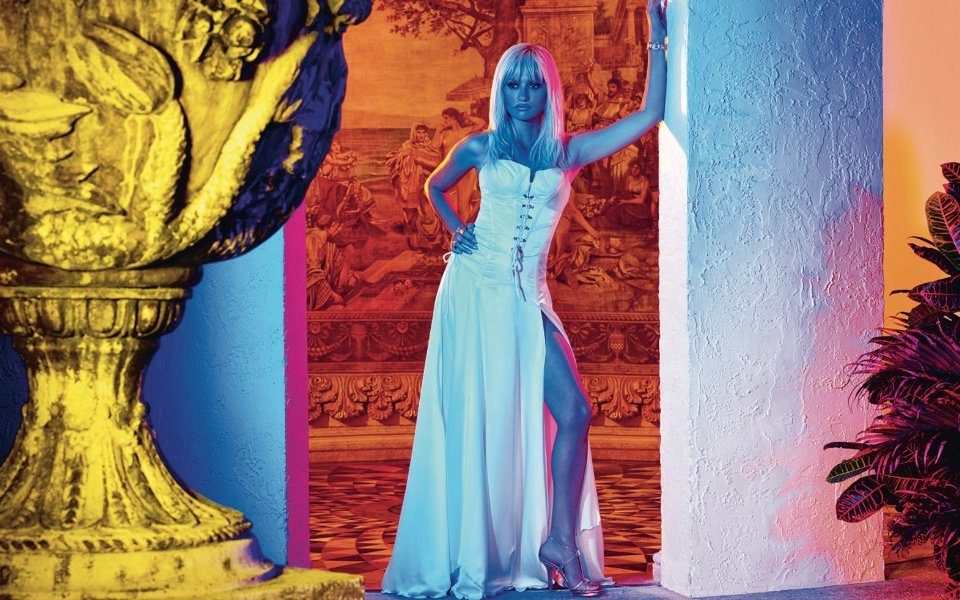 On the morning of 15 July 1997, Gianni Versace was shot dead outside his art deco Miami villa as he returned from collecting the morning newspapers.
By this time the 50-year-old had taken his label from a small atelier to a fashion behemoth. He's often credited with "inventing" the supermodel after marching virtually all of the world's top models – including Naomi Campbell, Linda Evangelista and Claudia Schiffer – down the same catwalk in 1991. Three years later his safety-pin dress was seared into the public consciousness when Liz Hurley wore it to the premier of Four Weddings and a Funeral. His pieces may have been informed by classical art but they were worn by film stars and musicians, including Elton John, Madonna and Prince.
His death felt like a precursor to that of Princess Diana a month later, prompting an outpouring of grief across the world. The Villa Casa Casuarina, on Miami's famous Ocean Drive, has become a pilgrimage for followers of fashion; rare are the occasions that a cluster of tourists aren't gathered outside its gates.
His younger sister Donatella stepped up to become creative director, and a difficult few years ensued as she struggled with the loss of her brother and the singular stresses of running a fashion house. But she proved to be the figurehead the brand needed and, after bringing in a team to run the business side of things, she set about recreating the crazy, absurd, fabulous clothing her brother had made so iconic.
By the time of the Kors sale, Donatella had run the company for as long as Gianni. Moreover, the fashion press had fallen in love with the brand all over again, with publications declaring 2017 the "year of Versace", with both the company and its leader picking up a clutch of awards.
Then came American Crime Story. For its big-budget follow-up to The People v OJ Simpson, the anthology TV series dramatised the events leading up to Gianni's death. It was huge. With a ready-made audience following the wildly successful OJ Simpson biopic, the first episode of The Assassination of Gianni Versace was watched by more than 4m people in the US, with the series only once dropping below 2.5m viewers (to put this in perspective, the finale of Mad Men drew in 3.3m viewers).
It was a wild, stylish adventure through the early 1990s, drenched in neon and full of beautiful people in beautiful clothes. It also reminded the world that one of the most recognisable fashion designers of all time was murdered by a serial killer, Andrew Cunanan, a Walter Mitty-esque prostitute who became obsessed with Gianni (Cunanan eventually wound up on the FBI's infamous 10 Most Wanted list).
The Versace family had no involvement in the series, and while Donatella must have been flattered when Penelope Cruz (who she's on good terms with) was cast to play her, she had no such praise for the venture as a whole, calling it "a work of fiction" and questioning its accuracy.
The show is based on Maureen Orth's non-fiction book about the designer and his killer; like that book, it hints that Gianni's "medical condition" at the time of his death may not have been cancer, as claimed, but HIV – something the family dismisses as "lurid claims" and "gossip and speculation".
Cunanan is also portrayed as something of an anti-hero, a charismatic charmer who was a product of his circumstances and his times. It must have been difficult to watch for the Versace family, although it did their brand no harm, with surveys showing its recognition rocketing, especially among younger people.
Versace enters its fifth decade a very different beast than it was the decade before, but then it's a company that's proven adept at reinvention.​ The big-money sale hasn't only lined the pockets of the Versace family (Donatella, her brother and daughter each received $177m worth of shares in the newly created company), it's also a vote of confidence in the entire haute couture industry. If Versace is worth $2bn, brands such as Gucci, with its far higher revenue, could be worth ten times that.
Even so, there's something about Versace, a certain je n'est ce quoi, that no other brand quite captures. "It makes you look," says photographer Leigh Keily. "It takes your day and makes it extraordinary. Even the crazy leopard print, tassel-fluff…"
On that last point, at least, we'll just have to agree to disagree.