General Election 2015: What are the parties tweeting about?
Voters may complain about a certain homogeneity, but there are clear differences between Westminster's biggest parties in the first week of campaigning – according to their Twitter accounts, at least.
In the week since the leaders' debate, the Conservatives, Labour and the Liberal Democrats have each tried to steer the General Election conversation in their own direction.
We had a look at their pages to see how they were campaigning on social media.
Conservatives
In the last week, the Tories' Twitter has mentioned Miliband 105 times. The name dominates the account, showing how the party is trying to attack the Labour leader himself.
Phrases such as "clear choice" and "chaos" appear, replicating the rhetoric that the party is pushing. "Chaos" links to the Conservatives' claim to discredit a possible Labour-SNP deal – saying it would be chaotic for the UK. It is a key part of the last week of campaigning, with #ScotDebates featuring highly.
Several hashtags have been used by the party, including #Ballsup, trying to rally support across social media platforms. "Economy" and "money" also feature highly, showing how the Conservatives are playing up to their perceived strengths.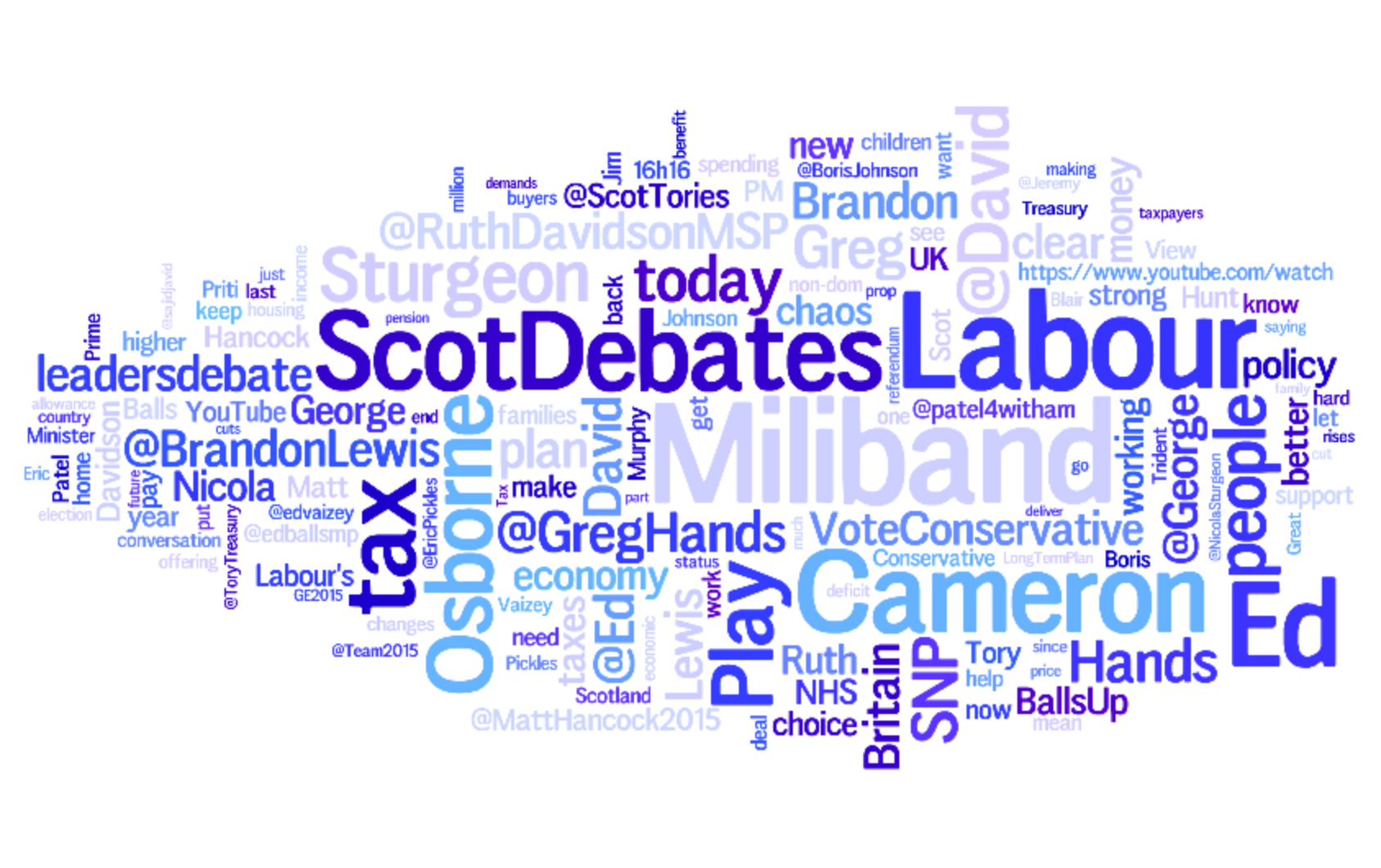 Labour
Cameron was mentioned 43 times by the Labour party – less than half the number of times the Tories mentioned Miliband.
Compared with the Conservative party's "economy" fixation, the NHS is much more visible in Labour's Twitter account. It shows how the party sees this as a strong point for them, with polls suggesting the public trusts Labour more on health.
"Non-dom" also features heavily, representing yesterday's announcement Labour will abolish the tax status.
Again, the party's Twitter account matches its rhetoric, with words such as "unfair" and "better" appearing frequently to try and persuade voters.
Lib Dems
The Liberal Democrats are also spending a lot of time on Twitter attacking other parties. While Miliband and Cameron personally do not feature as much, the two main parties do. The Lib Dems have used #WeHaveNotForgotten to attack Labour's record in government.
"Tax" is mentioned 84 times on the Lib Dems' Twitter account, with the party keen to push its stance as the fair choice situated in the centre-ground of politics.
The account tweeted a lot on the #ScotDebate, perhaps indicating how they are trying to keep seats north of the border – despite polls suggesting they will be wiped away by the SNP.