When they look back on the 251-run defeat by Australia in the first Ashes Test, England will reflect on an opportunity missed.
After losing the toss, England had the visitors right where they wanted them at 122-8, only for Steve Smith to claw Australia back into the game with a brilliant 144.
The former captain then repeated the trick in the second innings, scoring 142 to give Nathan Lyon the perfect platform to spin them to victory at Edgbaston on Monday.
Read more: England facing stern questions after first Test thrashing by Australia
It was a disappointing start to the series and England now need to focus on regaining their confidence, turning things around and winning the second Test at Lord's next week. If they lose again then things start looking very difficult at 2-0 down.
If they are to recover, England need to find a way to dismiss Smith, who is now averaging 92.56 across the last three Ashes series, before he reaches the 140s.  
After the slow, dry surface in Birmingham which suited Australia down to the ground, the hosts will hope for more advantageous conditions at Lord's to aid swing bowling.
Archer's opportunity
Smith is clearly in wonderful form but, like any batsman, he has flaws. I dismissed him in both innings of two Ashes matches – the third Test at Perth in 2010 and the first Test at Brisbane in 2013 – and I think Jofra Archer could be the man to break Smith's run of form.
The injury to Jimmy Anderson is a huge blow to England. It leaves them without their all-time top wicket-taker and makes it very difficult for them to win the Ashes. But it also means Archer can make his Test debut at Lord's.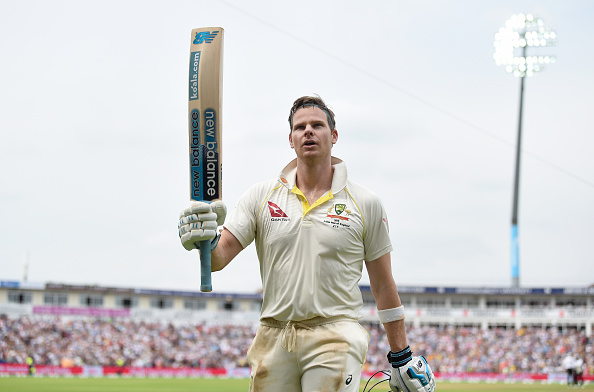 He can provide a new challenge for Smith, who almost took the mickey out of England's attack at Edgbaston with the way he left the ball outside the off-stump and comfortably manipulated the field when they tried to implement bowling plans.
Back when I was playing, the best bet against Smith was to move the ball away outside the off-stump, because he tended to get squared up and be drawn into following the ball with his hands away from his body.
However, he's clearly developed a technique to counteract this issue. In the first Test he was so patient.
He wasn't being drawn into playing when the ball was moving around and simply waited to work anything slightly too straight into the legside. Once the ball had gone soft and bowlers were tiring, he then showed his mastery of scoring on slow pitches.
Pace unlocks doors
Unlike his team-mates, though, Archer has the ability to bowl over 90mph and no matter how good you are that can trouble you.
If I were him I would start my spell simply by trying to bowl my best ball. Then you've got to be patient and try to test him by bowling a fifth-stump line outside off-stump, but crucially Archer's pace allows him to be hostile too.
The 24-year-old has a sharp short ball and if the wicket is receptive he can rush Smith. I came around the wicket and had him caught down the legside by Matt Prior in 2010, and it is a tactic which England can go to now Archer is available.
Archer, who took 6-27 for Sussex's second XI after returning from a side strain today, will have so much expectation on his shoulders if he is chosen to replace Anderson at Lord's.
It's far from the ideal scenario in which to make your Test debut – filling Anderson's boots when behind in an Ashes series – but, after starring in the World Cup, I fully believe he is capable of dealing with it.  
Main image credit: Getty Images