In the end England surrendered the first Ashes Test meekly. 
The 251-run margin of defeat was unimaginable on the opening day, when Australia were reeling on 122-8 at a raucous Edgbaston. And unimaginable for good reason: England made history, registering the biggest loss of any Test side to have claimed a first-innings lead of 90 runs or more.
England did, of course, run up against the best batsman in the world, who played his best ever Test match to score a match-swinging 286 runs over 11 hours at the crease. Steve Smith was a very worthy man of the match. 
Read more: Steve Smith the thorn in England's side with another century
Also, amid the Birmingham gloom, there were some positives. A gritty maiden Test century for Rory Burns to ease the perennial opener issue, at least for now. A 17th Test match five-wicket haul for Stuart Broad. An all-round impressive contribution from Chris Woakes.
But really, considering the stage, the significance of the occasion and the position they found themselves in, this result can't be framed as anything other than a crushing defeat. 
With a 1-0 deficit and an in-form and fired-up opposition to face at Lord's on 14 August, the repercussions will be great.
Anderson blow
"It was hard losing Jimmy early on, but these things happen." That was how captain Joe Root attempted to play down Jimmy Anderson's calf injury which significantly weakened England's attack just eight overs into the match and could force a rethink of their strategy over the series.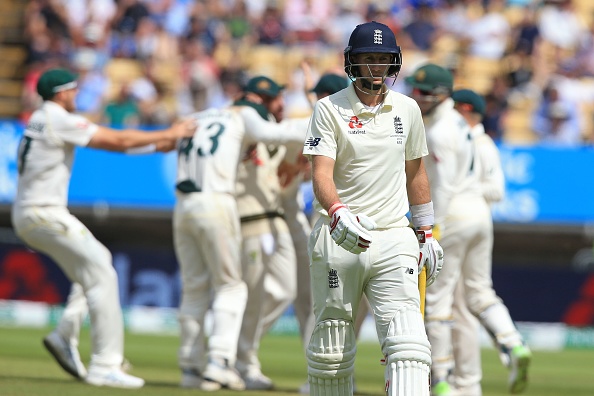 England haven't put a timeframe on Anderson's return but, whatever the prognosis, their bowling attack, which is also without the injured Mark Wood, will be tested.
Much was made of England's decision to insist on a batch of Dukes balls like those used against India last summer. But the fact they didn't offer much swing played into Australia's hands. 
Whoever replaces Anderson – be it Jofra Archer or Sam Curran – England will hope Lord's helps them swing the new ball.
Denly on thin ice
While Burns' 133 was a very welcome boost to England's top order problems, Joe Denly's place requires action.
Root selflessly moved up a place to No3 to protect the 33-year-old, but to no avail, with unconvincing scores of 18 and 11 – alongside ineffectual leg-spin – leaving him open to the chop.
There is always an argument that selectors can act too early, that frequent change creates instability, but the nature of Denly's performances suggest he doesn't have what it takes to make the step up.
With Australia recharging their battery of fast bowlers over the next week, whoever does bat No4 in the second Test can expect to be tested.
Mercurial Moeen
Moeen Ali is the ultimate confidence player. He is the top wicket-taker in Test cricket over the last 12 months and yet after one poor game he looks likely to lose his place in England's side.
While Australian off-spinner Nathan Lyon showed his credentials, bowling brilliantly to take nine wickets, including 6-49 in the second innings on a helpful Edgbaston pitch, Moeen looked shot, drained entirely of the attributes England want from him.
His batting has fallen off a cliff and, at the moment, his bowling is far from pulling its weight either. Jack Leach, who was man of the match against Ireland – albeit for his batting – could return to the side at Lord's, allowing Moeen some time out of the spotlight.
Fried minds 
Worryingly, Denly and Moeen are far from the only two out of form. If they are going to bounce back and come from behind to win the Ashes, England need vast improvements from the core of their team, which has gone from being a dependable powerhouse to a collapse waiting to happen. 
"It gives us a chance to get away, regroup, and make sure this doesn't have a hangover effect," said Root of the nine-day gap until the next game. 
World Cup heroes Jos Buttler and Jonny Bairstow, who contributed 20 runs between them in four innings, must use the time well.