US based Bitcoin spot ETF will be approved by early 2024, mark my words
The week in Review
with Jason Deane
Good afternoon!
I think we can safely clear the decks and talk about only one thing this morning; the current state of play with the SEC and spot Bitcoin ETFs in the USA.
Apart from providing us with a seemingly endless supply of TLAs (Three Letter Acronyms) Grayscale's victory in court against the SEC earlier this week was, frankly, a bit of a surprise. I'll fully admit I didn't expect this to happen, but perhaps I'd skipped over some of the facts of the case too quickly and, to be honest, the SEC is embroiled in so many actions against so many organisations it's hard to keep up.
This is what happens when you don't really provide any guidance to a new, world-changing industry and simply sue people when you think they do something wrong.
If you missed this (where have you been?) the SEC was basically slapped on the wrists – quite strongly looking at the language – about how it had rejected Grayscale's application to change from its current form to the first "proper" ETF in the USA. After all, argued Grayscale, if the SEC approved the other ETFs based on derivatives, how can you then reject this application?
In the end, the SEC couldn't defend the position, since the reasons provided to reject would actually also apply to the ETFS they've approved. Clearly, there are other motivations and agendas here in place, especially when you consider that it's now been nearly ten years – an entire DECADE – since the Winklevoss twins put in their first Bitcoin spot ETF. This is clearly not about consumer protection, there's another agenda at play.
To be clear, the SEC does not now have to approve Grayscale's application and, in fact, could appeal the SEC's decision by submitting the appropriate paperwork in the next 45 days. However, given the strength of the telling off and the attention on Gensler's team, this would be a particularly defiant (some might say "daft") move. But then, this is the SEC. Anything can happen.
They could simply come up with new reasons to reject and force a whole new round of litigation for another couple of years or just keep rejecting the applications that are all due a decision in the next few days, which, of course, they have as of yesterday. Strangely, this had the effect of wiping out most of the market gains made on the news of the SEC's loss earlier, even though this was fully expected.
Interestingly, the story took a little twist a few hours ago when Bitwise voluntarily withdrew its ETF application suddenly, citing reasons that basically boiled down to lack of confidence in the product. This is the second time Bitwise have done this and it does seem a strange move to keep applying in the first place.
But make no mistake, the SEC can fight for a little longer, but pressure is mounting and the position is becoming untenable. Mark my words, a US-based Bitcoin spot ETF will be approved by early 2024.
There, said it.
Meanwhile, here in the UK, we have a month of exciting events ahead. There are two Bitcoin Racing meets – one at Donnington next weekend and the big season finale at Silverstone on October 7 and 8 – and there's also the hottest Web3 event in the UK, Zebu Live which is, unfortunately, more or less the same time as the Silverstone event. You're gonna have to make a choice!
If you fancy going to Zebu (it is, after all, a great conference with a legendary after party!) I'm excited to announce that we're giving away THREE pairs of VIP tickets for the Zebu event in this month's BitcoinHODLers competition, worth over £5000! Join the community today and enter free of charge!
Oh, and if you're around at 3.15pm today, I'll be joining as a panellist on Mario Nawful's Crypto Town Hall spaces to talk about, well, whatever comes up! Maybe see you there?
But in any case, have a great weekend!
Yesterday's Crypto AM Daily
In the Markets
The Bitcoin Economy
*Data can be found at https://terminal.bytetree.com/
🌅Total crypto market cap
🔵 $1.05 trillion
🔻 3.56%
What Bitcoin did yesterday
🔺 Daily high $27,464
🔻 Daily low $25,731
Bitcoin market capitalisation
🟠 BTC $506.24 billion
🟡 Gold $12.998 trillion
💳 Visa $510.96 billion
Bitcoin volume
🪣 Total spot trading volume $20.36 billion
🔺 40%
SP500
🔻 0.38%
FTSE/JSE Top 40
🔻 0.47%
Fear and Greed Index
Bitcoin's market dominance
📊 49.26
Relative Strength Index (RSI)
💪 37.38
Values of 70 or above indicate that an asset is becoming overbought and may be primed for a trend reversal or experience a correction in price, while 30 or below indicates an oversold or undervalued condition.
📣 What they said yesterday
"While some may argue that a BTC spot ETF might deviate from the foundational ethos of cryptocurrencies, the undeniable fact is its potential to attract institutional investments."`

 Adam Blumberg, Co-founder at InterAxis 
Whether you're a Bitcoin expert or a total newbie – or even somewhere in between – you can now join the new HODLers Telegram community to learn more… or share your insights with others!
Our goal is simple: to provide a safe place where people can ask any question they want about Bitcoin, even if they think it's a daft one! Learning Bitcoin takes time and we generally have the same questions when we first encounter it, so we know from our own experience having somewhere to ask a real person a specific question can be of great value!
There's also access to great learning resources and, to cap it all off, we run monthly competitions to win great prizes such as tickets for events, VIP passes, exclusive access to talks and webinars or even just some Sats to add to your stack, all courtesy of our partners!
Even better, the whole thing is completely FREE!
So, if you're a beginner, or know someone who is, take our fun five question multiple choice quiz and join the group today. Of course, if you're an expert, you're also welcome to join and help others who are looking to understand Bitcoin as an asset and the industry as a whole.
T's and C's: Open to UK residents only. All ages are welcome in the community, but you need to be over 18 to enter competitions. No purchase required.
All feedback on Crypto AM Daily in association with Luno is welcome via email to James.Bowater@cityam.com 🙏🏻
Crypto AM: Editor's picks
FCA's new crypto advertising rules met with mixed industry response
ChatGPT urges crypto conference panel not to become over-reliant on AI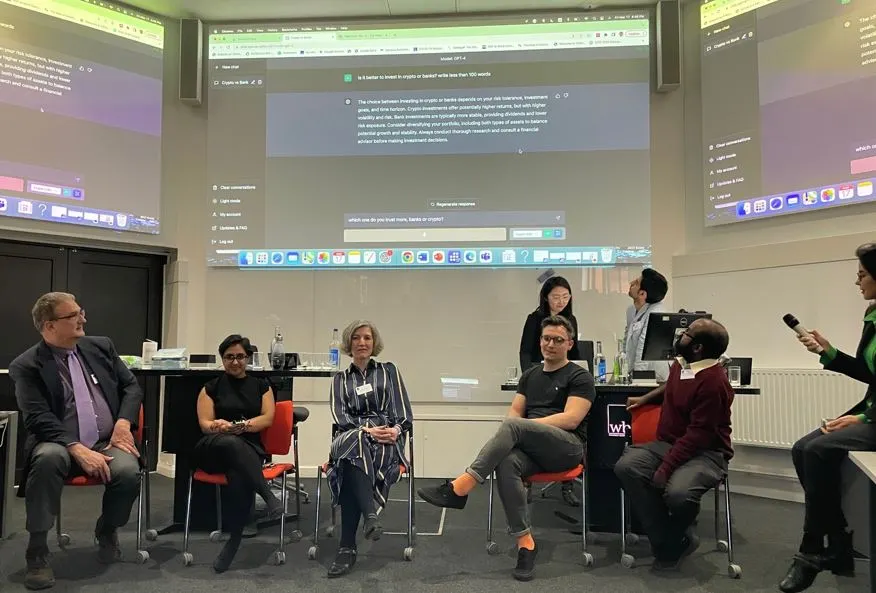 Mt. Gox customers will have to wait until November to recover lost Bitcoin funds
Sam Bankman-Fried: A tissue of lies soaked with fake tears?
Three-in-four wealth managers are gearing up for more cryptocurrency exposure
Crypto.com granted FCA licence to operate in UK
Q&A with Duncan Coutts, Principal Technical Architect at IO Global
Jamie Bartlett – on the trail of the missing 'Cryptoqueen'
MPs are falling silent over potential of cryptocurrency
Erica's 'Crypto Wars' handed honours in Business Book Awards
Crypto AM: Features
Crypto AM: Founders Series
Crypto AM: Industry Voices
Crypto AM: Contributors
Crypto AM: In Conversation with James Bowater
Crypto AM: Tomorrow's Money with Gavin S Brown
Crypto AM: Mixing in the Metaverse with Dr Chris Kacher
Crypto AM: Visions of the Future, Past & Present with Alex Lightman
Crypto AM: Tiptoe through the Crypto with Monty Munford
Crypto AM: Taking a Byte out of Digital Assets with Jonny Fry
Crypto on the catwalk
Crypto AM: Events
Cautionary Notes
It's definitely tempting to get swept up in the excitement, but please heed these words of caution: Do your own research, only invest what you can afford, and make good decisions. The indicators contained in this article will hopefully help in this. Remember though, the content of this article is for information purposes only and is not investment advice or any form of recommendation or invitation. City AM, Crypto AM and Luno always advise you to obtain your own independent financial advice before investing or trading in cryptocurrency.