Train strikes today: How will lines servicing London be affected by Friday's walk-outs – and is there any end in sight?
Britain's train services are being hit by strike action again on Friday, but the capital will remain largely unaffected – as long as you don't have to commute in or out of London.
Who is striking and why?
Train driver members of Aslef and the Rail, Maritime and Transport (RMT) unions are walking out in a long-running dispute over pay, jobs and conditions.
The rail industry said it was working hard to keep as many trains running and criticised the rejection of an offer which would give drivers an eight per cent pay rise over two years, taking average salaries up from nearly £60,000 a year, to almost £65,000.
Rail workers have been joined by many industries in striking amid the cost of living crisis, with this week the UK experiencing 'walkout Wednesday'. Thousands of teachers, civil servants and rail workers among others downed tools and demanded real-terms pay rises.
So, how will London be affected?
Elizabeth line services will be unaffected, while the Gatwick Express will be completely out of action today Heathrow Express will also not operate.
As of 8am this morning, London's tube and Overground system was largely unaffected by strikes with good service on all lines.
Since the reopening of the UK economy after the pandemic, millions of London workers have continued to work at home on a Friday, with Underground data showing a massive drop off in passengers.
Meanwhile, Great Northern, which is run by the Govia Thameslink Railways group, will have no serve. Great northern includes routes that run through central London to St Pancras as well as to City Thameslink.
London Overground is unaffected.
Lines servicing London
Avanti West Coast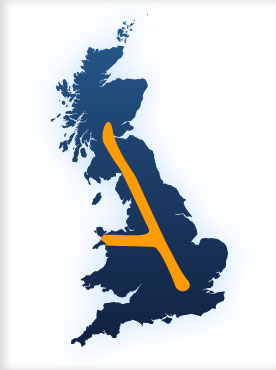 No trains will operate will operate at all, meaning anyone wanting to travel between London, North Wales, the midlands and Scotland, will have to make other arrangements.
This comes after the government threatened to withdraw Avanti West Coast's contract, following claims it was running an "unacceptable" service.
The company admitted it was running a poor service, but insisted it can improve.
c2c
Services will be unaffected for the line that runs to Essex from the Square MIle's Fenchurch Street.
Caledonian Sleeper
The overnight train service running from London Euston to Scotland will be unaffected, meaning you can get a good night sleep on board.
Chiltern Railways
No trains will operate on the service running primarily from Marylebone to the midlands, including Lemington Spa, Oxford, Stratford-Upon-Avon and Kidderminster.
No trains will operate on CrossCountry, which runs from the south-east and south to the midlands, and Scotland. It doesn't enter London.
East Midlands Railway which runs from King's Cross to Sheffield, Derby, Liverpool and Nottingham is also down today.
Grand Central, which runs from London to the north east will be unaffected.
Great Western Railway, which runs from London Paddington to the south and south west of England will have an extremely limited service, and only between 7.30am and 7.30pm.
Customers have been warned to travel in the middle of the day and both expect delays, and to ensure they know times of first and last trains.
The only routes served will be between London Paddington and Bristol Temple Meads; Bristol Temple Meads and Cardiff; Reading and Basingstoke, Oxford and Redhill; Swindon and Westbury; Exeter St Davids and Exmouth and Paignton; Plymouth and Gunnislake; and between Penzance and St Ives.
Greater Anglia, which runs from Liverpool Street to Stansted Airport, as well as to the east of England including Norwich and King's Lynn, will have a very limited service with one train per hour in each direction between London Liverpool Street and each of Norwich, Colchester, Cambridge and Southend Victoria.
Services will start from 8am and finish earlier than usual.
London North Eastern Railway will have an extremely limited timetable with just five trains in each direction between London King's Cross and Edinburgh, with a handful of other services, while no trains at all are running on London Northwestern Railway
Lumo (London to Edinburgh) will be unaffected, while Northern will be completely down, and South Western Railway, from Waterloo to the south and south west of England and the Isle of Wight, said it intended to run a full service on the mainland but said it was "reviewing our plans" after suffering disruption during a similar walkout on Wednesday when drivers not part of the strike refused to cross picket lines.
Southeastern and Southern which serve the greater-London and south will both be down, while the Stansted Express will operate with just one train per hour in each direction between London Liverpool Street and Stansted Airport.
Is there any end in sight?
Simon Weller, assistant general secretary of Aslef, said the dispute was going "backwards" because of the lack of progress in months of talks.
He told the PA news agency: "I don't know whether to point the finger of blame at the ineptitude of the Department for Transport or the Rail Delivery Group.
"We would struggle to recommend a deal of a 4% pay rise for last year and 4% this year if there were no conditions attached, but we are being asked to give up collective bargaining and effectively agree to a no-strike deal.
"Obviously it was going to be rejected – it was designed to fail."
Mr Weller said the attitude among Aslef members was "hardening", but he believed the fault lay squarely with the DfT and train operators.
He claimed the latest offer would add a "significant" number of contracted hours to a train driver.
On the issue of whether Sunday working should be compulsory, he said: "We have been willing to include Sundays in the working week, but companies find it cheaper to have drivers working overtime on Sundays."
A spokesperson for the Rail Delivery Group said: "Having made an initial offer which would have taken average driver salaries from £60,000 to nearly £65,000, we had hoped the Aslef leadership would engage constructively to move talks forward, rather than staging more unnecessary strikes. We can only apologise for the disruption.
"To minimise the impact of the Aslef action, we advise passengers to check before they travel, allow extra time and find out when their first and last train will depart."
It will be the second strike by train drivers this week, after they took part in the huge day of industrial action on Wednesday, which also involved teachers, university staff, civil servants, bus drivers and security guards.
Around 1,900 members of Unite working as bus drivers for Abellio in London will complete a three-day strike on Friday in a separate dispute over pay.
Press Association – Alan Jones and Neil Lancefield