Rugby World Cup: England building but quarters are different level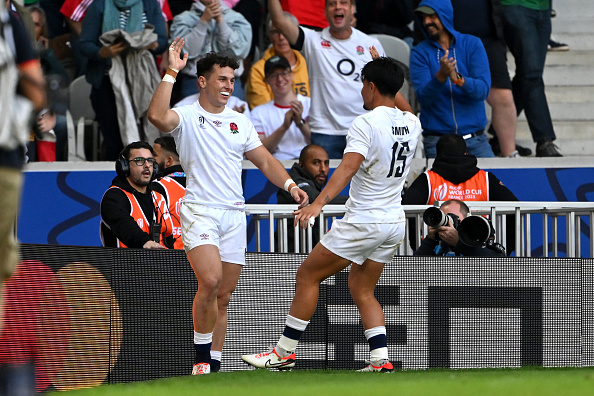 England made a statement on Saturday at the Rugby World Cup with their 71-0 demolition of debutants Chile, but what did Steve Borthwick and his team learn ahead of their two-week break in the pool stages?
Henry V
In his World Cup debut, Henry Arundell crossed the whitewash five times, scoring 35 per cent of England's points in Lille.
Arundell has been through the wringer to say the least. He burst onto the scene for London Irish before scoring with his first touch in international rugby.
London Irish then crumbled into non-existence before the 20-year-old signed a deal with French giants Racing 92.
Not every try saw Arundell complete the final piece of an exquisite puzzle, but the winger found the line time after time and looked at home in a back-three featuring Marcus Smith at full-back.
Arundell has equalled the record for the most tries scored by an Englishman in a Rugby World Cup match – Josh Lewsey versus Uruguay in 2003 – and will cause major selection headaches for Borthwick.
Learning to have fun
There were elements of an England side that fans have been waiting to see under Borthwick on Saturday, and that will be a welcome sight for many given the way the side have played previously.
At one point the fly-half trio of George Ford, Owen Farrell and Smith were all on the pitch – Smith's first try was the pick of England's 11.
And given the recent warm-up loss to Fiji and the win over Argentina – which saw England go try-less – the victory over Chile, at a minimum, does remind opposition teams that the team can play and score from across the pitch.
Missed chances
But sometimes that is not enough and England did butcher a number of early chances and went scoreless for much of the opening 20 minutes.
A clinical start can often be the difference between a side getting out ahead early or keeping the pressure on the opposition and England managed neither – and were often on the back foot when Chile broke through the defensive line and tried to cause trouble.
But it was a youthful side, too, with the likes of Bevan Rodd and Theo Dan alongside Arundell and Smith – and it was a side that seemed to offer a number of attacking options that weren't available in past games.
England are all but in the quarter-finals of this tournament, where they're set to face one of Wales, Australia or Fiji.
The Samoa Test in a fortnight will offer Borthwick a shot at a team close to his first preference, and you can expect the head coach to begin to cement certain spots down ahead of their last eight tie.
Rugby World Cup reality check
Chile have been super at this World Cup given their inexperience at the highest level, but England were a team too far for them.
But rugby chiefs cannot expect the likes of Chile – and others such as Namibia and Romania – to vastly improve unless they open up the global calendar and encourage Tier One and Tier Two nations to play each other more often.
Portugal's 18-18 draw with Georgia proved that the next tier is competitive and rugby chiefs must take note to ensure the sport can truly begin to class itself as a global one.