'Men don't cry': Wallabies legend Campese blasts Australia Rugby World Cup tears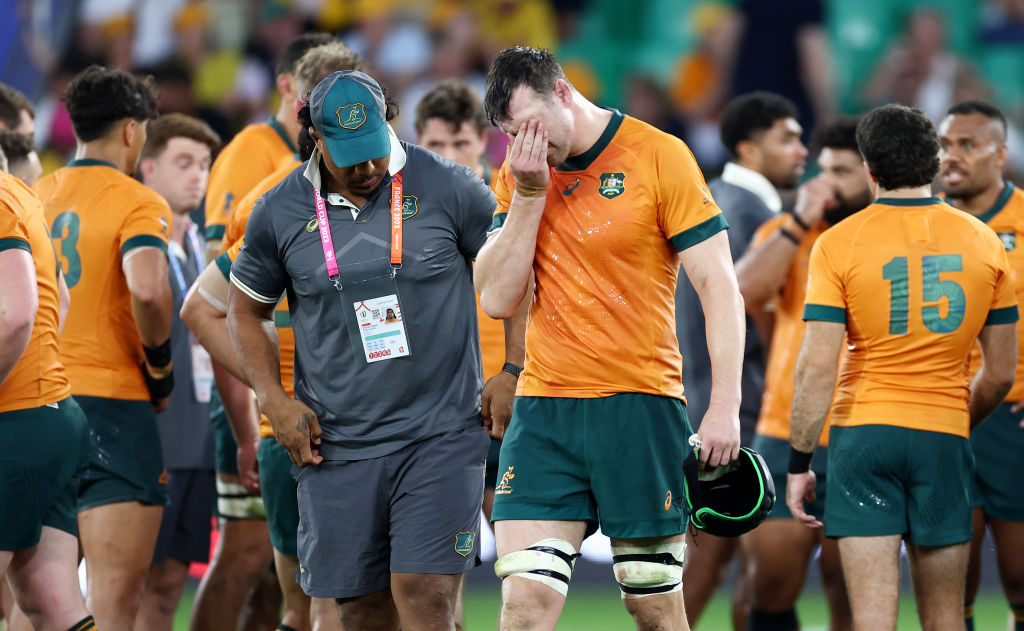 Australia rugby legend David Campese has lambasted Wallaby World Cup stars as cry babies in an uncensored, explosive interview.
Speaking to City A.M. this week the 1991 World Cup-winner insisted that he'd never cried and blasted Australia's worst performance at the tournament, in France last month.
"The thing that really surprised me was that after the last game the Wallabies were crying on the oval," 101-cap Campese said.
"Men don't cry. I am really sorry but I have never cried in my life. Yes, I was disappointed, I was pissed off that I lost, but we never cried.
"And then look at yourself on the big screen. Guys, really, you can have emotions if you win the World Cup. I have never cried because I have won a World Cup or lost [one].
"That's me, I am old school. Get on with life. You're there to do a job, you're paid to do a job. It's your job to go out there and do your best."
Campese's highly critical viewpoint on the state of Australia came after the Wallabies failed to make the knockouts of the World Cup for the first time.
Eddie Jones, who was ditched by England last December and took up the role with Australia early this year, has already left.
And in the void left by the favourite to take over the Japan job next season is a country who have fallen out of love with rugby union. 
Wallabies need support
"We had the [women's] football World Cup here and everyone got behind it," Campese, 61, added. 
"If you think about Australia, the last international event we had was 2018, the Commonwealth Games, so we've had nothing and obviously everyone's going to get behind Australia.
"With the Rugby World Cup, Eddie made a big fuss about going back to the old school and he talked about playing rugby. But a month after that he realised we haven't got the skills.
"And if you don't perform you've got rugby league, which is probably the working class sport, you've got Aussie rules, which gets 100,000 people to a final every year, and you've got football [to fill the void].
"So we are up against it and the thing is the modern game of rugby is very different from when we played.
"We played in an era where we were amateurs, and we entertained people. Now we don't entertain, if you haven't got a rugby ball you cannot win a game."
Is rugby really in that bad a state? The sport has seen Tier Two countries show up at the Rugby World Cup and is starting to develop storylines between players, clubs and countries.
But some have suggested that it is going backwards in a world of increased competition. 
Pretty sad
Sports like football continue to dominate while Formula 1 and NFL are beginning to invade the common space multiple other sports share.
"Rugby is pretty sad [at the moment]," Campese, an ambassador for bettingsites.co.uk, added. 
"After the World Cup the referee gets a medal and the guy in the TMO box gets a medal. For what? What the hell for?
"They're trying to be Fifa and we're not Fifa. Rugby is as a sport is about entertaining, it's about the contest.
"We've got a unique sport, let's keep it unique and make it entertaining. And make sure the referee has nothing to do with the scrum, they have no idea. Let's make a fantastic, entertaining game."
Campese is a legend of rugby and it is clear the Australian holds a grudge shared by plenty others against the sport's powers at the moment. He wants change, many others do.