Roger Varian interview: 'Will I enjoy Royal Ascot? Ask me at the end of the week'
Leading trainer Roger Varian on the importance of success at Royal Ascot this week, his ambitions to run Britain's No1 stable and the future of the horse racing industry.
Six days a week at 4:30am, just as the first sunlight is starting to bathe the Cambridgeshire-Suffolk border, horse racing trainer Roger Varian gets up and heads to his Carlburg Stables in Newmarket.
Some of the stable staff clock in an hour earlier to begin fine-tuning a string of 180 horses for owners scattered across the globe, from the UK to the Middle East, Europe to the US.
There is a palpable buzz around the stables at this time of year because Varian and his 100-strong backroom team are in the thick of preparing for the year's biggest flat racing meeting, Royal Ascot, which begins today.
"There are individual races in the calendar which you could say carry more importance – the 2,000 Guineas, the Derby, the Arc de Triomphe – but in terms of a festival of racing I think Royal Ascot is arguably the pinnacle of flat racing," Varian tells City A.M.
"It's a big international affair. Royal Ascot is one of the weeks where we not only attract a global audience but global visitors – clientele – but also racing fans as well. For us to do well at Royal Ascot is a huge box ticked on the year.
"Winners are hard to come by. Every race, whatever distance, age group, category, they are the best horses from Europe. Add in one or two from a little bit further afield. Every race is a championship race, maximum field sizes, hugely competitive."
Varian: Kudos outweighs prize money at Ascot
Varian, 44, has racked up more than 1,200 winners in 12 years as a trainer, including 10 at Royal Ascot, and he has strong hopes of adding to that tally this week.
His biggest include King Of Steel, the favourite for Friday's King Edward VII Stakes, and Eldar Eldarov, the second favourite for the Ascot Gold Cup on Thursday, while he has four entries on the opening day.
Success at the festival is important for business, not just because the prize money is high but also since it is a shop window with which to attract more owners to place their horses at Varian's operation.
"Essentially we run an equine hotel. We need paying guests and we need them to cover the costs of the business. You're not always the right side of a profit line. The business is very tight. And perks do come through prize money," he adds.
"And I think what outweighs the prize money is the kudos of winning at Royal Ascot and the far-reaching effect that can have on the business, because we are reliant on being supported by racehorse owners, and naturally racehorse owners will support the operation that's doing well."
Owners pay £75 per horse, per day to place them at Carlburg Stables, which just about covers the hefty wage bill, hay, feed, fodder and the increased burden of utility bills.
Winning, therefore, means precious profit but, more than that, it is also Varian's best chance of attracting more and better horses and realising his ambitions.
He enjoyed his most successful season last year, finishing fifth in the trainers' table, but has set his sights on the very top.
"The nice thing about this business is that everyone can feel it; if you have a winner it's not just myself, it's everyone in the team," Varian says.
"We want to do better this year than last year, and that's a mentality we've carried through the previous 12 years. I don't think you ever feel you've mastered this game. At times you're baffled by it. But I think experience counts for a lot.
"It's an ambition to continue to grow the business. We have the capacity to train more horses, and arguably it is a numbers game. The more horses you train, hopefully you train more winners, and it gives you a wider field to find the good horses.
"What's as important if not more important than numbers is quality. We've had a few years in the top 10 of the trainers' table but we have an ambition of going right to the top. I don't think we should be shy about saying that. It's hard to do that without the quality."
Varian on the future of British horse racing
Varian, who had a short-lived career as a jockey before turning to training aged 21, is bullish about the health of the British horse racing industry, pointing to the way it coped with the 2008 financial crisis and a buoyant bloodstock market.
He believes the sport needs to appeal to a wider audience, however, and is in favour of controversial "premierisation" proposals to create a two-hour, Saturday afternoon slot in which the best races can be showcased.
"I think this is a genuine way of the industry being a little bit innovative, saying we think we've got something fantastic, how do we sell it to a wider audience not just the racing purists?" Varian says.
"I'm all for getting behind something innovative. None of us has a crystal ball to see how this is going to play out. I don't like hearing the same whines and whinges and then be a bit of a dinosaur when it comes to change. The industry collectively has to do something a bit different to thrive in the years to come."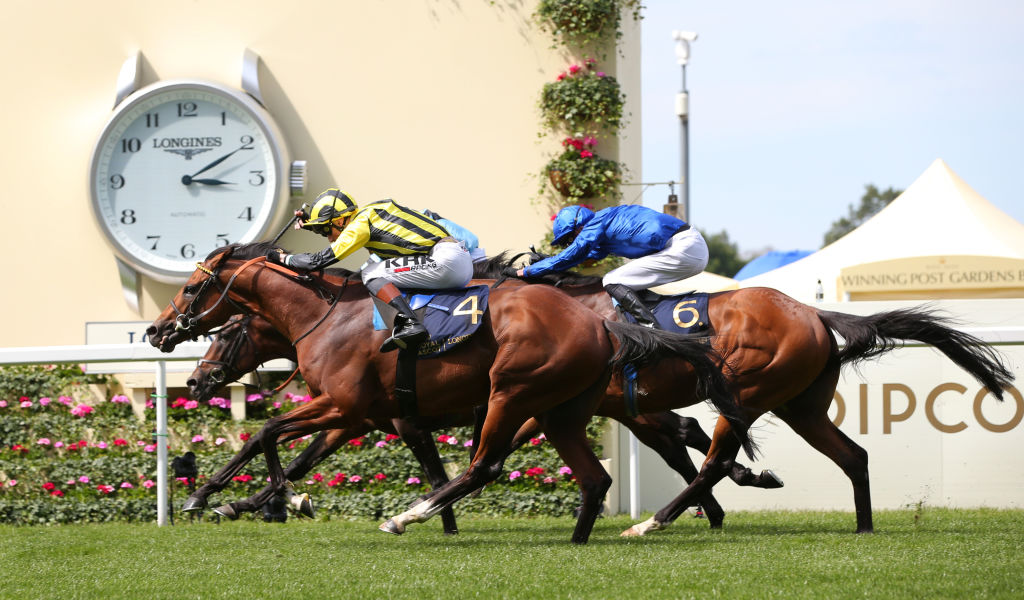 In the immediate future, the best advert for racing will be this week at Royal Ascot, where Varian will be doing his best to enjoy the festival – in his own way.
"You enjoy it differently, and when you have success it's often relief as opposed to pure joy, but in relief you can get joy," he says.
"I don't think it would suit someone who couldn't enjoy the pressure; I think I do enjoy that and I think I'd be a bit lost if I was watching from the sidelines. I'd sooner have the emotional rollercoaster than not be involved.
"Ask me at the end of the week if I enjoyed it – it will be result dependent – but I enjoy being involved in the competition and the challenge of what we are trying to do."