There is an invigorating unfamiliarity to the new Premier League season, with some eye-catching displays from the promoted teams introducing a new cast of exciting players and, most surprisingly of all, a feeble start to their title defence from Manchester City.
Norwich City's improbable 3-2 victory over City on Saturday evening wrapped all of those elements into one thrilling package.
Daniel Farke's team arrived in the top flight on the crest of a wave, having swept to the Championship title with ruthlessness and swagger, and while their opening 4-1 defeat at Liverpool last month was chastening it served notice of their intention to remain on the front foot.
Read more: De Bruyne is back at the heart of Man City's attack
It might be a gamble – at Carrow Road they have thrashed Newcastle and ended up on the wrong side of a five-goal contest with Chelsea, while away from home they lost at West Ham – but it is a calculated one.
When it works, their plan delivers exciting, intricate football.
Against City it delivered in spades. They rode out the early storm and then got a foothold through Kenny McLean's header.
Once there, it would have been easy to retreat, but instead they continued to pour forward on the break and doubled their lead.
Stars of the season
Inevitably, the move involved three of the stars of their season so far, Emi Buendia, Teemu Pukki and Todd Cantwell.
The tigerish Buendia won the ball in midfield, poacher Pukki scampered clear and then, with a superbly disguised pass, teed up the languid Cantwell for a tap-in. Pukki would later get his sixth goal already this term.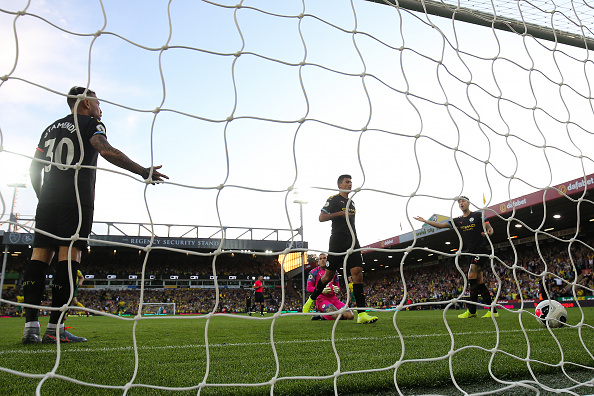 Some clubs – Fulham last year, Aston Villa this – overhaul their teams on winning promotion in the belief that the men that took them up will not be good enough to stay there.
Norwich, like Bournemouth and Burnley before them, are proving there is another way.
City manager Guardiola now finds his team five points off leaders Liverpool already and in the midst of something a defensive crisis.
Nicolas Otamendi contrived to hand Norwich their decisive third goal, as he and John Stones attempted to play out, and those two are suddenly City's only fit recognised centre-backs, with Aymeric Laporte sidelined for six months and Vincent Kompany departed.
With Liverpool yet to drop a point, Guardiola is in a race to find a solution before City see the gap widen to a chasm. Few saw this coming and it is all the more fascinating for it.
Main image credit: Getty