They don't need any help, but Manchester City are enjoying a competitive advantage this season which they couldn't always call upon in the last campaign.
When you have the luxury of a squad packed full of some of the world's best players one man shouldn't make too much of a difference. But Kevin De Bruyne is different.
The Belgian midfielder's 2018-19 season was blighted by injuries, with five separate problems meaning he featured in just 29 per cent of the available Premier League minutes for City.
Read more: North London derby is a chance for Spurs to forget their terrible form
Now fully fit again he's hit the ground running, starting all four of City's games so far this season – the Community Shield and three league games – and proving influential in all of them.
Rotating midfielders
Pep Guardiola is a manager who likes to rotate his squad. City's player of the season from 2018-19, Bernardo Silva, sat on the bench for their opening league game, while captain David Silva did the same against Tottenham in their second fixture.
De Bruyne, on the other hand, has started every one, only being withdrawn late on in the Community Shield and when the game was won in the 5-0 thrashing of West Ham on the opening weekend.
Having admitted to frustration with injuries last year, De Bruyne has already made personal history this year, reaching 50 career Premier League assists faster than any other player.
The 28-year-old already has a division-leading four assists in three league matches so far, taking him to the landmark in 123 appearances – quicker than Mesut Ozil (141), Eric Cantona (143), Dennis Bergkamp (146) and Cesc Fabregas (165).
With 23 goals to go with his 50 assists, it means De Bruyne has contributed to a goal on average every 0.60 league games since his £55m move from Wolfsburg in August 2015.
City's riches
If he can stay fit, De Bruyne is sure to be a fixture in Guardiola's side this season, heading the queue for a midfield space despite an embarrassment of riches which includes the two Silvas, Raheem Sterling, Ilkay Gundogan, Riyad Mahrez, Phil Foden, Rodrigo and Fernandinho.
Finding a position for someone as gifted as De Bruyne can prove difficult with his natural instinct to roam and find space in between the lines of the opponents' formation.
When Guardiola arrived at City in the summer of 2016 he had to accommodate both club stalwart David Silva and De Bruyne.
The result: the Catalan's 4-3-3 formation, with a defensively-minded holding midfielder – usually Fernandinho – and two intelligent forward-thinking midfielders proved the perfect solution, with both Silva and De Bruyne providing ammunition to satisfy the relentless goalscoring of Sergio Aguero.
Finding rhythm
The balance looks set to continue this season – Silva's 10th and last with City – after the Spaniard weighed in with two assists to De Bruyne's one in their 3-1 win over Bournemouth last weekend to claim man of the match on his 400th appearance for the club.
They have different qualities – Silva is more subtle and adept in tight spaces, while De Bruyne's vision and right foot allow him to create more from crosses – but the Belgian looks to be the perfect successor to one of City's greatest ever players.
It is early days this season, but with Brighton next up at the Etihad Stadium on Saturday ahead of league matches against newly-promoted Norwich and struggling Watford it seems De Bruyne will have plenty more opportunities to add to his assist tally.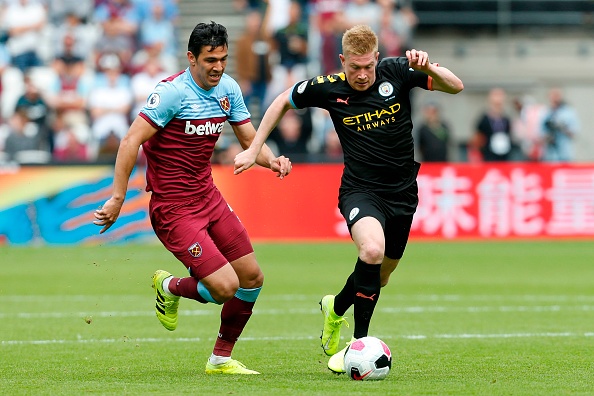 Judging by his post-match comments at Bournemouth, he's just getting started.
"I just don't think I played the best game," he said. "It's one of those games, August, for me, I'm just trying to find a rhythm and then September is easier."
The rest of the Premier League beware: City are gunning for their third successive title and they're beginning to get their creative force up to speed.
Main image credit: Getty Images