Magic Marcus Smith performance vindicates Borthwick call to release him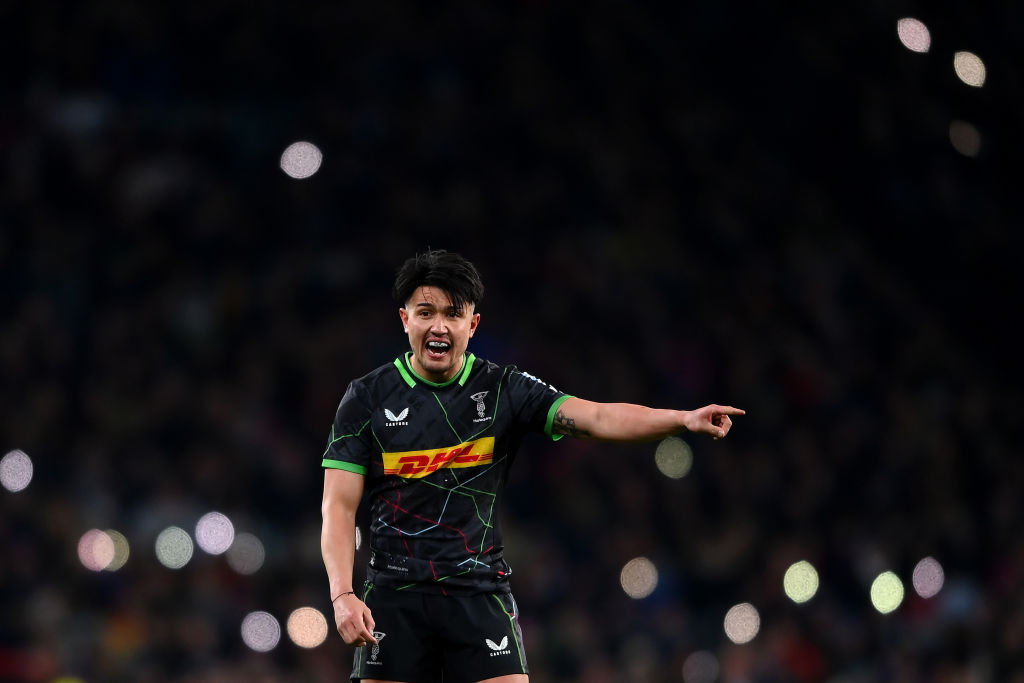 With a ball as his baton, a rugby kit as his tuxedo, and Twickenham his symphony hall, Marcus Smith demonstrated what it means to orchestrate a sports team at the weekend.
His pivotal, leading role in Harlequins' 40-5 win over Exeter Chiefs on Saturday not only reminded the rugby community of what the No10, born in the Philippines, can do at the helm but it vindicated Steve Borthwick's decision to drop the fly-half from England's training camp to give him game time.
It appears as if, under the Steve Borthwick era of England Rugby, that Smith will be banished to the bench more often than not to ensure that the head coach's captain Owen Farrell starts at fly-half.
Magic Marcus Smith
So when against Wales 24-year-old Smith got just a matter of seconds to make an impact on a huge match in the Six Nations and little came of it, fans were rightly frustrated.
Because Smith is a colossal talent in English rugby. It is rare a player plying their trade on shores is so readily noticed by those abroad; Smith has transcended the Premiership and is a player on everybody's lips.
But sometimes that is not enough and it is clear that England head coach Borthwick backs Farrell in that string pulling role.
That said, allowing Smith back to his club to get gametime now looks like a masterstroke from Borthwick, and it implies that the No10 will play a larger role for England going forward, given George Ford – similar to Farrell in style – is the third option.
What's not to say this weekend's Six Nations clash with France will see the return of the Smith-Farrell axis at No10 and No12 with the brilliant Ollie Lawrence outside them as the main ball carrying back?
Smith showed off his ability to dictate his side's success at Harlequins' Big Game on Saturday.
Early on he was a keen body in the defensive line; he threw himself into tackles when Chiefs had their rare moments of dominance.
And his skill shone through too. In the 11th minute he spotted acres of space in behind the Devonshire side's defence and dropped in a chip kick that beautifully bounced up for charging centre Andre Esterhuizen to gather and offload to Cadan Murley – also dropped by Borthwick this weekend – to score.
Midway though the opening 40 he was key in the move which saw Josh Bassett cross the whitewash, this time used as an attacking decoy option.
Hallowed turf
And less than 10 minutes later he demonstrated his ability to run perfect tracking and supporting lines as he tailed the attacking play to assist Joe Marchant 40 metres downfield.
On Saturday the hallowed turf was Smith's playground, and he'll hope to be back there this weekend when England take on Les Bleus.
Will Borthwick stick with the Farrell-Lawrence-Henry Slade axis or will he revert to the Eddie Jones favourite of the Smith-Farrell combo? Time will tell.
What is for certain, however, is that releasing Smith to his club this weekend now appears to be a triumph by Borthwick. A star No10 got gametime, as Borthwick intended, and Smith himself showed off what he could do.
The future of the England fly-half spot is unknown, and how Borthwick has used his No10 replacements has thus far varied, but watching Smith conduct a sublime symphony – like the one he orchestrated on Saturday – will have raised a number of questions for the England boss.
And given the way Borthwick tends to operate, that's exactly what he would have wanted.