Luke Donald tempted by Ryder Cup repeat mission after conquering US in Rome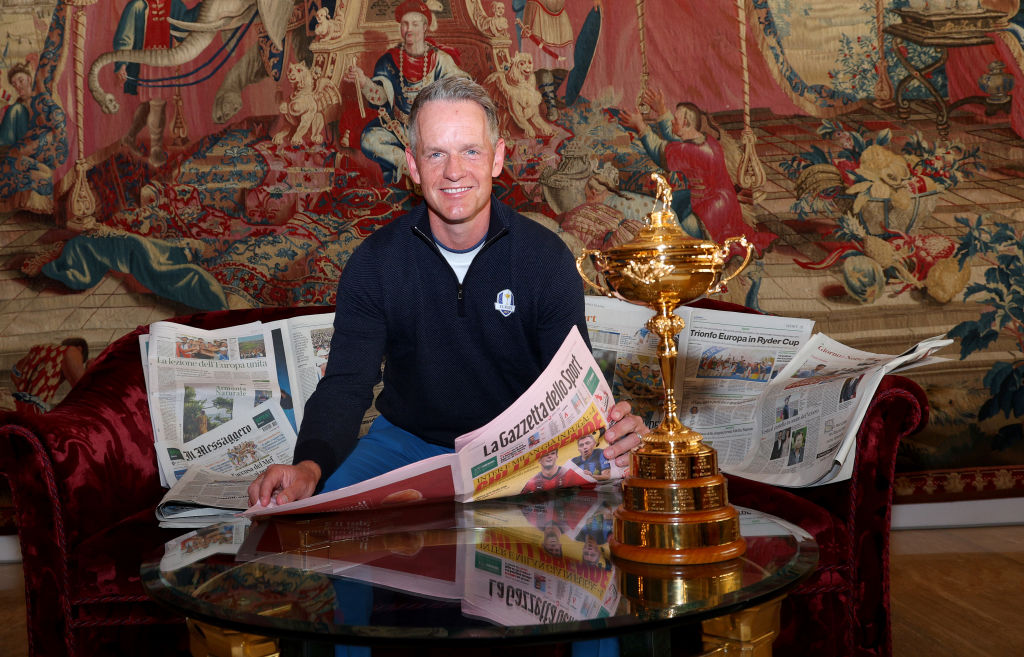 Victorious European Ryder Cup captain Luke Donald admits he is tempted to answer the call of his players and seek a second stint in charge in 2025.
Rory McIlroy said the whole team "would be very happy" if Donald stayed in the role for the return match at Bethpage Black, having masterminded Sunday's 16.5-11.5 triumph in Rome.
Jon Rahm also praised his captain's "unbelievable job", while several players regaled him with chants of "two more years" during the trophy presentation.
"Well obviously I appreciate that from the players. We had a great week together. It is a long process, this is not an easy job," Donald said today.
"I certainly haven't given it really any thought yet. It's something I would have to sit down and think about.
"Of course I would consider it. I'm trying to enjoy this moment right now, enjoy this victory, and then we'll see what happens in the future."
There is no guarantee Donald will be offered the chance to extend his tenure, which was only thrust upon him after Henrik Stenson lost the role for joining LIV Golf, but he appears to have the players' backing.
Bernard Gallacher was the last European captain to lead the team in consecutive Ryder Cups, having taken charge for the defeats in 1991 and 1993 before winning in 1995.
Not since the Miracle of Medinah in 2012 have Europe won on US soil, while their last away match finished in a crushing record 19-9 defeat at Whistling Straits two years ago.
"Maybe I go out leaving a legacy as a winning Ryder Cup captain and not risk that," added Donald, who also won three out of three as a player.
"Going over there in New York, which would be a real cauldron, those fans are extremely passionate. It would be a really, really tough environment. If I was to do this job, and I was to go over there and win, that would be some accomplishment."
Europe's win sparked scenes of jubilation at Marco Simone Golf and Country Club and the party continued after they left the course, as raucous footage from the team bus illustrated. 
"We celebrated like we should have," added Donald. "It was a fun night, celebrating with team-mates, with fans, with family, and memories that will stay with us forever.
"It's still sinking in. This has been a long process, it's a long journey, I'm so glad it ended up like it did. It was just an amazing week sharing this with my team-mates and the staff and the families, everyone."