Car park bust-up with US team inspired Europe to win Ryder Cup, says Rory McIlroy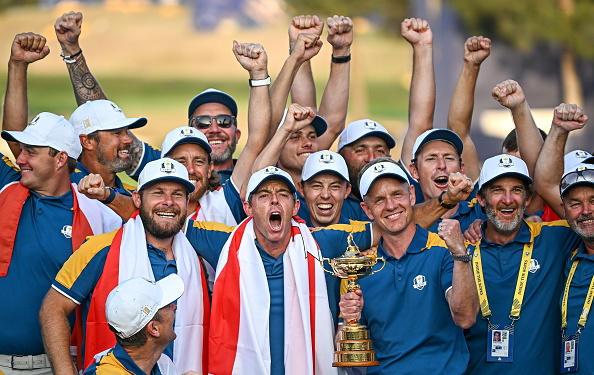 Rory McIlroy cited his car park fracas with the US Ryder Cup team as an inspiration for Europe's victory on Sunday.
McIlroy had to be led away by teammate Shane Lowry as he berated Jim "Bones" Mackay on Saturday evening over his fellow caddie Joe LaCava's behaviour on the course.
The Northern Irishman admitted he was "pretty angry" at LaCava for celebrating in his putting line after Patrick Cantlay holed a huge putt at the end of a fourballs match with McIlroy.
"I was hot coming out of that yesterday. I didn't agree with what happened on 18 but let it fuel the fire today, it focused me and I was able to get my point," he said.
"We talked about it as a team last night and we felt like it was disrespectful. It wasn't just disrespectful to Fitz [Matt Fitzpatrick] and I, it was disrespectful to the whole team.
"We get the banter when we go over to the States and play and the same happens here. It's the way the Ryder Cup goes and you have to have thick skin."
McIlroy ended as leading scorer as Europe won the Ryder Cup 16.5-11.5 and immediately set his sights on retaining the trophy at Bethpage Black, New York, in two years' time.
"One of the biggest accomplishments in golf is winning an away Ryder Cup and that's what we're going to do at Bethpage," he added.
Europe's players chanted "two more years" at Ryder Cup captain Luke Donald during the trophy presentation in an apparent plea for him to stay on.
Donald was widely praised by his players but played down talk of a second stint, saying: "I am going to enjoy this one right now. We will figure that one out later.
"This is the best. This is why the Ryder Cup is so special to me and these guys because of these moments. We play for each other, we get to share in that success together and we get to spend this week together and we will have those memories forever.
"I gave them a good culture to succeed, hopefully I laid out a good plan in how I thought they were going to win and then it was staying out of the way. They had to play well and they did the job, I'm happy they trusted me."
US captain Zach Johnson said Europe had "played great and they were very impressive. I think we got outplayed.
"I'm proud of my guys, they fought. It's not them, it's on me. Maybe it's some poor decisions, something to reflect (on). I don't know yet.
"I'll reflect on this and Team USA will be better off at some point. We will learn. We have motivation and they [players] will learn too."