FA Cup final: Man charged for '97' shirt referencing Hillsborough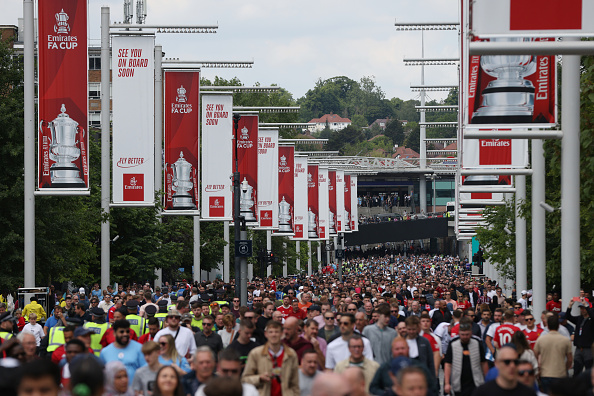 A man has been charged for wearing a shirt at the FA Cup final on Saturday which appeared to be a reference to the 1989 Hillsborough disaster.
The fan, a 33-year-old male from Warwickshire, was charged with displaying abusive or threatening writing likely to cause harassment, alarm or distress after he was pictured with a shirt with the number 97 on it below the words "not enough".
The shirt appears to be a reference to the Hillsborough disaster, in which 97 Liverpool fans lost their lives following a crush at a match in 1989.
On Sunday, the Football Association said: "The FA strongly condemns the actions of the individual who wore a shirt referencing the Hillsborough disaster ahead of the FA Cup final. We will not tolerate abuse relating to Hillsborough or any football tragedy at Wembley Stadium and we will continue to work with the authorities to ensure strong action is taken against perpetrators."
Manchester City won the FA Cup final on Saturday with a 2-1 victory over neighbours Manchester United. Ilkay Gundogan's double helped Pep Guardiola's side to claim their second trophy of the season.
City remain on for the treble.