Climate activists target bankers during second week of protest
Hundreds of climate protesters shut down traffic at the heart of the City today, accusing the financial sector of "bankrolling the environmental crisis".
Read more: Extinction Rebellion targets Blackrock in day of City protest
Activists from protest movement Extinction Rebellion gathered in the rain at around 7am to begin a "day of disruption" that saw them block the busy junction outside the Bank of England and Mansion House, halting buses, taxis and cars.
The group also targeted insurance firms in the Walkie Talkie building and the headquarters of investment firm Blackrock, one of the world's biggest money manager fossil fuel investors, sparking a number of arrests.
Extinction Rebellion said $5 trillion of investment was planned for new coal, oil and gas projects over the next decade, much of facilitated by the City.
Donnachadh McCarthy, an Extinction Rebellion spokesperson, said: "What we are calling for is for the government to ban all new investments in fossil fuels." He urged banks to invest in "renewable energy, plant-based diets, energy efficiency [and] sustainable transport" instead.
But the City of London Corporation insisted the Square Mile was "already taking radical steps to reduce emissions, transition to renewable energy and improve air quality".
It said the City is "a key part of the answer to this global crisis" and "at the forefront of efforts to champion green finance" such as bonds that promote renewable energy investment.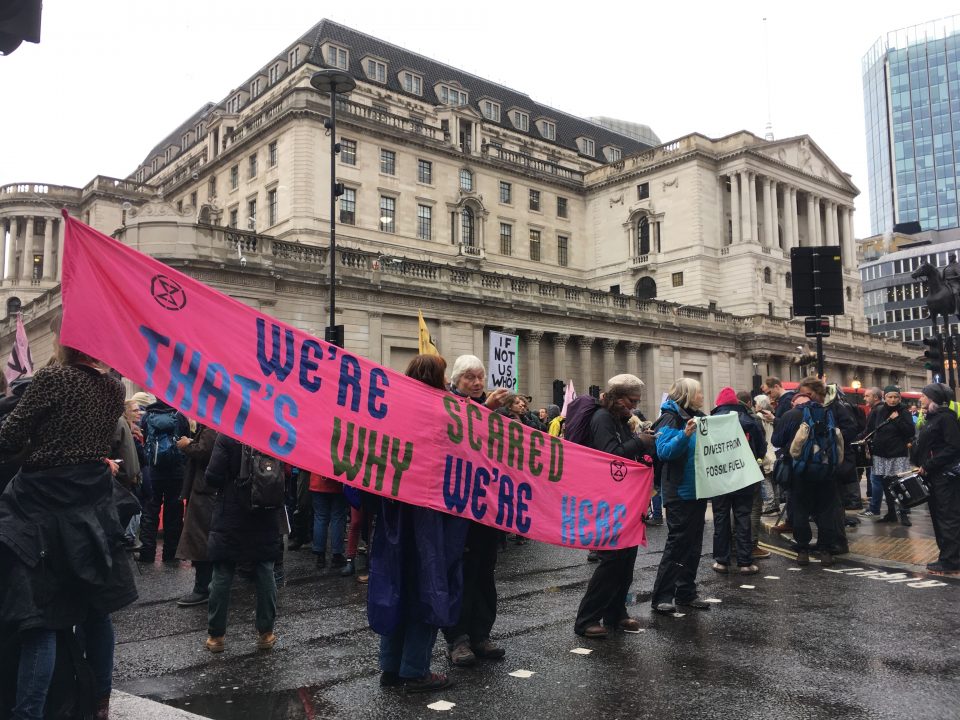 A spokesperson for Barclays, which protesters singled out as a major fossil fuel funder, said the bank had taken a number of steps to address climate change, including facilitating green finance and slashing its investment in fossil fuel companies by almost 20 per cent over the last year.
Protesters say banks are not acting fast enough, however. Aylin McNamara, part of Extinction Rebellion's scientists group, said: "What we are doing as a society is completely unsustainable and if the banks continue in supporting that system, the banks will collapse."
Bank of England governor Mark Carney has echoed this message, saying that firms that "fail to adapt" to a net zero carbon world "will cease to exist".
The protests came after a week of climate activism in cities around the world. Over 1,300 people have been arrested since last weekend, when climate marches and sit-ins returned to the streets after shutting down swathes of the capital in the spring.
Some City workers were disgruntled at the disruption in the centre of the Square Mile. One banker said the protests had "dragged on too long" and were really anti-capitalist rather than anti-climate change.
Extinction Rebellion's McCarthy said: "If you look at the top 30 list of banks [invested in fossil fuels], they're capitalist banks, they're communist banks, they're royal banks, they're socialist banks." He added: "What we need is an economy that is sustainable not destructive."
Read more: Mark Carney says Bank of England to stress test banks with 'catastrophic' climate scenario
The City of London Corporation said it is working with police to ensure protests cause as little disruption as possible.
(Image credit: Getty)