From City currency trader to football manager: the rise of Mark Warburton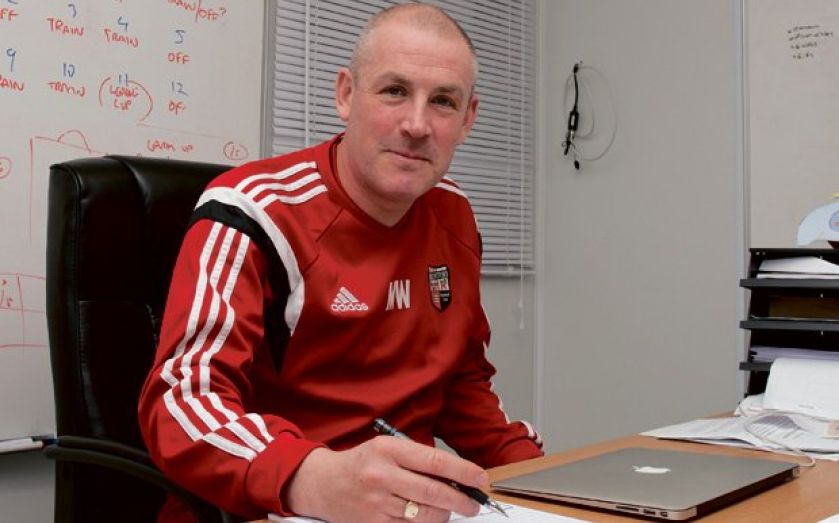 The City's trading floor is not the archetypal breeding ground for Premier League managers but Brentford's Mark Warburton stands on the cusp of trailblazing his way to English football's top-flight and completing a sporting odyssey.
Just under half the season remains in one of the most unrelenting and competitive divisions in Europe and Warburton and Brentford stand fifth in the Championship table, just four points adrift of automatic promotion.
A second successive elevation would be seismic. This campaign is the Bees' first crack at the second tier in more than two decades, while 1947 was the last time Brentford locked horns with the country's elite.
The west London club celebrated its 125th anniversary in October and 10 years have now passed since Warburton relinquished a lucrative financial career to realise a burning ambition and leave an indelible mark on football.
It is the future which shapes the 52-year-old's mindset and had to throughout his pilgrimage to the Griffin Park hotseat, but old habits die hard and the long-standing Square Mile disciple remains steered by his past.
"The dealing teams are very similar to dressing rooms, guys eager for success with rewards and bonuses," Warburton told City A.M. "The stakes are high. If you do well, you do very well. If you don't, you lose your job. It's the same here.
"Players are fighting for their contracts and dealers are fighting for their budgets, very similar. Team-work, commitment, communication, all these words are conducive to both environments.
"So much can be taken from that world; the hunger, the work ethic, the unity and the incentivisation.
"I know the City is now changing beyond all recognition unfortunately, but we can take that bonus-incentive scheme into the football world and really challenge the players.
"A player is coming to work, same as the bankers are. It is a different job obviously but they are coming to work and they want to do well."
Quitting the city
Warburton, a right-back by trade, started his football journey as an apprentice at Leicester City before dropping into non-league with Enfield and Boreham Wood until a cruciate knee ligament injury called time on his playing days.
Roles as a currency dealer for financial powerhouses such as Bank of America, AIG and RBS, which included stints in North Carolina and Chicago, ensured by this stage his professional career was flourishing.
Warburton began accumulating his coaching badges, initially by working part-time at St Clement Danes School in Watford, before quitting the City in his early forties to go full-time, setting himself a 10-year target to make his mark in the game.
He spent cash reserves travelling and observing the continent's prestige clubs before co-founding the now defunct NextGen Series – a pan-European under-19 club cup tournament – alongside Brentford owner Matthew Benham and then working his way through the ranks at Watford's academy.
A period assisting Brentford caretaker boss Nicky Forster preceded an unsuccessful application for the top job in 2011 which went to Uwe Rosler, though Warburton was appointed sporting director amid internal restructuring.
After dismissing the opportunity to follow the newly-appointed Rosler to Wigan Athletic, he was named Brentford manager on 10 December 2013 and led the club to League One promotion in his first season.
But far from revelling in the fairytale, Warburton insists the future was far from assured when he closed the RBS doors behind him for the final time, surrendering levels of financial security that had become the norm.
"There was great trepidation. When you're used to working in the City you are well recompensed with your bonuses," added Warburton, whose first coaching role saw a 90 per pay cut.
"You suddenly realise you're paying all your own bills and there is no income. When you go through a chunk of money you realise that City bubble that looked after you for a long while has gone.
"When you start off in the football world you start from the lowest level and that's hard because you've been used to a senior position in the bank. You're Joe Bloggs again.
"People paint this really rosy picture and it's not so rosy for the first two or three years, it's very hard.
"A good friend of mine offered me the chance to go back to the City and that was really tempting. At the time I was pumping up footballs and filling a minibus with petrol and thinking 'what am I doing here?'"
Despite his ambitious persona, Warburton never envisaged a flirtation with the Premier League on his final day at RBS, but he is under no illusions that a seat of the top table will complete his footballing sojourn.
"I was looking to achieve something in the game. That was the key but I didn't know what," said Warburton.
"I presumed it would be in youth football but you realise at the banks, if you're working at a big institution you can really impact the market. Likewise, if you're one of the Premier League giants you can impact positive change.
"I hoped it was in a position where I could impact some change but the thoughts of a Championship manager or play-offs or anything at that level never entered my head."
Former Luton striker Andre Gray netted Brentford's winner at Brighton on Saturday in front of 3,000 travelling fans, making it back-to-back league victories following a post-Christmas stumble.
Talk of the future never eludes Warburton for too long and with a new 20,000 all-seater stadium by the Thames at Kew on the agenda, the bigger picture once again features on his radar.
"We're a young team and have gone up to a big division with clubs with great history. But the weapon for us is we're not playing the history, the badge or teams of the past, we're playing today's teams," said Warburton.
"As a football department the target must be to fill that new stadium and if we can play the creative, attacking football which attracts a new fanbase then we have completed our objective.
"Mark Warburton, Premier League manager, and Brentford, Premier League football club, has a lovely ring to it but there is a long way to go."
CV:
Playing career
■ Warburton began his playing career with Frank McLintock's Leicester City before dropping into non-league with Enfield and then Boreham Wood
City career
■ A currency trader with the likes of RBS, AIG and Bank of America, arriving at his desk at 5.45am and having a personal daily turnover of £1.5-2bn
Return to football
■ Starting as a part-time school coach, he quit RBS to go full-time, setting up the NextGen Series, working at Watford's Academy before moving onto Brentford
Heroes
■ Football – Sir Alex Ferguson and dealing with players: "It's like having a dealing room of 25 dealers and 10 desks. Everyone wants to play."
■ City – Mike Cornford. "He was a disciplinarian. Demanding but he looked after his staff."