Chapeau to you La Rochelle, it was a Champions Cup final for the ages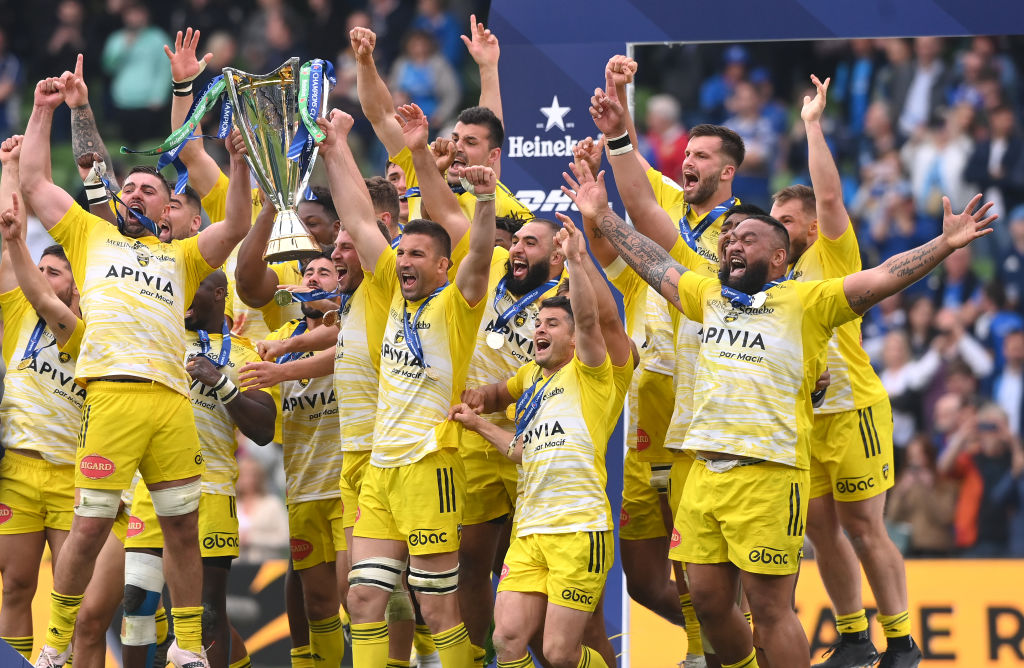 You'd have been forgiven if, by the 12th minute of Saturday's Champions Cup final between Leinster and La Rochelle, you'd turned over to Garden Rescue or Midsomer Murders because the match looked all but done and dusted.
A brace from Dan Sheehan and a third try from Jimmy O'Brien gave Irish province Leinster a 17-0 lead in Dublin against the reigning champions.
But in the subsequent 68 minutes the team who were only promoted to the French top flight in 2014 inched their way back into it and, astonishingly, won.
La Rochelle no longer a 'David'
La Rochelle's 27-26 victory will go down as one of the all time great European finals – up there with Leicester's win over Stade Français in 2001 and Leinster's 2011 triumph over Northampton Saints.
It was Munsterman Ronan O'Gara – now La Rochelle coach – versus his old rivals Leinster, it was in a hostile Dublin cauldron, it was the biggest ever comeback in a European final and, most symbolically, it ended and birthed eras.
Leinster have been a dominant force in Europe for decades, winning four titles – only Toulouse have won more, with five. They breeze through the early stages of both their domestic URC league and the Champions Cup with ease.
But for the second successive year, thanks to La Rochelle, the Irish juggernauts finish their year with nothing.
In a mirror image of last season, Leinster lost their domestic semi-final having rested players to ensure they're fit for the subsequent European final. And for the second time it hasn't been enough.
Departing is senior coach Stuart Lancaster – whose career has been resurrected by the Dubliners after a torrid World Cup with England in 2015 – and retiring is captain Johnny Sexton who, although injured, managed to leave his mark on the final with a reportedly cantankerous monologue to referee Jaco Peyper after the final whistle.
That opening 12 minutes was perfect from Leinster – about as good rugby as you'd find anywhere – except from the two missed kicks by Sexton's stand-in Ross Byrne.
Comeback of all comebacks
And looking at the final score, the Dubliners could have done with their talismanic No10 – those four points could have been the difference.
But La Rochelle came back; through Jonathan Danty, Ulupano Seuteni and Georges-Henri Colombe – who was later stretchered off following a red card hit from Michael Ala'alatoa – to edge one of the great finals.
O'Gara, who has now been part of La Rochelle's coaching staff for their three consecutive final appearances, said after the game that he felt Saturday's opponents had almost belittled them pre-match, not giving them the respect they deserved.
And how foolish that was. But former Ireland international O'Gara has developed a culture whereby his team rise above that and play for one another, as well as for the port town of La Rochelle, home to just 75,000 year-round residents.
He's made a French side who were unheralded just a few years ago not only relevant but household rugby names. He has instilled a pride in the garish yellow and black shirt that wasn't visible for years.
La Rochelle of the greats
And what better stage to confirm and solidify your presence as a great club at the beginning of an era than in Dublin, against a team whose traditional home stadium is just miles away, in one of the great finals.
Kudos to O'Gara and kudos to La Rochelle, they've captured the hearts and minds of many. No longer is it David vs Goliath when they're involved, until another underdog comes to make history against them.
Saturday proved rugby has a future. A future packed with storylines, duels, battles and full stadiums. Long may it continue, despite the issues the sport faces elsewhere.
It was a final for the ages, one that few will forget, especially if you were one of the party of fans who stayed up until 4am to welcome their double European champions home. Chapeau to you.