Arsenal generated second highest gate receipts revenue in Europe last season ahead of third placed Manchester United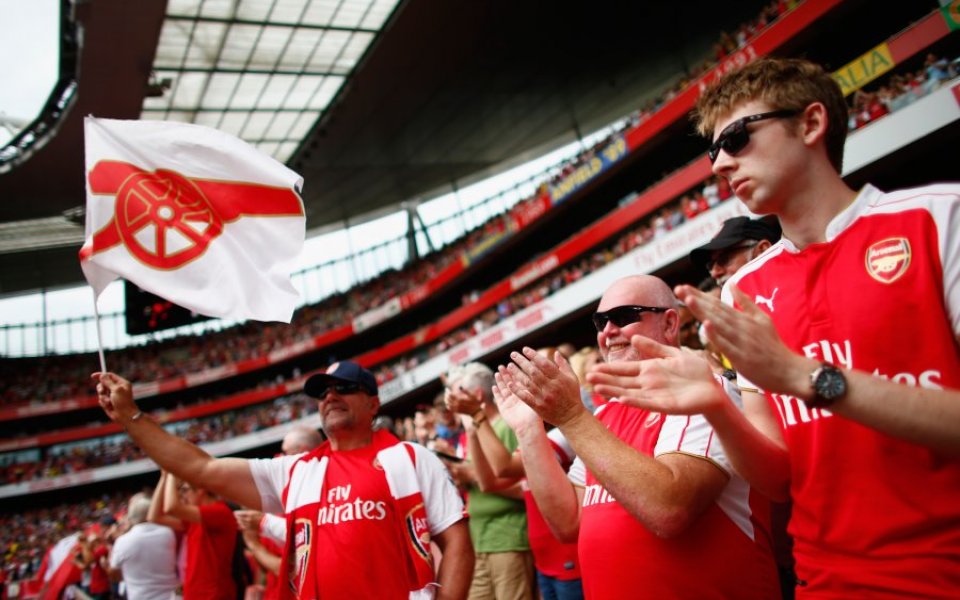 Arsenal generated the second-highest revenue from gate receipts in Europe last year, according to new figures released by Uefa.
The Gunners raised £88.2m from match days at the Emirates Stadium in 2014 according to Uefa's annual benchmarking report – over £7.4m more than Bayern Munich and more than double Premier League rivals Liverpool and Tottenham Hotspur.
Arsenal, who sell the Premier League's most expensive season ticket and match day ticket at their 60,260 capacity home, made an average of £3m per game in 2014 – one of only four European clubs to make £3m or more on an average match-day.
Real Madrid topped the list with £88.9m in total revenue at an average of £2.9m per game, while Manchester United, Barcelona and Bayern Munich made up the rest of the top five.
United's Old Trafford home is only club ground in England bigger than the Emirates Stadium, and its capacity of 75,653, helped United generate £3.2m on an average match day – more cash per game than Arsenal.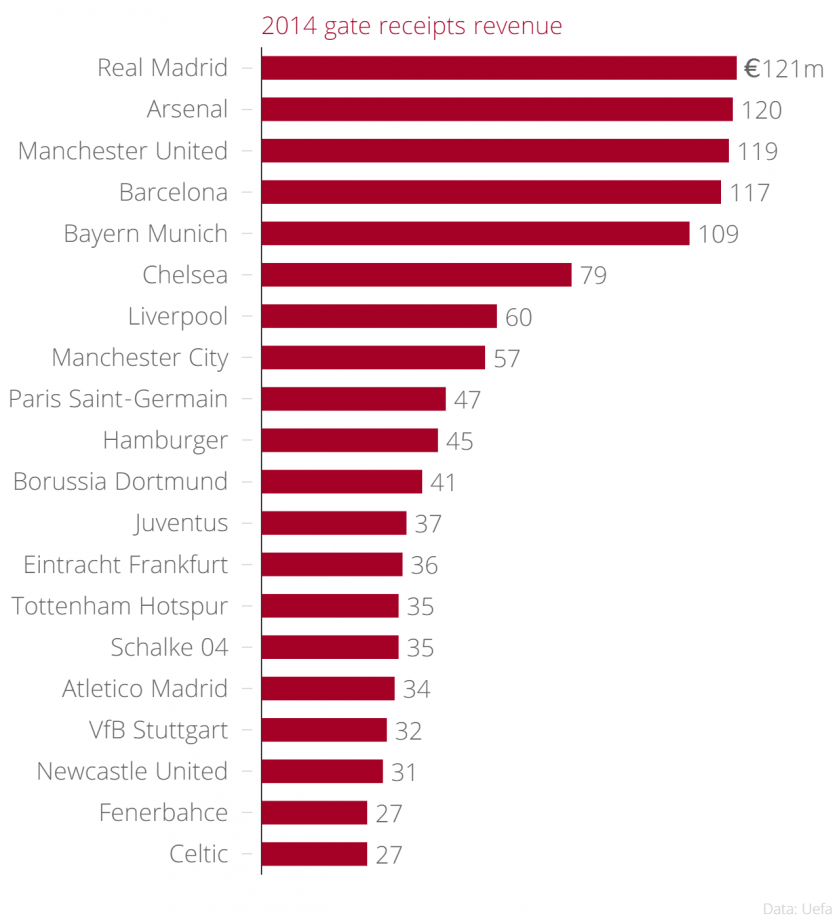 Since they left Highbury in 2006, Arsenal's growth in turnover has been significantly aided by their new stadium. Gate receipts were responsible for 33 per cent of the club's overall revenues of £264.6m last year – a larger proportion than any of the seven Premier League clubs with biggest matchday revenues.Yet in a year without any knock-out Champions League football to host, United's total gate receipts revenue of £87.5m fell just short of Arsenal's.
Rivals such as Chelsea, Tottenham Hotspur, Liverpool and West Ham have plans to move into new stadiums or expand their existing homes in order to catch up with the booming revenues enjoyed by Arsenal and United.
Read more: Bayern win boosts Arsenal's European earnings to £9.9m
Chelsea are currently their closest competitors: The reigning Premier League champions made £58.1m last year at an average of £2.2m per game.
Stamford Bridge is only the eighth biggest stadium in England and in a bid to increase revenue, Chelsea have put together plans to expand its capacity to 60,000.
Trailing behind them are Liverpool (£44.1m), Manchester City (£41.9m), Tottenham (£25.7m) and Newcastle (£22.8m).
Liverpool are currently expanding Anfield's main stand to increase the ground's capacity to by 10,000 to 54,000 while Manchester City's Etihad Stadium enjoyed similar growth with an addition of 7,750 seats over the summer.
In 2018 Tottenham are expecting to replace Arsenal as the team with the Premier League's second-biggest stadium, in a new home with a capacity of 61,000.