London climate strikes: Thousands protest by capital's landmarks
Thousands of young people walked out of classrooms and schools this morning in the lead-up to next week's climate change conference in New York.
The students, de facto led by Swedish teenager Greta Thunberg, are striking in 150 different countries.
Read more: DEBATE: Should companies be supportive of employees who want to take part in today's climate strike?
Protesters took to the streets in central London from about 11am, and activists will be speaking through the day at Millbank.
Columnist Owen Jones and later party leaders Jeremy Corbyn, Labour, and Caroline Lucas, Greens, will address the crowds.
Anna, a protester who has come to London from Antwerp, said climate change is a global problem.
"There is much more pressure on the younger generation because it's their future," she told Sky News. "Lobbying is a big problem, that should be finished."
Transport for London said the protests would shut down Millbank between Lambeth Bridge and Parliament Square.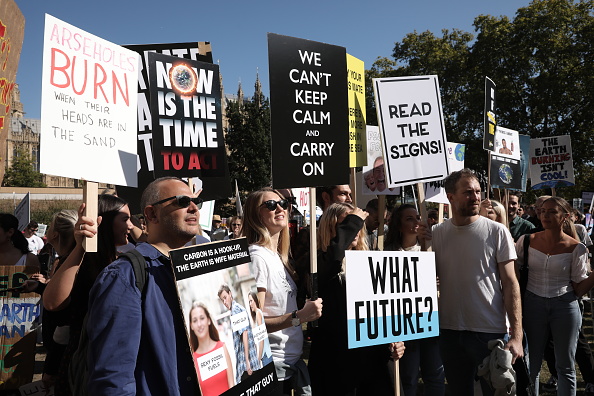 The protesters have four demands, to "save the future, teach the future, tell the future, and empower the future".
"This is the greatest threat we're facing and if we do not act now then we won't have time," Anna Taylor, an 18 year old who is among the leaders of the protests, told BBC Radio 4.
Meanwhile Patagonia, the outdoor clothing store, has closed all of its stores worldwide to encourage staff to join the demonstrations.
The worldwide climate strike was sparked when teenager Greta Thunberg sat outside of Sweden's parliament last year during school hours. The 16-year-old took time off during the run up to the country's election with a sign which read "skolstrejk för klimatet" – "school strike for the climate".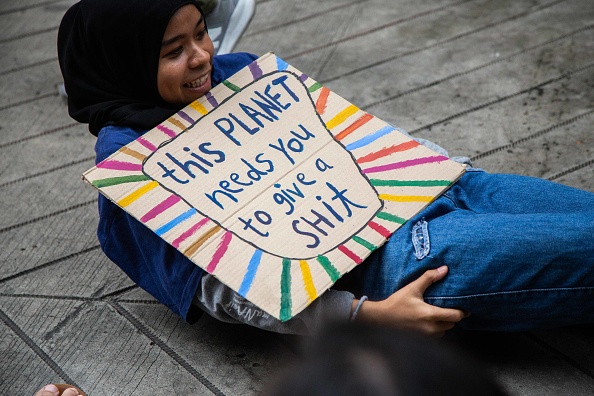 Her actions have inspired thousands of other teenagers around the world to join her climate change protesters, and Thunberg has become a leader for the global environmentalist movement.
The teenager is currently in New York, having travelled there on a zero-carbon yacht to avoid flying, ahead of this week's meetings. During her time in the city she has met with Barack Obama and appeared on several US talk shows.
Extinction Rebellion, the climate change activist group which brought parts of London to a standstill earlier this year, voiced it support for the strikes.
Read more: There is a disconnect between government rhetoric and reality on climate change
"Extinction Rebellion UK stands in solidarity with all those striking in cities and towns around the world and feels honoured to be standing alongside you during these urgent times. To witness the fierce compassion and motivation of the young has been a galvanising force to action and we want to thank all of you for inspiring us day after day," the group said
Christian Aid said: "The climate strikers are pointing the way, it's now time world leaders and big business take heed and take action. This week at the crucial summit in New York we need to see countries making new pledges to cut their emissions and stronger commitments to help the poorest communities already suffering from the climate crisis."
In pictures: London climate strikes
Students and schoolchildren protest by the Houses of Parliament (Getty)

Environmental campaigners take part in the London climate strikes (Getty)

Environmental activists show off their placards at the London climate strikes (Getty)

Millions of people are striking around the world (Getty)

Activists are trying to persuade the world's governments to take tougher action on climate change

A young woman protests in London during the climate change strikes (Getty)