Where to enjoy a Martini in London for World Martini Day
The Martini is universally exalted. It's subject of countless quotes and lore from Ernest Hemingway to Dorothy Parker; it's a tool of politicians from Roosevelt to Churchill and even served to Stalin at Yalta; and it was lent yet more glamour from being the tipple of choice of Ian Fleming's best known character. It even became a kind of shorthand for the Madison Avenue lifestyle in the 60s and 70s in the infamous "three martini lunch".
In Italy, gentlemen drank their espressos in the morning by dispensing a coin on the bar and having a shot, so it was on their way home the so called 'Martiniani' would drink a quick Martini standing at the bar. It is a drink that is both as utilitarian as a coffee as it is glamorous.
Its origins are patchy and disputed, however. We do know that Italian migration to the US (ca. 1858) introduced vermouth to the US. While they first paired it with whiskey – the Manhattan – it didn't take long for a bartender to use gin instead to make the Martinez, a delicious sweet Martini that Jerry Thomas published in 1862. 'Martini' was first mentioned in print in 1888 by Harry Johnson and the first dry vermouth Martini came in his second book of 1900. But it's Frank Newman's 1904 version at the American Bar, Paris which is the Dry Martini we know today.
The Martini then exploded in popularity, as did the main derivatives such as the Gibson and Dirty (not popular till the 50s). The Kangaroo Cocktail (aka Vodka Martini) came in 1948. The Martini had three peaks of popularity with the first two either side of Prohibition, and the third, now. Since 2008, with gin and vermouth's popularity, we're in a new cocktail renaissance.
Lauded as the King of Cocktails, the Martini is at the root of the family tree of all cocktails. Add Campari, you have a Negroni. Absinthe? Turf Club. Lemon and Curaçao? Corpse Reviver No. 2. Alone, it's the simplest, most elegant, most spirit forward, most exposing and when made right, the most rewarding cocktail there is.
Ideally served in front of you at the bar or on a trolley so as to savour the first sip ice cold. It should be in a stemmed glass to keep your warm hands away from the grail. It shouldn't be too big – it's said you should be able to finish the drink in three sips, with the last sip being almost at room temperature so as to taste how flavours change as it warms.
London, thanks to the extraordinary achievement of Alex Kratena, when he and his team while at the Artesian broke New York's stranglehold on the World's Best Bar in 2011, has for the last decade been home to more of the top 10 World's Best Bars than anywhere else.
With World Martini Day the third Saturday in June, the best Martinis to celebrate it are therefore on your doorstep. We've listed five grand hotel bars and five independent cocktail bars where you can find great Martinis:
Hotel Bars
The Connaught
Led by Agostino Perrone, Giorgio Bargiani and Maura Milia, the Connaught Bar currently holds the crown for the World's Best Bar in 2021, not just for their Martinis. The Connaught Martini, prepared with their own gin and using a secret vermouth blend is served on a trolley at the table with a majestic flair of pouring from a height and aerating the cocktail. It must be seen to be believed.
Address: Connaught, Carlos Pl, Mayfair, London W1K 2AL
Tel: +44 (0)20 7314 3419
Website: https://www.the-connaught.co.uk/restaurants-bars/connaught-bar/
Instagram: https://www.instagram.com/theconnaught/
Duke's Bar
Home to the great Alessandro Palazzi, Duke's is the bar where the 'direct' Martini was born, whereby the glass and gin or vodka is frozen in the freezer and served by rinsing the vermouth in the glass and serving the frozen spirit 'direct' into the glass, to ensure the Martini is as cold and as dry as possible. Amazing hospitality and independent spirits on offer, it's a truly artisanal Martini.
Address: Dukes London, 35 St. James's Place, London SW1A 1NY
Tel: +44 (0)207 491 4840
Website: https://www.dukeshotel.com/dukes-bar/
Instagram: https://www.instagram.com/dukesbarlondon/
Henson's Bar
On the ground floor of Mimi's hotel, a stone's throw from Ronnie Scott's, Henson's mixes Soho's boudoir feel with a cocktail menu second to none. Francesco Delfino's inspired 'Triptychs', flights of three tiny Martinis, take centre stage where you can try three gin Martinis through the ages (1888, 1904 and 1906) or three styles of Vodka Martini (Dry, Wet and Dirty).
Address: 56/57 Frith Street, Soho, London W1D 3JG
Tel: +44 (0)208 017 9100
Website: https://hensonsbar.com/
Instagram: https://www.instagram.com/hensonsbar/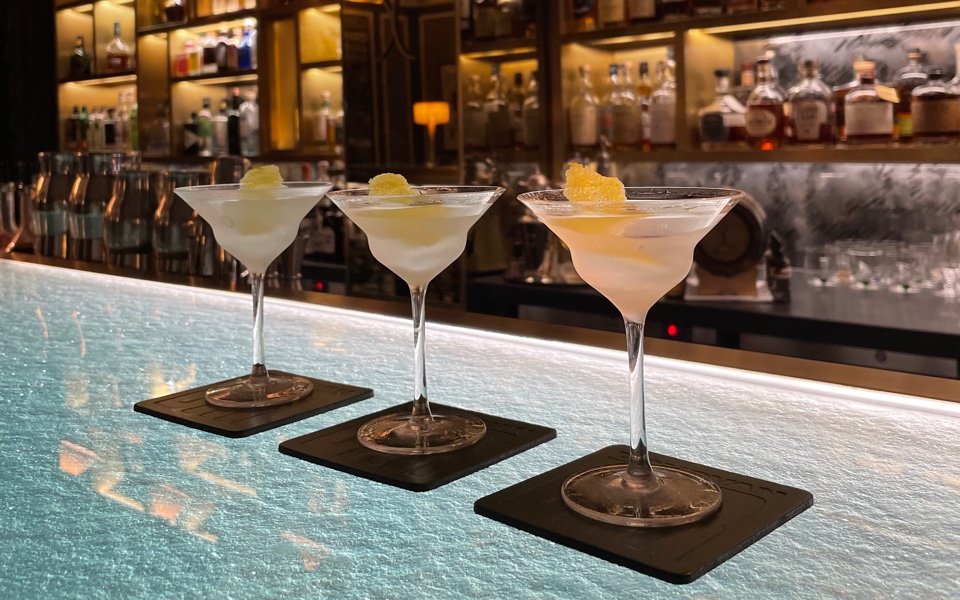 Donovan Bar
The Donovan Bar, named after famed photographer Terence Donovan whose work adorns the bar in Brown's Hotel is run by celebrated cocktail maestro, Salvatore Calabrese, where he serves both stirred and direct Martinis with your choice of gin and a panache par excellence. Martinis are served in bespoke glassware and as is customary, a bowl of olives and pecorino cheese.
Address: Albemarle Street, London W1S 4BP
Tel: +44 (0)207 493 6020
Website: https://www.roccofortehotels.com/hotels-and-resorts/browns-hotel/restaurants-and-bars/donovan-bar/
Instagram: https://www.instagram.com/thedonovanbar/
Scarfe's Bar
Situated in the Rosewood Hotel, Martin Siska runs a bar named and inspired after Gerald Scarfe with the atmosphere of a grand house's drawing room with live music gives meaning to the term 'get Scarfed'. By using great vermouths and some of the best gins, you can enjoy a Martini while sinking into one of the 1,000 antique books. 
Address: 252 High Holborn, London, WC1V 7EN
Tel: +44 (0)20 3747 8670
Website: https://scarfesbar.com
Instagram: https://www.instagram.com/scarfesbar/
Shop: https://scarfesbar.com/bottled-cocktails/
Independent bars
The Gibson Bar
A listed Edwardian time machine, run by Marian Beke, the Gibson Bar is a destination for any Martini lover. He serves the House Gibson with a gin and vermouth specifically created for him, the Re-Distilled Gibson, and the Aged Gibson. Served with extra onions and parmesan to reset your palate between sips. For World Martini Day, he is also serving the World Martini Day Gin as a Gibson too.
Address: 44 Old Street, London EC1V 9AQ
Tel: +44 (0)20 7608 2774
Website: http://www.thegibsonbar.london
Instagram: https://www.instagram.com/thegibsonbar/
Shop: https://the-gibson-bar.myshopify.com/collections/cocktails-set
Bar Swift
In Soho, located on the site of the legendary LAB bar, it is nowadays run upstairs as an Aperitivo bar and downstairs as a glamourous speakeasy. Bar Swift's Martinis served upstairs are the epitome of the 'Martiniani' Martini – served at the bar for a swift one. Venture downstairs for some vintage delights and a truly great array of spirits. Also recently opened in Shoreditch too.
Address (Soho): 12 Old Compton Street, W1D 4TQ
Address (Shoreditch): 91-93 Great Eastern St, EC2A 3HZ
Website: https://www.barswift.com/
Instagram: https://www.instagram.com/swiftbars/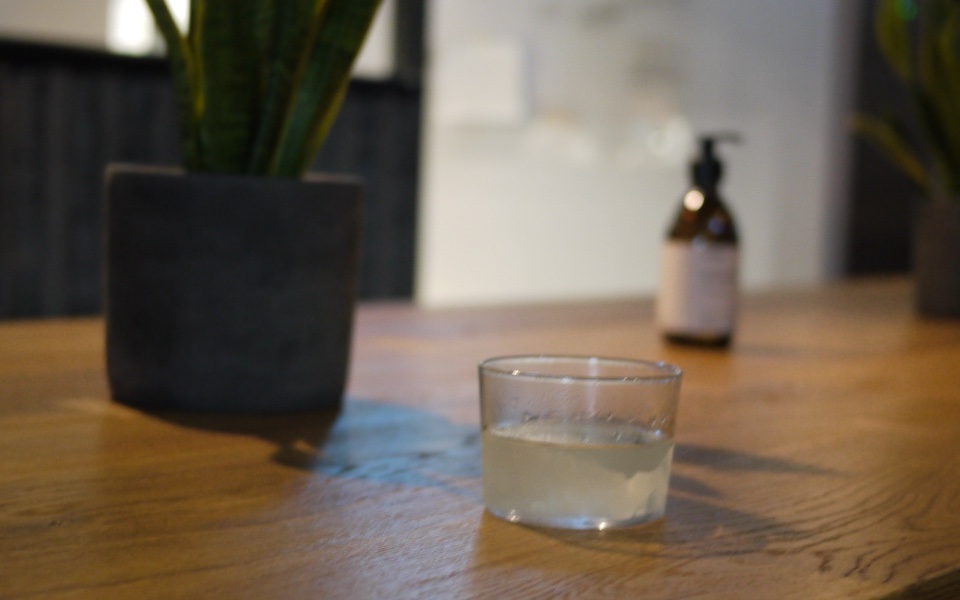 Tayer + Elementary
Owned by super couple Alex Kratena and Monica Berg, the former of which was head bartender at the Artesian when London became the cocktail capital. At Elementary (Tayer is the restaurant bit), they serve the famous 'One-Sip Martini' served with a giant olive filled with gorgonzola. As Alex and Monica's playground of flavour, the menu constantly changes and always intrigues.
Address: 152 Old Street, London, EC1V 9BW
Website: https://tayer-elementary.com/
Instagram: https://www.instagram.com/tayer_elementary/
Shop: https://shop.tayer-elementary.com/
Rules
Rules is London's oldest restaurant, just off Covent Garden. Towering over the bar on the first floor is Brian Silva, a soft-spoken Canadian who takes no prisoners in serving his cocktails 'old school'. Famous for serving fluorescent coloured cocktail cherries, Manhattans on the Rocks, Brian's expertly crafted Martini is one to savour and demands respect.
Address: 34-35 Maiden Ln, London WC2E 7LB
Tel: +44 (0)20 7836 5314
Website: https://rules.co.uk/
Instagram: https://www.instagram.com/rules_restaurant/
City of London Distillery & Bar
The City of London Distillery, home to Whitley Neill Original made by Johnny Neill and all the City of London gins, also has a bar where you can experience any of their gins in their perfect serve Martini. You can visit for a distillery tour and gin school or just as a bar to get the entire range of knowledge from still to drink.
Address: 22-24 Bride Lane, London EC4Y 8DT
Tel: +44 (0)207 936 3636
Website: https://www.cityoflondondistillery.com/
Instagram: https://instagram.com/CityOfLondonDistillery
Shop: https://www.cityoflondondistillery.com/shop/