Vettel revival pitches Lewis into title fight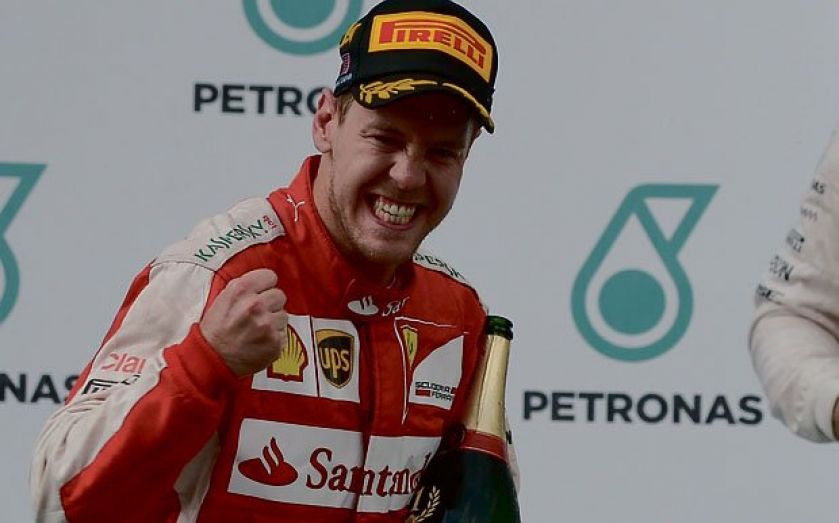 EMOTIONAL four-time Formula One champion Sebastian Vettel paid tribute to Michael Schumacher yesterday after emulating his idol by reviving Ferrari's fortunes with victory at the Malaysian Grand Prix.
Vettel beat Britain's Lewis Hamilton into second place in Sepang to claim his first win for the iconic Italian team, for whom his fellow German Schumacher won five consecutive world titles.
His triumph continued Ferrari's recovery from their worst season for 21 years and reignited interest in a campaign previously tipped to be a straight fight between Hamilton and Mercedes cohort Nico Rosberg.
"It's been my dream," Vettel said of following Schumacher, who retired in 2012 and is still recovering from life-threatening injuries suffered in a skiing accident 15 months ago.
"Michael was my hero. All the kids at the go-kart track looked up to him. When he turned up to shake hands every year it made our lives. I don't understand yet how special it is.
"Michael left very large footsteps but the target is not to fill those but to leave some new ones."
Vettel, who was third in the season's first race in Australia, and Ferrari were too quick for defending champion Hamilton and Mercedes, who suffered greater tyre degradation in the heat.
"To beat Mercedes fair and square is very special," he added. "Our goal is to bring back the world championship to Maranello. We were quicker which is why we beat them. We know they are very strong but we were strong on the tyres which gave us an edge and we made the most of it."
Hamilton, who leads Vettel by three points after two races, welcomed the challenge after some observers, including Red Bull chief Christian Horner, had insisted Mercedes' superiority was bad for the sport.
"They were too fast for us today," he said. "There are areas we can improve on and you can't win them all. It's nice for the sport to see another winner. And some people are going to have to eat their words after the last race. I'm looking forward to a battle now."
The English two-time champion criticised his team for leaving him on the slower hard tyre while Vettel enjoyed greater pace on the medium and for issuing confusing instructions over the radio.
Hamilton started on pole but Vettel, also on the front row of the grid, took the lead when his rival pitted during a safety car period and benefited from making one stop fewer.
STANDINGS
Drivers
Hamilton 43 pts
Vettel 40
Rosberg 33
Massa 20
Raikkonen 12
Nasr 10
Bottas 10
Constructors
Mercedes 76 pts
Ferrari 52
Williams 30
Sauber 14
Toro Rosso 12
Red Bull 11
Force India 7