Spanish football chiefs SLAMMED for criticising racism victim Vinicius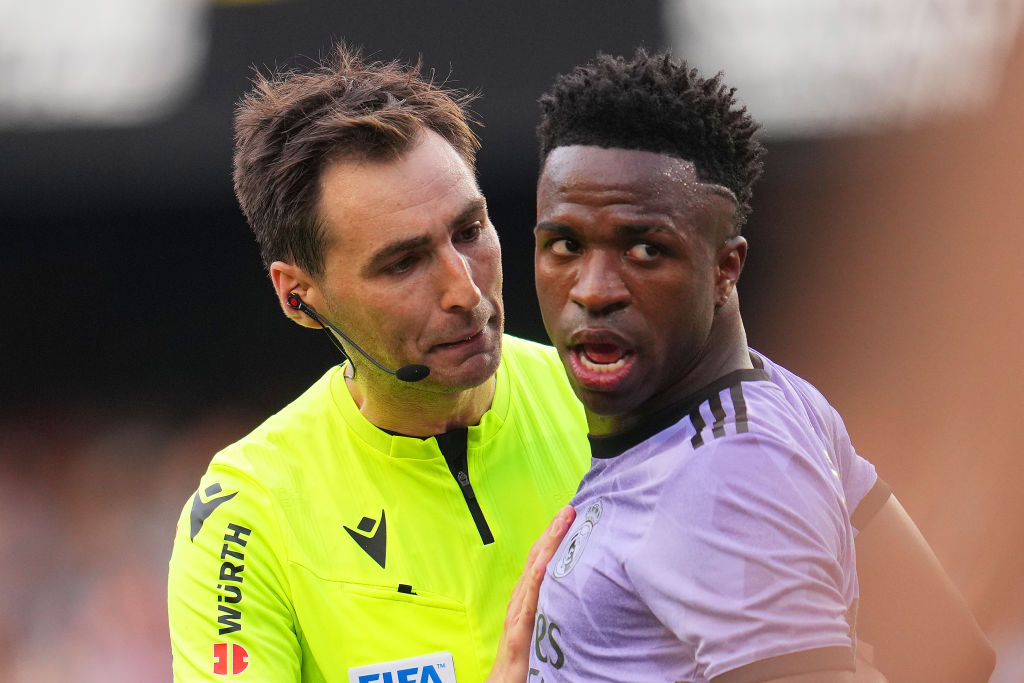 Spanish football chiefs have been rebuked for criticising Vinicius Jr after the Real Madrid star complained about serial racial abuse from opposition fans.
The Brazil forward said LaLiga "belongs to racists" and that "​Spain is known as a country of racists" after being heckled with monkey noises during Sunday night's fixture at Valencia.
LaLiga president Javier Tebas responded by accusing Vinicius of "slander" and failing to show up for talks about how best to tackle racism in the stands.
But Troy Townsend, head of player engagement at anti-discrimination campaigners Kick It Out, said Tebas and his organisation were not doing enough to protect players.
"Vinicius has now been subjected to racism numerous times this season while simplay playing football for Real Madrid and it has clearly taken its toll," said Townsend.
"How could it not? And yet the response from the Spanish football authorities has been to criticise him.
"Currently, the welfare of Vinicius is not being protected, and that needs to change. This behaviour should not be tolerated by anyone in football."
The comments echo the 22-year-old's own response to Tebas, who said: "Once again, instead of criticising racists, the president of LaLiga appears on social media to attack me.
"Omitting yourself only makes you equal to racists. I'm not your friend to talk about racism. I want actions and punishments."
LaLiga has previously reported terrace racism towards Vinicius and other black footballers to Spanish prosecutors and said it would investigate this latest incident.
Kick It Out says clubs themselves, not just their supporters, ought to face sanctions if the problem is to be stamped out.
"Perpetrators of this shocking and continued racism need to be punished and banned by clubs," Townsend added. 
"Clubs need to be held accountable and sanctioned by LaLiga. Spanish authorities need to take further action against the problem. So far, it is not working."
Real Madrid also issued a statement condemning their player's treatment on Monday, which coach Carlo Ancelotti highlighted in his post-match media appearances.
Vinicius was barracked before and after controversially being shown the red card during stoppage time of his team's 1-0 defeat at the Mestalla Stadium.