Printworks: London has the power to bring us back, says founder
Printworks, one of London's most important cultural venues, closed yesterday. Its founder
tells Adam Bloodworth his hopes for the future
It's not an exaggeration to say there is nothing like Printworks. For music fans, the venue feels Cathedral-like, with its towering ceilings, but also because of the relationship people have with the building.
In the 6,000-capacity Canada Water venue, the last industrial building of its kind in central London, lighting rigs a hundred metres high are programmed to plummet down, sometimes to a few metres above dancers' heads, like the flailing limbs of a robot, to enhance the party. From the dancefloor, the space is so chasm-like that light and sound creates a mirage, making it unclear whether the stage is one hundred metres away or two hundred.
This expanse has served as London's premier nightlife venue for the past six years, retaining its original features from when the building was as a printing press for the Daily Mail newspaper. Above heads are the machines that would haul pages of the paper from one part of the building to another. It's been described as "a cornerstone of culture" for the capital, but Printworks closed yesterday, amid new plans to turn the site into office space. It will retain its original features but will be renamed The Grand Press.
Most interestingly, amid the obviously sad news, there have been rumours Printworks may make a return. Architectural plans for the redesigned space tease a cultural element that will take over the "rear half of the building's famous press halls," subject to planning permission. It is an obvious blow to the arts to lose a dedicated and world-leading space, but it makes sense that landowners British Land would invest in a cultural offering. The arts hugely bolster the UK economy, with every pound of public funding going into the arts brings in £5 in tax contributions, according to the Arts Council, bringing an annual return of £2.35 billion to the Treasury. British Land has a history of using office space to generate income through arts, with a recent project generating £40 million.
"Yes, I've got sadness. But I've got hope as well."

Printworks founder Simeon Aldred
Printworks' closure comes at a time when it has never been more important to save London's cultural venues. "As we say goodnight to this iconic space, we recognise that clubs and venues across the country are in crisis," writes Michael Kill, CEO of the Night Time Industries Association. Recent figures show 32% of clubs have closed since 2019, and only 865 nightclubs remain in the UK, with 10 nightclubs closing permanently every month.
Simeon Aldred, a founder of Printworks who says he's never missed a show, reveals to City A.M. he has ambitions to return Printworks to the building in 2026 if plans are approved by the council and the local community. "We can't make any assumptions that because we've been doing this for six years we're entitled to this," says Aldred. "Both organisations [British Land and Broadwick Live who run Printworks] are committing to trying to keep the essence of the iconic press halls. Obviously there are lots of significant changes to the building but that essence of the press halls is what we're trying to work through, but it is quite a detailed planning process."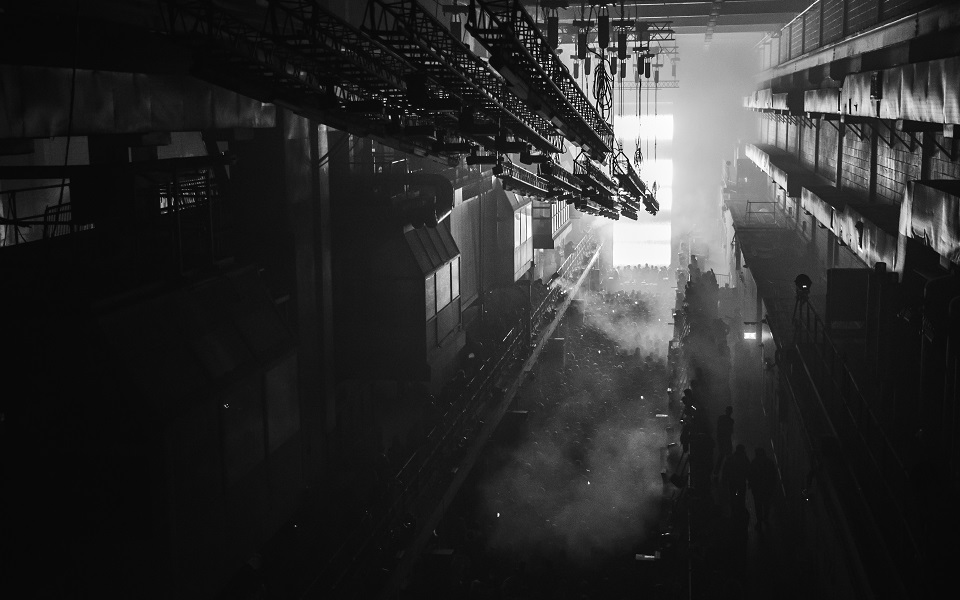 The mock up image of the new project, pegged to open in 2026, looks like a shopping centre, so how does Aldred imagine a venue for dance music and expression, i.e. Printworks version 2.0, might fit with the vision? "Will you still be able to dance at Printworks? Yes," he says. "Will you still be able to enjoy electronic music at Printworks? Yes. But might you also see ballet here, orchestras here, jazz performances here. But maybe in a new, modern electronic format."
"Printworks will always be a venue for electronic art," continues Aldred. "Just to be really, really clear, if through planning we are lucky enough to bring some form of culture back to Canada Water then electronic art in all their forms, whether that's DJ EZ or visual art created through electronics, all that will be part of our future here at Printworks. It's what made us famous." So famous that pioneers of electronic music in the States have visited, then gone back home and created their own vision of a Printworks-style club in New York. "There are lookalike venues opening around the world because of Printworks," says Aldred, talking about Navy Yard Clubhouse in New York and Arca in Sao Paulo, both built following Printworks. "They literally called and said, 'We saw Printworks and went to find factories in Sao Paulo.' That's an absolute honour."
On some shows, 25 per cent of ticket holders have been international, one of the stats Aldred's most pleased with from the six year project. "It's reminding the world where dance music we're familiar with now came from," he says. "As well as Detroit, and the black communities of America, it's Essex and Manchester. Like we did with rock 'n' roll, we expanded on it and exploded it."
Aldred hopes this will be the last insecure phase for Printworks, which they hope will become not just a template for how to make a good music venue, but a permanent one. Culture is too often pushed to the back by redevelopment plans, partly because there is a narrative peddled (with goodwill) by companies like Appear Here, who offer creatives discount rates to take over temporary spaces. All art is good: but this model sends the message that culture can only ever be temporary. "Everyone used to say fill in the gap," says Aldred. "Permanency is so, so important. Some of the best work we've done here, having the London Symphony Orchestra here three weeks ago, that's not a profitable show," he says through laughter. "It helps us stretch our legs culturally. Having permanency allows us to take risks, and experiment. We're a totally commercial organisation so we have to have the commercial with the less commercial in the mix."
In the interim, Broadwick Live have over 15 cultural projects open across the UK, with many in the regions, and they're in discussions with landlords over "multiple" venues within the M25. "It's not a battle but we've definitely got some work to do," he says.
But at the time of writing, Aldred was preparing for one final dance. For spending time with his team, "in a basic family sort of way."
"Yes, I've got sadness," he says. "But I've got hope as well."
Printworks hopes to return in 2026