Oleksandr Zinchenko: Why Manchester City's loss has been Arsenal's gain
When Oleksandr Zinchenko came off the bench at half-time in Manchester City's final Premier League game of last season, he swung the title race decisively in their favour by helping them to win from two goals down against Aston Villa.
It could be argued that he's doing a similar thing this year at Arsenal, where his quality on the ball and tactical intelligence have played a key role in turning Mikel Arteta's team from also-rans into title favourites.
On Friday night, for the first time since his summer transfer, Zinchenko could face City when his old side host his new one in the fourth round of the FA Cup.
If his influential performances in Arsenal's last two league wins against Manchester United and Tottenham Hotspur are anything to go by, he might end up orchestrating his former employers' elimination.
"I think he has proven time and again at City that he can step up in big moments," says Andrew Todos, a British Ukrainian writer and founder of the website Zorya Londonsk. "He can do that. I think that aspect of his game is slightly understated. 
"Now it seems he is Arteta's man at left-back and he is settled into that. This is the first time in his career that he's been an integral part of a team. And I think he's become one of the most influential figures in the Arsenal dressing room."
When Zinchenko left his native Ukraine for City in 2016, aged 19, he was seen as an attacking midfielder, but he would mostly play in defence when selected for Pep Guardiola's side. His versatility counted against him as he became a jack of all trades but master of none.
Guardiola's former No2 Arteta has been quick to establish Zinchenko as a first choice in the back four with instructions to drift into midfield, help Arsenal to win back and retain possession and act as an additional playmaker.
Arsenal benefiting from 'born winner' Zinchenko
The result has been helping the Gunners exert greater dominance over opponents when he plays, with last week against United a case in point. And as much as his technical qualities have improved his new team, so has his character.
"His celebrations [after Eddie Nketiah's winner against United] show how much of a born winner he is," adds Todos, comparing him to the more celebrated of Arsenal's summer signings from City. "He has improved the mentality of the team, more so than Gabriel Jesus.
"He is a ship-steadier, like how Virgil van Dijk impacted Liverpool's back line when he joined them. He is not Ukraine captain yet but as soon as [Andriy] Yarmolenko has retired I'm 100 per certain that he will be."
As perhaps his country's biggest current sporting export, Zinchenko, now 26, is used to shouldering the hopes of millions in his homeland. And events of the last 12 months have only given his status even greater significance.
"He's the star of the country. Maybe [Oleksandr] Usyk comes somewhere close but not everyone follows boxing as closely as football," says Todos.
"Obviously this year has had a profound effect on how he perceives himself and he has had a marked transformation in terms of speaking out about the war. It shows that he has taken a lot of that on board. It's not a burden but he carries a lot of people's hopes back home."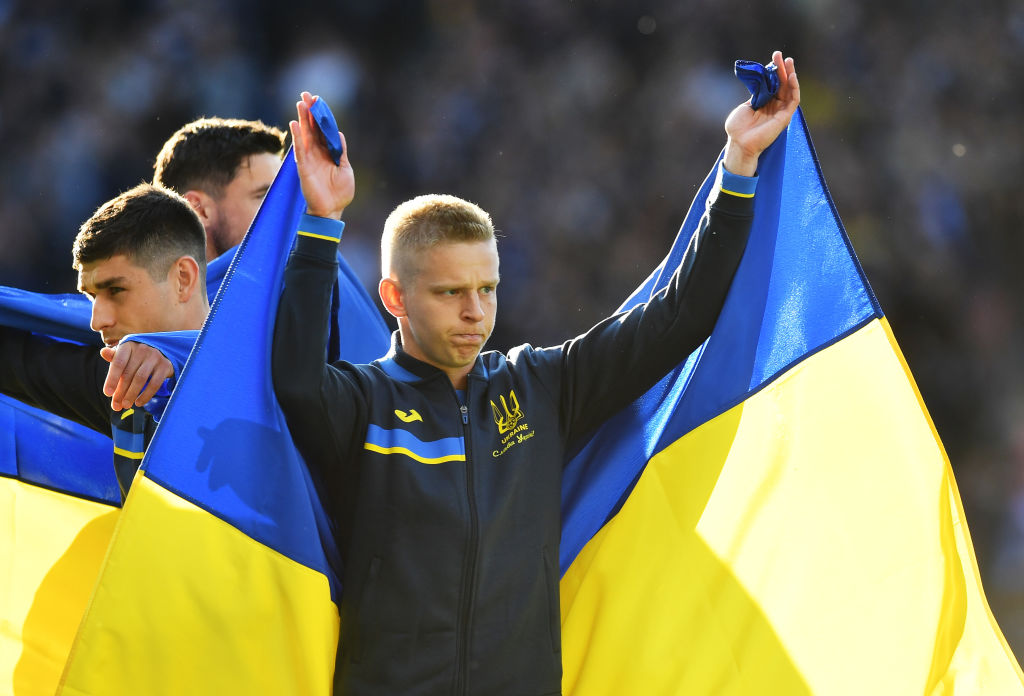 Zinchenko has also been spurred on to succeed at Arsenal by the heartache of losing the Champions League final with City to Chelsea, after which he was blamed in some quarters for allowing Kai Havertz's winning goal.
"I think that was his first big loss in football," says Todos. "It hit him really hard mentally and took him a while to get out of that rut. Now he's not looking back but trying to build that new history with Arsenal and Ukraine."