How to Mix: Sympathy for the Devil at Bar 190, which played a renegade role in Rolling Stone history
This is hardly the time of year to be having sympathy for the devil – but don't let that stop you from ordering this cocktail at Bar 190 in South Kensington. The devilishly fiery drink is named after the opening song on The Rolling Stones' Beggars Banquet owing to the bar's special connection to the legendary rockers.
Situated within The Gore Hotel, moments away from the Royal Albert Hall, it was the location for the record's launch in 1968 and also the scene of the food fight that ended up on the cover of the LP. It's now become a site of pilgrimage for Rolling Stones devotees, who want to scour the memorabilia that lines the bar's walls. "We even have organised group tours stopping by the bar," says manager David Sanchez.
To celebrate the 50th anniversary of Beggars Banquet, the venue has concocted a new cocktail menu, boasting rock 'n' roll tipples like Gins 'n Roses and Forever Young. Sympathy for the Devil is a twist on the classic Tequila Sunrise, traditionally comprising tequila, grenadine and orange juice. Mick Jagger first encountered it in a bar in San Francisco while on a tour of the USA in 1972 and drank it so often afterwards the tour was nicknamed "The Cocaine and Tequila Sunrise Tour".
Bar 190's version ditches the cocaine for a homemade, chilli-infused gin that's a blend of Beefeater and classic London dry gin. Southern Comfort liqueur is added for sweetness, lime juice for a citrus hit, and the OJ is represented by orange bitters.
Bar manager Sanchez has the following advice for those trying it at home: "Be precise. Mixology is a science, so an extra spoon of something could ruin the cocktail. You also need to use good quality ingredients, of course.
"You'll like this cocktail if you like complex flavours, spiciness, gin and tequila flavours, but mainly if you like a strong cocktail that will put you in the mood to party like The Rolling Stones."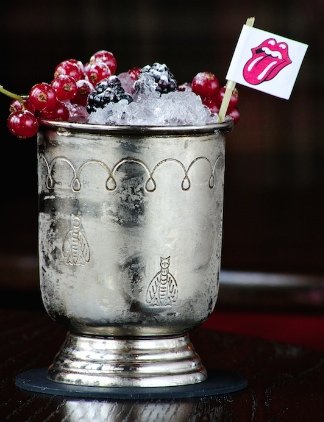 Sympathy for the Devil
Ingredients:
25ml chilli infused gin
20ml tequila
20ml Southern Comfort
10ml lime juice
5ml grenadine syrup
3 drops of orange bitters
Method:
Glassware: