Liverpool set to lose millions after Anfield redevelopers cease trading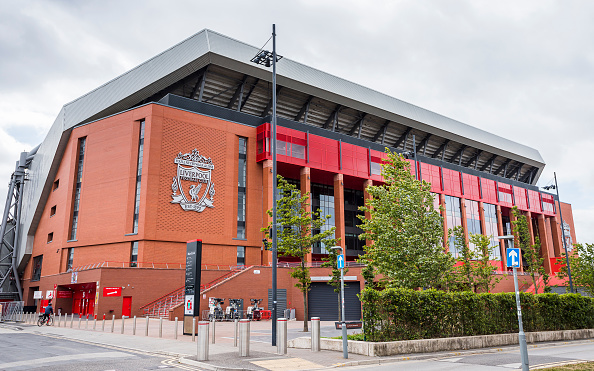 Liverpool chiefs admit they do not know when the redevelopment of their Anfield Stadium will be completed after constructors the Buckingham Group ceased trading and filed a notice to appoint administrators.
An £80m upgrade to the club's Anfield Road Stand which is due to increase capacity to 61,000 had already been hit by delays when the Buckingham Group announced it was in financial difficulties last week.
Building work that Liverpool had hoped would be completed by October has now been abruptly halted and chief executive Billy Hogan has refused to put a timescale on when the revamp might be resumed.
"Effectively, major work stopped on the site on Thursday morning. Timing, obviously, is incredibly fluid right now, there's a lot of uncertainty around where we are and obviously in time that will become more clear," Hogan said.
"It's important that we don't want to set any false expectations. We are in a bit of a holding pattern right now based on the news that we got on Thursday and that needs to reach its conclusion before we can truly start to take the next steps.
"But if Buckingham does enter into administration then we'll need to address any delays that may arise from completing the new stand as a result of that."
Operating Anfield at a reduced capacity of 50,000 is estimated to be costing Liverpool around £600,000 in lost income per home game. The club's most recent accounts showed matchday revenue of £86m for 30 fixtures at the stadium. 
In the optimistic scenario that the work was completed by mid-October, Liverpool would still have missed out on around £2.5m in revenue, but that figure could increase significantly in the event of further delays.
"Obviously we talked about having the stand fully open in October, clearly we have discussed the uncertainty that this announcement creates," Hogan added.
"We are still aiming for October but what we're working through now is to put a plan in place. I know this is incredibly disappointing and frustrating."
The Buckingham Group has also been working on earthworks on the HS2 and East-West Rail lines, as well as the redevelopment of Northampton Town's Sixfields Stadium.
The employee-owned company said it had suffered "deep losses and interim cash deficits on three major stadium and arena contracts, and a substantial earthworks contract in Coventry".
It blamed its struggles on a combination of "extreme inflation linked to the Ukraine conflict" and "other challenges in the Sports and Leisure division".