A month ago few people knew who 15-year-old Cori Gauff was – and with good reason.
Although she had caused a stir on the junior tennis circuit, Gauff was ranked No313 in the world before the offer of a wild card into Wimbledon qualifying, in her own words, "literally changed my life in seconds".
Gauff not only reached the main draw at the All England Club but went on a remarkable run to the fourth round, beating her idol Venus Williams along the way, to be catapulted into the public consciousness overnight. 
Her Wimbledon heroics captured attention all over the world, while her infectious personality and precocious talent appear to make her the perfect package.
Read more: Why the Laver Cup should be a hit with sponsors
With $303,930 (£244,384) in career prize money already banked, sponsors including New Balance, pasta maker Barilla and racket manufacturer Head on board, and with the backing of Roger Federer's management company, Team8, Gauff now has the world at her feet.
Yet sport, and tennis in particular, is littered with examples of those who rose swiftly and disappeared just as quickly. Success at a young age brings huge excitement and opportunity, but also pressure which child prodigies are forced to cope with. Gauff has a tightrope to walk.
Maximising potential
Although her fame is new, Gauff's desire to be famous is not. Serena Williams' coach Patrick Mouratoglou recalled a story of meeting the American when she was just 10. 
"They all say they want to be the No1 but she said she wanted more," he said at Wimbledon. "She said she wanted to be the greatest of all time."
Gauff, who is home-schooled, has already had many coaches, with her father Corey taking over after stints with Sly Black and Gerard Loglo. She has everything in place to maximise her tennis potential, but also her career potential. Headlines such as Forbes's "This 15-year-old will earn $1m in 2019. Is she the future of women's tennis?" show the hype around her.
But there is a danger of being swept along by the tidal wave of competing, endorsements and media. According to the New York Times, Gauff was the subject of more than 300 interview requests at Wimbledon alone.
"It can be very easy for a young player to get distracted by the attention a big win or successful run can bring," Matt Gentry, Andy Murray's co-founder at 77 Sports Management, tells City A.M. "Media and sponsors are attracted by good results, but it's a very long journey and it can all disappear just as quickly."
Hot property
Gauff is currently hot property, but Gentry believes she and her team should proceed with caution. 
"There would be a temptation to try to maximise commercially on their increased profile, but as an agent I think it's important to act responsibly and remember they are developing as a player and a person," he adds. "Any commercial contracts and media relations need to be handled sensitively and with the long-term in mind."
Toni Minichiello, who coached Olympic champion heptathlete Jessica Ennis-Hill from the age of 11 until her retirement in 2016, echoes Gentry's sentiments.
"Gauff will become the face of American tennis once Serena Williams retires," he tells City A.M. 
"People used to say that about Jess: she's the next Denise Lewis. It's a cliched thing. But I'd say, 'no you're not the next Denise Lewis, you're the next Jessica Ennis.' But the pressure is built. It's tough when you're the next thing.
"Another concern is how many people view her [Gauff] as a meal ticket. This isn't just about her. Around a lot of athletes are people looking for a payday. The thing to do is to keep the agenda on the athlete."
Minichiello says Ennis didn't have a kit sponsor until progressing from junior to senior athletics and she then limited her commercial responsibilities to one day per week. "If you go down the money route you're knackered," he adds. "Be great at your sport and the money takes care of itself."
Burnout
Because of her age Gauff is only permitted by the Women's Tennis Association to play five more professional events before she turns 16 in March. However, her father and coach Corey is lobbying to have the WTA's age restrictions, despite his daughter having to fit exams around tennis.
Meanwhile US Open officials are reportedly keen to bend rules which limit players aged 15 and under to three wildcards per year and offer her a fourth for next month's grand slam.
Minichiello warns that coaches of young athletes must be in tune with the emotional aspect and aware of the potential for burnout. 
Read more: The changes football needs to make to prosper
"I had more of an opportunity to take my time and develop steadily and slowly," he explains. "For me it's all about shaping the career. Think what the finished product looks like, its physicality – how much they lift in the gym, how often they train – and then backtrack from there."
Held back
Rather than push Ennis up the age groups, Minichiello deliberately slowed down her progression, keeping her in junior competitions for five years until she was ready to move up.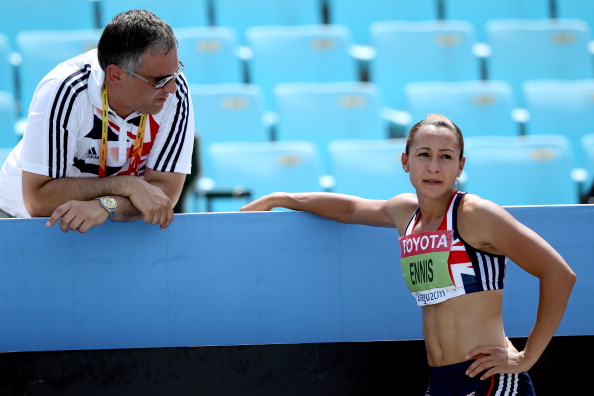 "I held her back. I wasn't interested in her being a superstar until she was a last year junior. When she was at that 18 or 19, then it was her time to step up and start developing," the UK coach of the year for 2012 says.
"At that point she was seen as somebody who was quite good – fifth in World Youth at 17, eighth in World Juniors – but she was under-performing, and that was on purpose. That was by design.
"It's a personal philosophy. If you're going to train six hours a day, seven days a week at 16, where are you going to go? You've got to have room to grow into – that's always the critical thing." Minichiello concludes: "Success is nice but you can't get carried away."
Main image credit: Getty Images