Halo Top ice cream defrosted from the startup doldrums to become a retail success
Junk food is, rightly, under assault. This year, we've seen the introduction of a sugar tax on soft drinks, and last month London mayor Sadiq Khan announced a ban on junk food advertising on the capital's public transportation network.
This comes after tougher TV advertising rules introduced last year, which meant that ads for food and drink high in fat, salt or sugar could not be shown against online media targeting children.
All of these measures are part of the government's general push to reduce sugar consumption and prevent obesity – it has set a target for the food industry to cut 20 per cent of sugar from a range of products by 2020.
For the big, established players like Coca-Cola and Cadbury, this has created new challenges to get health-conscious consumers to buy their products. But it also means that smaller, more nimble players are being given an opportunity to break into this highly competitive space and offer healthier alternatives.
Enter Halo Top, a US company making ice cream that is low in calories and sugar, but high in protein. For context, Halo Top's chocolate ice cream contains 320 calories per tub, compared to around a thousand calories in a tub of Ben & Jerry's chocolate fudge brownie ice cream.
While not strictly a health food (it is still ice cream, after all), by positioning itself as a nutritionally superior alternative for consumers who want a tasty treat, it is becoming a market success. Halo Top achieved US sales of $350m in 2017, at one point outselling industry giants Ben & Jerry's and Haagen-Daz in stores, and since launching in the UK in January, it has made £15m in the first three quarters of the year.
"Those are incredible numbers, having just launched here," says Doug Bouton, Halo Top's president.
"On average we've sold 14,000 tubs in Britain per day."
Ice cream of the crop
Bouton joined the company early in its life, in 2013. He had trained to be a lawyer, but was planning to quit. He met fellow lawyer and Halo Top founder and chief executive, Justin Woolverton, while playing basketball.
"I really hated practising law, and he didn't like it either. Essentially, I was quitting my law firm in early 2013, and we got to talking. He told me, 'hey, I need a business partner to help get Halo Top going'," explains Bouton.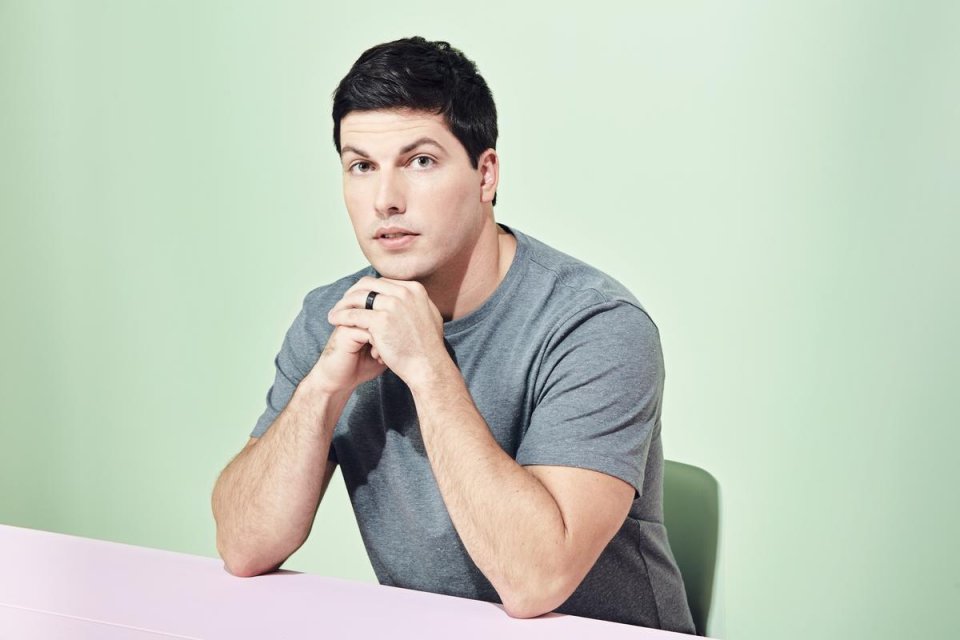 Woolverton had come up with the idea for Halo Top in 2011.
He wanted to satisfy his sweet tooth, but without the guilt that comes from eating a whole tub of high-calorie ice cream. So he mixed together Greek yogurt, fresh berries, and the natural sweetener Stevia.
He liked his concoction so much that he thought it could be a commercial success. Woolverton spent the next year improving the recipe and managed to get it into its first store in mid-2012. Since then, Halo Top's recipe has changed significantly to resemble something much more like traditional ice cream.
"I tasted the original version of the product, which I thought at the time was great, but now I'd be embarrassed for anyone to try it, because we've reformulated so many times since," admits Bouton.
On thin ice
With Bouton on board, the company began full operation, but there were several speed bumps along the way.
He describes 2014 and 2015 as the company's "dark years", when it experienced the well-known "Trough of Sorrow". This is a period that many startups go through, when the initial excitement about the business venture fades to be replaced with setbacks and the realisation that success is going to take a huge amount of effort.
"I'm glad that we were as naive as we were, because I don't know if either one of us would have taken the leap and tried to do this if we'd known just how hard it would be," Bouton admits.
Both he and Woolverton were personally bankrupt and in massive credit card debt during this time, having poured all the money they could into the business. Bouton laughs as he recalls how they both applied to borrow money from a high-interest loan company, but Woolverton was denied because his credit score was so bad.
"To be denied by a predatory lender, you can imagine just how bad your credit is. But that's the survival mode where you do anything you can just to keep the business going."
A frosty reception
Money wasn't the only setback. The company's original name was actually Eden Creamery, but it had to change the branding and packaging due to the threat of litigation from a similarly named organic brand called Eden Food.
In some ways, this was a blessing, as Bouton was unsatisfied with the original packaging.
"Out of that came the current messaging, with the calorie count right on the front, with the protein and sugar claims," he adds.
"Low-calorie, low-sugar, high-protein – those are true trends, not fads. If you want to eat better, you want to reduce your calories, increase your protein, and reduce your sugar."
The company's lucky break came in 2016. Two articles were published in GQ and Buzzfeed about Halo Top that drew lots of positive attention.
"That put millions of eyeballs on the brand at a time when we'd finally reformulated the product to the point where it was really good – it was creamy, it was smooth, it was ice cream.
"If those pieces had come later, we would have run out of cash, because we were losing money every month. It was one of those right time, right place things."
Melting point
Bouton is surprisingly humble. He recognises that his product is benefitting from society's current shift towards healthier food alternatives. Government initiatives like the sugar tax work in its favour, and he often repeats that Halo Top had the right product at the right time.
"Trust me, we worked our tails off to get here, and I think the product is great, but we had to have some lucky breaks to succeed," Bouton adds.
Despite the difficult early years, Halo Top's president is optimistic about the future. The ice cream is being sold in several international markets, and there are plans to keep creating new flavours and products. And while running a company comes with its own unique challenges and learning curve, I ask if it still beats being a lawyer?
"Always," he laughs.