RateSetter founders Peter Behrens and Rhydian Lewis talk banks, Australia and dwarves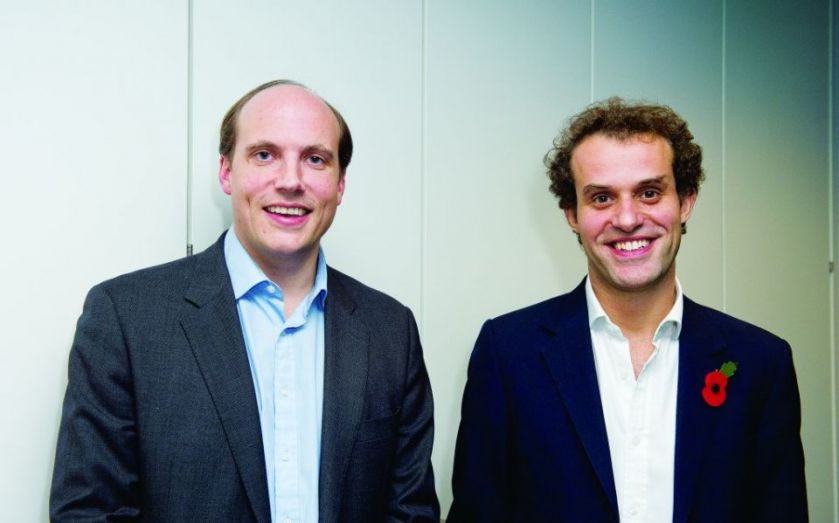 Ask the founders of a business if they've got a good setback story, and they'll usually give you something fairly typecast. Not in the case of RateSetter. "Pete the painter," answers Peter Behrens firmly, looking over to co-founder Rhydian Lewis. It seems completely off piste, but it actually shows that rumbling the status quo, particularly in the financial world, is no easy task – even your keenest believers can be easily shaken.
Back in 2012, the two year-old peer-to-peer lending company moved up a floor in an office building. Shortly afterwards, one of its earliest advocators – an ex-accountant who had put £75,000 onto the platform – decided to visit. "He walked into the old office and found the place stripped – the only person in there was Pete the painter. He thought it was an elaborate sting," says Behrens, before Lewis quickly adds, "he is still using us."
RateSetter is now the largest peer-to-peer lending platform in the UK, in terms of loans created, with over £30m lent through its platform in September alone. It puts borrowers in direct contact with savers, offering returns of up to 6 per cent. Both sides of the market can specify the rate they'll accept, making them so-called "ratesetters". You can invest from as little as £10, and for as short a period as a month. RateSetter can also take the credit for creating the first provision fund, which reimburses lenders in the event of a late payment or default, and is now used across the industry. The firm counts Peel Hunt's Charles Peel and Jupiter's John Chatfeild-Roberts among its investors. And to date, no saver has ever lost a penny.
A STEEP CLIMB
Having worked for Betfair and Lazard, Lewis knew somebody needed to turbo-charge the nascent peer-to-peer lending industry. Behrens, a lawyer-turned-banker, was one of several acquaintances to receive an email from Lewis entitled "exciting new opportunity". He was also the one who replied. "I had a personal paranoia about actually sharing the idea," says Lewis – and it took the pair two meetings to have it out. Despite the initial caginess, Behrens was sold. "I might just be a bit irresponsible – I had three young children at the time – but I signed up for the ride," he says.
Supportive friends and family stumped up an impressive £850,000 to help get Ratesetter going. "We decided to spend nine months testing out the thesis," says Lewis. "No-one ever tells you the truth, so you just need to try it." It's clear that RateSetter's success is buoyed by how much Lewis and Behrens complement each other. Lewis came up with the initial idea, but Behrens has given him the partnership that's delivered it. "It's such a dreary word, but you need a good dose of pragmatism," says Lewis. Behrens adds: "a lot of people sit around waiting to have the idea. But really, life is about implementation far more than innovation".
BETTER – AND GETTING BIGGER
But both men are at the centre of a very innovative – and rapidly growing – sector. "We're at the beginning of this incredible shift, and London is right at the heart of it," says Lewis. Now, they're one of the Big Three, with fellow platforms Zopa and Funding Circle. "It is the Big Three in a land of dwarves," quips Behrens. "But seriously, it's good being on the inside – we're growing the industry together."
And what really drives both is giving people choice with their cash. "We're not offering a guarantee, but people can decide for themselves. There's a new philosophy emerging which is more adult," says Lewis. The man on the street has persistently been denied an honest relationship with risk, he says. The financial institutions have stockpiled knowledge, but "look where that got us to in 2008."
But beating the banks isn't the same as building a big and strong business – and that's what the pair are absolutely focused on. "It takes time to build a business – to gain trust and traction," says Behrens. The company has recently been encouraged to float, but they're resolute in their conviction: "it's just too early at the moment," says Lewis. "It comes down to whether we can give better value to our customers. If we can, we keep the right to exist," says Behrens.
But RateSetter is gathering steam. In April, RateSetter Australia was launched, and government support and a growing number of partnerships are moving things along quickly. The most recent is with CommuterClub, which makes annual travelcards affordable by spreading the cost into monthly payments. The loans it issues are funded by Ratesetter savers. And a successful new ad campaign has seen the pair's "world change," admits Lewis. "We are very optimistic and forward-looking," says Behrens."
CV: RHYDIAN LEWIS
Company name: RateSetter
Turnover: £5m
Founded: 2010
Number of staff: 51
Job title: Chief executive
Age: 37
Studied: French, Spanish and Arabic, Bristol University
Currently reading: War and Gold, by Kwasi Kwarteng
Favourite business book: I don't read them
First ambition: To be a racehorse trainer
Motto: "Live and let live"
Least likely to say: "I'm bored"
CV: PETER BEHRENS
Job title: Chief operating officer
Age: 37
Studied: History, Bristol University and Law at BPP
Currently reading: Apple Tree Yard, by Louise Doughty
Favourite business book: The Branded Gentry, by David Hopper
First ambition: To be as good a sports journalist as Simon Barnes
Heroes: Gianfranco Zola and Douglas Bader
Motto: My first school motto was "Dum Spiro Spero" – "while I breathe, I hope," and I think that's pretty good
Least likely to say: "I don't have time to listen to you"
This article was amended on 10 November to reflect that, in terms of loans created, Ratesetter is the largest peer-to-peer lending platform in the UK, but is the third biggest in terms of overall amount lent.