The FTSE 100 slumped below the 6,000 mark after data showed the US economy suffered its biggest contraction on record amid the coronavirus pandemic and banks' second-half results disappointed investors.
The UK's blue-chip index slid 2.9 per cent to 5,951 points in afternoon trading. The FTSE 250, comprised of slightly smaller firms, fell 1.8 per cent.
Read more: Lloyds swings to loss as it sets aside extra £2.4bn for bad loans
Weak results from Lloyds sent the FTSE 100 stock's share price down 8.1 per cent in the afternoon session.
On Wall Street, the S&P 500 dropped 1.3 per cent after data showed the US economy shrunk at an annualised rate of 32.9 per cent in the second quarter. The Dow Jones fell 1.7 per cent and the Nasdaq slipped 0.9 per cent.
Germany's Dax crashed 4.1 per cent and France's CAC 40 dropped 2.9 per cent. The continent-wide Stoxx 600 was down 2.6 per cent. 
FTSE 100 banks suffer reality checks
Earnings season continued with Lloyds Bank suffering a rare loss. The FTSE 100 lender set aside £2.4bn more for loan losses mostly associated with coronavirus. 
The bank led the FTSE 100's fallers today as lenders booked the steepest losses on the index.
Natwest and Standard Chartered were not far behind Lloyds, falling 6.1 per cent and 6.2 per cent respectively.
At Stanchart, pre-tax profit dropped by 33 per cent as it braced for loans to go bad amid the coronavirus pandemic.
Read more: Standard Chartered profit slumps as credit impairments mount
Barclays also was among the fallers, with shares dropping 5.5 per cent after it yesterday revealed coronavirus will cost it another £1.6bn. Investment firm Legal and General fell 7.9 per cent.
"Stocks are firmly in the red, with the FTSE 100 taking it on the chin," said Chris Beauchamp, chief market analyst at trading platform IG.
"The FTSE 100, the serial underperformer of the past four months, is now heading back towards 6000," he said.
"Economic worries have combined with a modest recovery in the dollar to hit commodity prices," Beauchamp said. This has hit miners, he added, "leaving London's main market looking very vulnerable indeed".
It was not all bad, however. Defence giant BAE rose five per cent after chief executive Charles Woodburn said it was expecting a good second half after the pandemic.
FTSE 100 pharma titan Astrazeneca climbed 1.1 per cent after beating analyst expectations.
US GDP shrinks a record 33 per cent
US GDP shrank a record 32.9 per cent in the second quarter, official data showed today
The US economy contracted at a record annualised rate of 32.9 per cent in the second quarter as coronavirus hit the country, according to data released this afternoon.
And US jobless claims rose again after weeks of decreases, with 1.4m people signing on days before a political battle over the size of benefit payments.
Yesterday, US Federal Reserve chairman Jay Powell warned that "the data are pointing to a slowing in the pace of the recovery". The central bank kept rates on hold close to zero and pledged to do all it could to support the economy.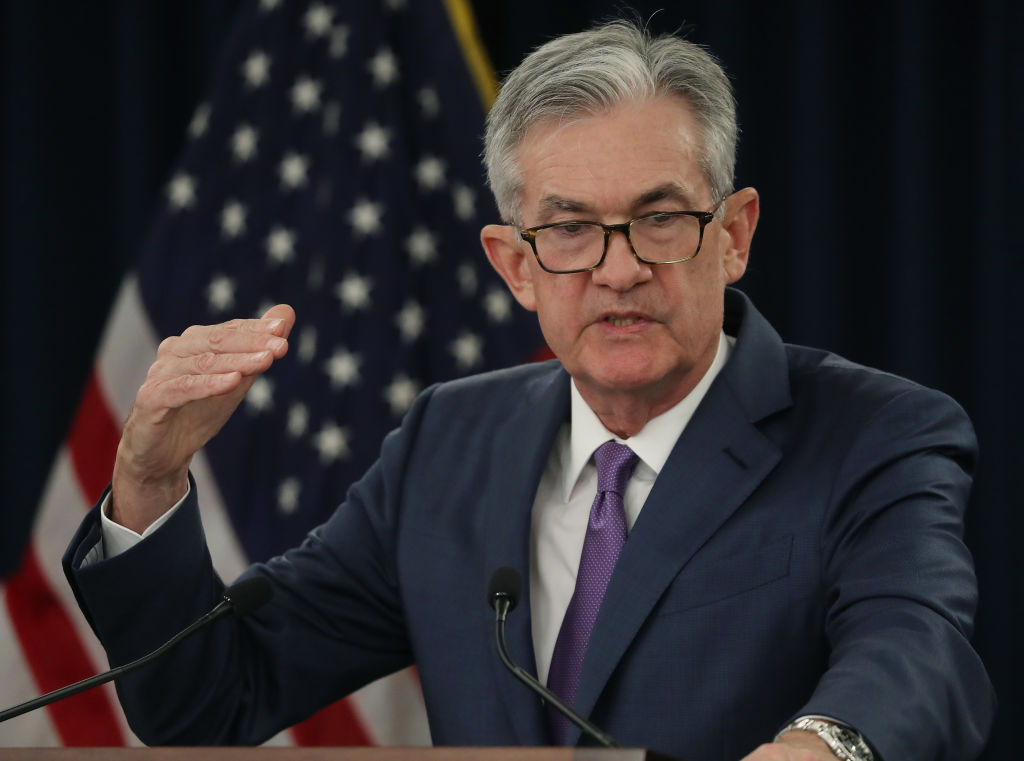 But Edward Moya, senior market analyst at currency firm Oanda, said: "US stocks have decided to move beyond the Fed's commitment."
He said they are now focusing "on the immediate weakness in the economy and the uncertain path forward".
Read more: US economy suffers worst crash on record amid coronavirus pandemic
US investors are nervously awaiting the second-quarter results of some of the world's biggest tech companies. Apple, Amazon, Google-owner Alphabet, and Facebook all report today after the bell.
Economic blow harms Germany's Dax and gold retreats
European stocks fell even more steeply than the FTSE 100 or US indices. Germany's Dax suffered a huge 4.1 per cent drop after some dire economic data.
German GDP fell by 10.1 per cent quarter on quarter, figures showed today. It had contracted two per cent in the first three months of the year.
"The impact of the virus turned out to be more severe for the German economy than analysts had predicted," Fawad Razaqzada, market analyst with Think Markets, said.
Although the German economy is recovering, coronavirus cases are rising in parts of Europe, worrying policymakers. The UK this week said travellers coming back from Spain would have to quarantine, hurting the latter country's tourism industry.
The euro slipped slightly against the dollar but continued to trade at around a two-year high. It bought $1.179 this afternoon.
The single currency has been favoured by traders after the EU this month struck a deal to form a €750bn (£680bn) coronavirus recovery fund. 
Read more: German economy shrinks at record rate as coronavirus bites
Gold slipped 1.2 per cent to $1,948 per ounce. It hit an all-time high of around $1,980 an ounce earlier this week before investors second-guessed the massive price moves.
However, investors say it could yet test $2,000 as the US pumps stimulus into the economy and investors look for a hedge against inflation and currency debasement.