Flat weekend for crypto but future looking brighter than ever
Crypto at a glance
Hopes for a Bitcoin breakout this weekend were thwarted again, with the leading cryptocurrency by market cap continuing to trade in the same narrow range between $32-36k.
Can anything spark the market back into life? Is a period of stability a good thing? Will the England football team ever win a penalty shootout at a major tournament ??
There was at least a bit of an uptick for Bitcoin, with the price recovering to above $34k after slumping to $32k on Friday. This malaise is everywhere at the moment, with the Ethereum price also still hovering at around the same $2,100 level where it's spent the last few days. Cardano (ADA) and Binance Coin (BNB) have been similarly unmoved by recent events, both rising around two per cent over the last 24 hours to remain broadly at breakeven for the week.
It may seem like it's been a quiet time for cryptocurrency recently, but scratch beneath the surface and the long-term picture continues to go from strength to strength.
Paraguay lawmakers are preparing a bill to treat Bitcoin as legal tender, the hash rate is recovering as miners move their operations out of China, and both Bitcoin and Ethereum continue to make strides towards their major upgrades later this year in Taproot and London respectively.
It might feel like a 1-1 draw at the moment, but we're not even at half time yet.

Would you like to help spread the adoption and education of Bitcoin in the UK and even stack some Sats while you're doing it? Well, now you can!
The Bitcoin Pioneers community, backed by Barry Silbert's Digital Currency Group, was created to introduce Bitcoin to a mainstream audience in a meaningful way and now has members right across the UK.
We share tips, stories and ideas on how to encourage others to try Bitcoin for the first time. And, thanks to support from Luno, each Pioneer gets £500 of Bitcoin a month to share with beginners, helping them get started.
So, if you're passionate about Bitcoin, why not join today? Click here to find out more!
All feedback on Crypto AM Daily in association with Luno is welcome via email to James.Bowater@cityam.com ??
Friday's Crypto AM Daily in association with Luno
In the markets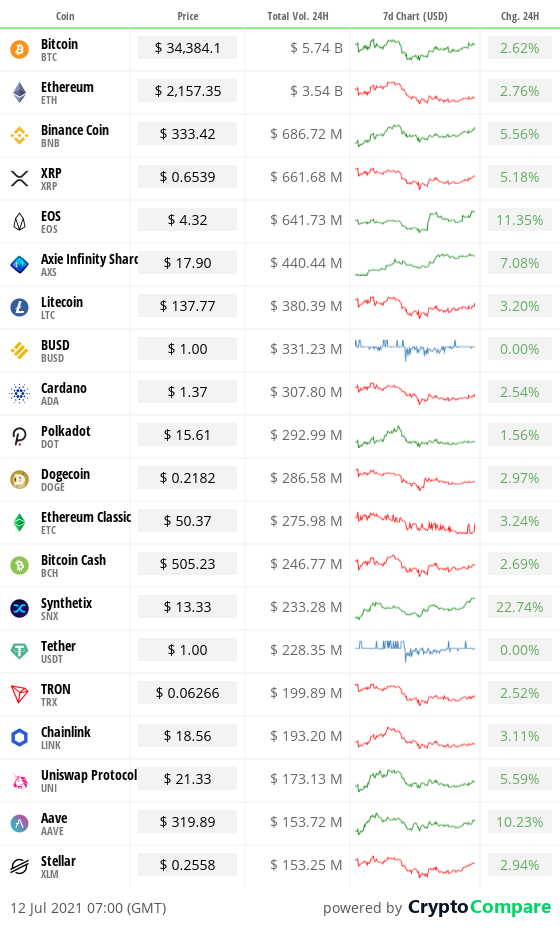 The Bitcoin economy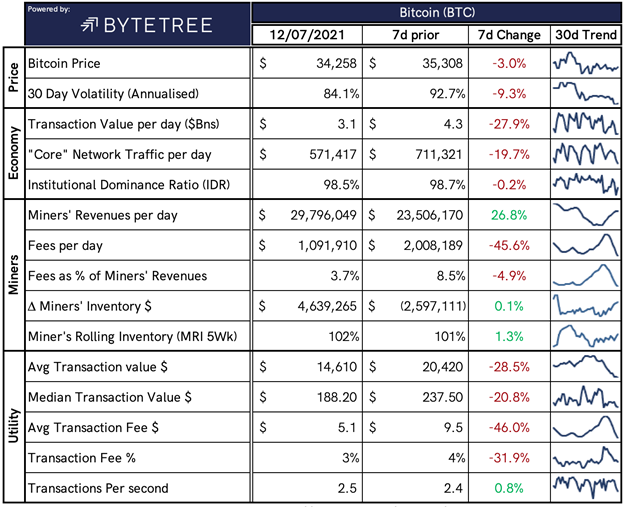 *Definitions and insights can be found at https://bytetree.com/insights/
Total crypto market cap
The total capitalisation of the entire cryptocurrency market at time of writing is currently $1,418,546,359,607.
What Bitcoin did yesterday
We closed yesterday, July 11 2021, at a price of $34,240.19, up from $33,520.52, the day before. The daily high yesterday was $34,584.70 and the daily low was $33,346.74.
This time last year, the price of Bitcoin closed the day at $9,276.50. In 2019, it closed at $11,815.99.
Bitcoin market capitalisation
Bitcoin's market capitalisation at time of writing is $645.51 billion. To put it into context, the market cap of gold is $11.429 trillion and Facebook is $993.6 billion.
Bitcoin volume
The total spot trading volume reported by all exchanges over the last 24 hours was $21,879,909,920. High volumes can indicate that a significant price movement has stronger support and is more likely to be sustained.
Volatility
The price volatility of Bitcoin over the last 30 days is 69.36%.
Fear and Greed Index
Market sentiment today is 25.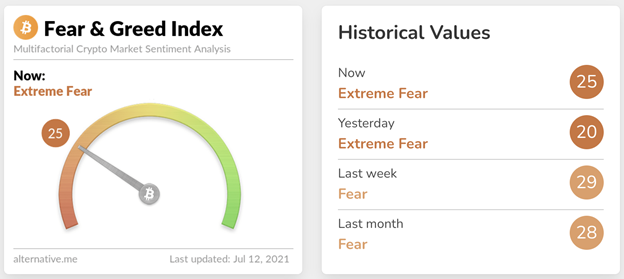 Bitcoin's market dominance
Bitcoin's market dominance today is 45.99, Its lowest ever recorded dominance was 37.09 on January 8 2018.
Relative Strength Index (RSI)
The daily RSI is currently 48.39. Values of 70 or above indicate that an asset is becoming overbought and may be primed for a trend reversal or experience a correction in price – an RSI reading of 30 or below indicates an oversold or undervalued condition.
Convince your Nan: Soundbite of the day
"Gold is limited and you have to look for it. Bitcoin is the most amazing mathematical miracle. I do not invest in Bitcoin, but I believe it's here to stay."

– Steve Wozniak, Apple co-founder
What they said yesterday
What a difference six months makes…
Paraguay gets ready…
A good sign?

Crypto AM editor's picks
Bitcoin resurgence in next six months could be massive, says intelligence report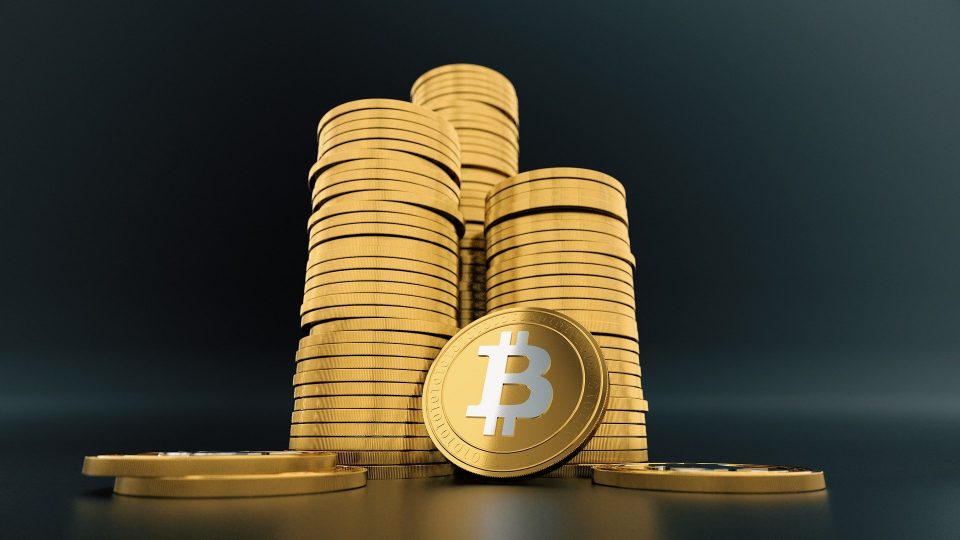 A life of photography on the verge of stepping into the blockchain ring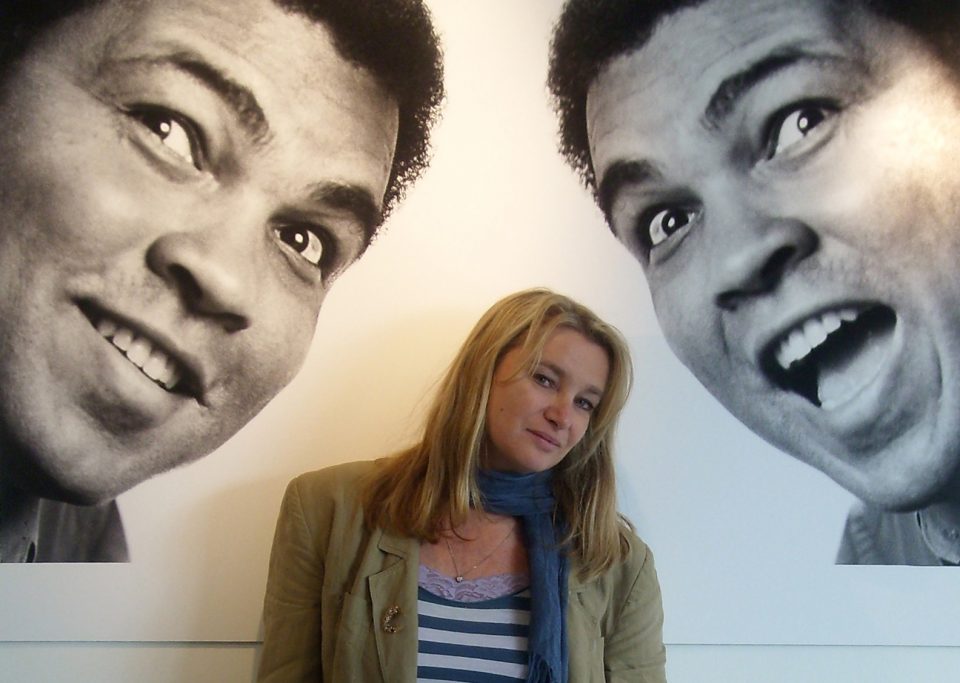 Coinbase gets green light from German regulators
Nukkleus acquires London based Match Financial
Binance given the boot by UK financial watchdog
Ripple outpacing Bitcoin among UK crypto investors
Crypto AM: Longer Reads
City AM Markets: What is Decentralised Finance (DeFi) by Aave
Crypto AM: Conversation with James Bowater
Crypto AM: Market View in association with Ziglu
Crypto AM: Technically Speaking
Crypto AM: A Trader's View with TMG
Crypto AM: Mixing in the Metaverse with Dr Chris Kacher
Crypto AM: Visions of the Future, Past & Present with Alex Lightman
Crypto AM: Talking Legal
Crypto AM: Spotlight
Crypto AM: Founders Series
Crypto AM: Industry Voices
Crypto AM: Tiptoe through the Crypto with Monty Munford
Crypto AM: Definitively DeFi
Crypto AM Parliamentary Special
Part one of two – April 2021
Part two of two – April 2021
Crypto AM Events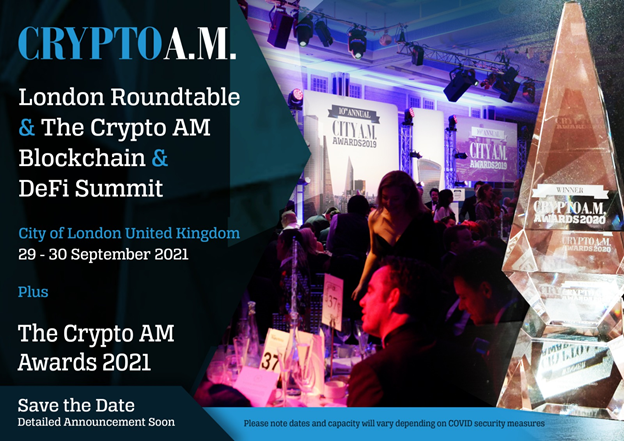 Cautionary Notes
It's definitely tempting to get swept up in the excitement, but please heed these words of caution: Do your own research, only invest what you can afford, and make good decisions. The indicators contained in this article will hopefully help in this. Remember though, the content of this article is for information purposes only and is not investment advice or any form of recommendation or invitation. City AM, Crypto AM and Luno always advise you to obtain your own independent financial advice before investing or trading in cryptocurrency.
All information is correct as of 08:00 BST