Five amazing moments from Kite Festival 2023
The charming and idyllic Kite Festival of music and ideas, which ran for the second time this weekend, is well worth a visit. But for an 'ideas' festival, the line-up was overwhelmingly white
"I never thought I'd be sharing a line-up with Michael Gove," admitted the musician Lynks on Saturday night, playing a high-tempo set before Hot Chip. The music was following a day of talks with appearances from Gove, Sir John Major and Dame Joan Collins.
Kite festival's scheduling is pretty out there. Music and politics have always been natural bedfellows (hello, protest music) but they aren't often thought of together in a festival setting. Kite attempts to bring sounds and thoughts into one space.
In its second year, there is the opportunity to watch podcasts being recorded live, newspaper editors discussing how they would put together the next day's stories and to listen to career-spanning talks.
Kite is one of a new set of festivals to open over the past couple of years, despite the difficulties live events have faced. It joins We Out Here, new in 2021, and London-based newcomer Wide Awake.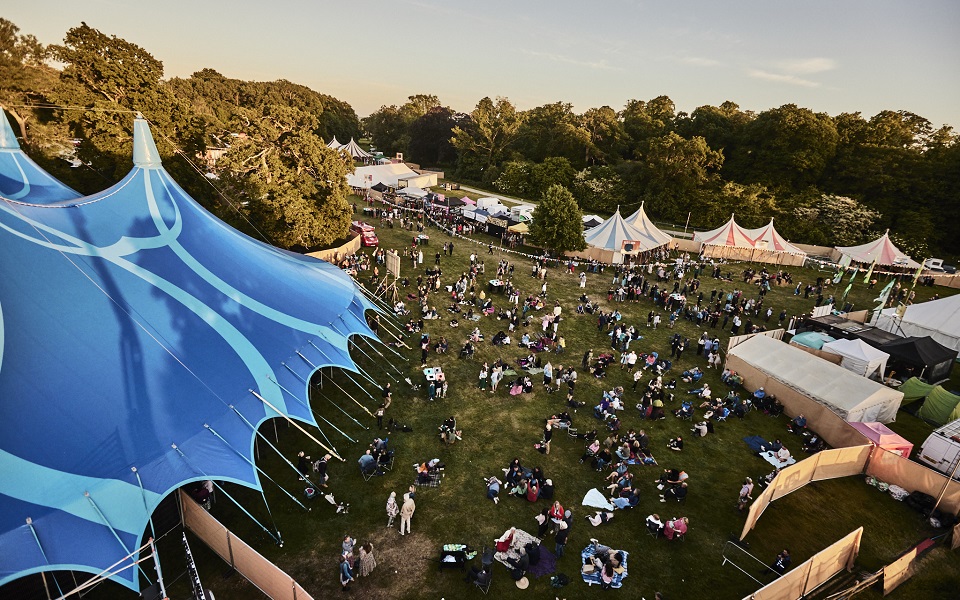 Set in the pristine Oxfordshire countryside, Kite feels intimate, and is easy to walk around, although around 15,000 people arrived on both days, with day passes and weekend camping tickets available.
Here are a few of our favourite moments from the weekend.
Dame Joan Collins' first festival appearance
Aged 90 (but not wanting to talk about it) Dame Joan looked dressed for the red carpet when she sat down on the boiling hot Kite Festival stage. It was a high camp experience, from Collins' mini fan held to her face to manage the heat through to her droves of Hollywood anecdotes. Best was that she kept confusing her microphone with her mini fan. She has acted with everyone from Richard Burton to Bette Davies, so it was a privilege to hear her regale stories. Frank Sinatra, it turns out, wasn't much fun to sit next to at dinner. ("His wife would say 'Frank have you taken your pills?")
Sir John Major encouraged us to see beyond political divides
Former Prime Minister Sir John came across well. He appealed to left, right and centrist attendees, speaking passionately about finding the humanity in politics beyond the blue and red – and more broadly about seeing across political divides. He was wise, warm and conversational, and paced out his talk by playing five songs throughout the interview for light relief. Out of the spotlight for over 25 years, he felt comfortable criticising other former PM Boris Johnson too, in light of his resignation. In fact it was a positive element of Kite more generally that the talks and debates encouraged healthy cross-party and cross-belief debate. We should all hear from the people we disagree with more often.
Lynks being an absolute pop icon
Before Hot Chip and after Goldfrapp, Lynks sang off-kilter pop songs with a gimp mask on. There were children in the audience – you got the impression he hadn't performed in front of this kind of crowd before – but he gave off queer energy quite unlike any other performer at the moment. The choreography with three backing dancers was absolutely incredible, and the songs are super catchy too. The unknowing crowd popped into the Heavenly Recordings tent for a beer and ended up staying for the whole of Lynks' set. Properly one to catch.
Alastair Campbell handing out money to the crowd
Tony Blair's former spin doctor is as charismatic as you'd expect. After all, this is a man whose job it was to put positive spins on everything. When one young audience member asked Campbell for advice about how to manage her schoolmate who doesn't vote because she thinks it doesn't make any difference, Campbell lent off stage and passed her a tenner to go and buy his new book. It was a classic PR move – but his words to the teenager were genuinely encouraging, and the audience went into spontaneous applause.
The podcast tent
Over in a leafier corner of the site (some of the bigger tents felt oppressive after a while, especially in the heat) the podcast tent had shorter, often half-hour talks. That shorter run time felt like an easier lift on a sunny afternoon, and from the Podcast Tent, you could take in sound bites from a podcaster while looking out at the festival. Nearby, out in the fields, customers enjoyed tea and cake from the tea and cake bus, and others were doing their vintage shopping, so it was a lovely corner of the site. Absolute bliss.
And some things we'd change…
There was an overwhelmingly white audience, and the line-up reflected that. There needed to be more black and brown speakers, and more panels and discussions examining issues of race and identity. The festival could do a lot more to properly represent the broad spectrum of issues in the UK right now. Food was on the costly side, too. But overall, a beautiful setting, friendly crowd and fascinating debates.
Kite Festival returns in 2024